As I've mentioned we are renting this home. It is an older home with no upgrades, we were only going to be here a short time so we have made due. Our landlord gave us the okay to paint if we wanted and so just updating the paint made a huge difference. One area that I totally despise is our basement (wood paneling). We mainly use it for storage, but our laundry is located down there. This closet is such a downer. So dark and yucky feeling. I always stand and fold laundry right out of the dryer so I wanted to improve things. Last Spring I decided to make it a little cuter. Here is the before:
(Beware: All of these pics are taken with flash, I have no natural light down here.)
Notice the paint swatches. I decided that adding a light color to the top over the shelf would look nice. So I got 3 choices. With the lighting, or lack thereof, I decided to go with the pale yellow.
I also decided that the shelf was lacking, but I didn't want to waste money on a shelf, so I just used a piece of molding and used liquid nails to adhere it to the front of the shelf. It was a great inexpensive way to make it look a little nicer. I just used masking tape to hold it in place while it dried.
I put all the paint cans that were up there in the storage shed and started looking for storage options. I found this basket in my closet upstairs and thought it would be perfect for my detergents and sprays.
Found this perfect size box at hobby lobby for my fabric sheets. With my 40% coupon it was only a couple bucks. (I looked for an antique box but never found anything that was the right size for this)
I found an old window at the antique store. It has such a beautiful patina. (I didn't wash the glass though for the pic so don't look to close!)
A $5 washboard and some flowers in a metal pitcher. I was hoping for an antique zinc pitcher but couldn't find one locally. So I got this $5 pitcher at Old Time Pottery.
All together. I think it turned out great for such a dark closet in the basement! I still want to find a new ironing board cover and make a cute holder for it, but since I have waited this long and we are moving in 5 months I will wait and see what my next laundry area is like! It makes me happy and was a cheap fix for a rental.
Although it was only a few changes, I think it made a big difference.
linking to:
http://space46.blogspot.com/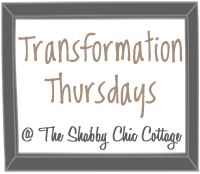 Please click over to see the rest of this post! Thanks so much!