Today I am sharing my quest to conquer our Toy Organization. We have tried so many different types of storage and organization for toys and we FINALLY found what is working for us and we are sharing some tips to help you conquer toy clutter.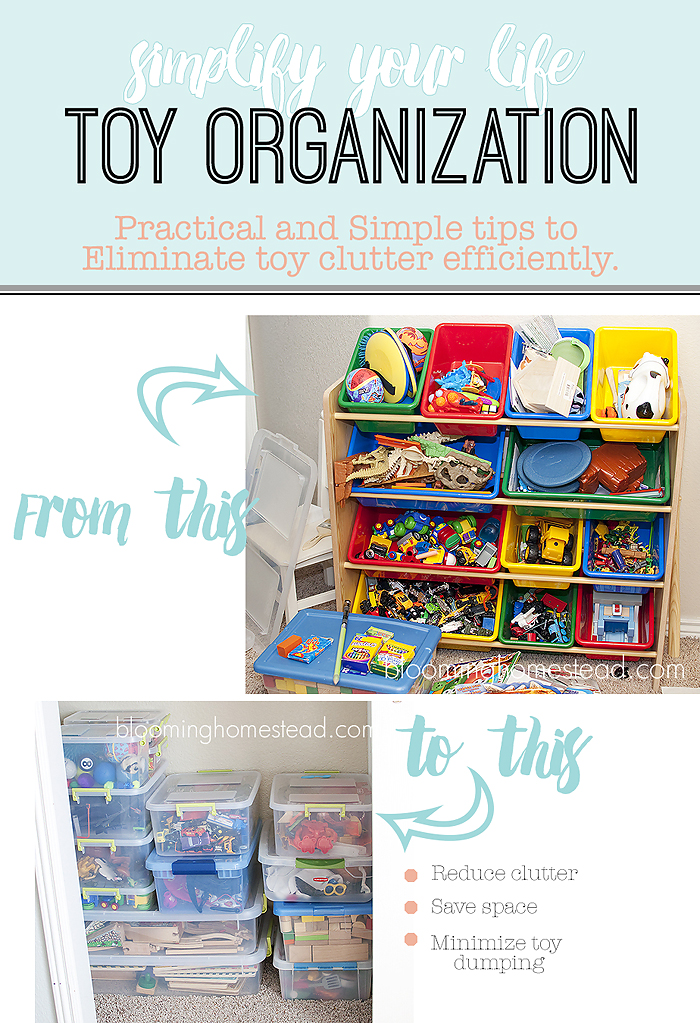 We don't have a ton of extra space for toys in our current home, so they mostly reside in the kids rooms or closets. However, our toys were taking over our home! I thought that with the storage bins we had that they would be organized, but to be honest…it just wasn't working! We had to come up with a new system. While I loved the idea of pretty and easily accessible bins, with young kids this just wasn't for us.
We had two main storage bin systems. The above which is from target. (I forgot to take a pic before I ousted it) We had it entirely filled with bins. Our 2nd storage bin system is below and we purchased it at toysrus right after my son turned 1.
These bins were a little too convenient for kids. We found that it was just too easy to keep grabbing toys without cleaning up. This would basically mean we had toys and bins scattered everywhere! I had a few more issues with this system. Not to mention it was too big of a tempation to just grab a bin and dump! Here were a few of the challenges we were facing:
Our main storage bin systems took up both sides of the closets. It seemed to "waste" usable space that we could use for other storage items and clothes.

With the open bin storage system the toys still looked so 'messy' even when they were cleaned up. (See above.) This drove me crazy!!

A lot of our toys simply wouldn't fit in the bins and with the closets full with these 'organizers' it was difficult finding room for these bigger toys or sets.





So one day I pulled out all our toys and started going through them. To be honest, we don't even have that many toys. We try and go through and purge the extra things to keep things manageable.
After assessing our "situation" of storage space vs. toys, I organized the toys and headed to the store for totes of varying sizes to hold the toys. I had a few older totes that I kept to reuse. I thought I would have a lot of toys to toss…but to be honest, we wanted to keep most of our toys. We invested a lot into classics like hot wheel cars and tracks, Thomas trains and tracks, wood blocks, so we wanted to keep them around and handy for when we have company.
I found these totes and I love them. They are easy for kids to open and close, and they stack even being different sizes! You can find them at walmart. Now, I'm not going to lie…I fought the idea of totes. It seemed so formal and uncute. Sometimes my blogging brain wants everything cute, but my practical side finally won out and the answer was storage totes. I also thought about making cutesy labels with my sillouette…but these totes are see-through and I figure if you can see its full of toy kitchen food or race cars you don't need a label!
We've been using this method all summer and it has been a lifesaver.
(I did this all earlier in the Spring before my pregnancy got crazy!)
Not only can basically all of our current toys fit into one side of the closet, but they are organized and make it easier to clean up after yourself versus the temptation to dump, dump, dump! *You may say, but isn't it too hard for the little kids to move the totes to get to the toys…uh, somewhat which is perfect! They have to clean up to get another tote from the stack or they have to ask for help…which makes it easier for mom to say "clean up the toys you have out and then we will get out the blocks." Whenever kids can just easily access the toys all at once, there seems to be more temptation to just keep getting more toys out with the promise of "I'll clean those up later." Well, in our house later never comes!
My son's closet holds the big kid legos in totes that he doesn't want pieces lost and also some bigger items like imaginext castles.
We moved the non-baby books into the hall closet for easier access. Now everything has a place. Notice the vase I bought to hold the tall standing things like car tracks and nerf swords!
I know we will revamp things when baby girl comes and adds in her girly toys, but now we have a whole extra side of closet space to utilize!
I hope you found this helpful. I always like checking out different methods because different things work for different situations and families. There is no one size fits all method but maybe someone can use a few of our ideas and make it work for you!