This post is sponsored by Tuft & Needle. All opinions are my own.
Hello friends! It's so good to "see" you. This past summer has been a crazy busy one. We have enjoyed every second and in our spare time I've been slowly working on finishing up some rooms in our home. My latest project has been our master bedroom makeover. Today I am sharing some details and master bedroom decorating ideas.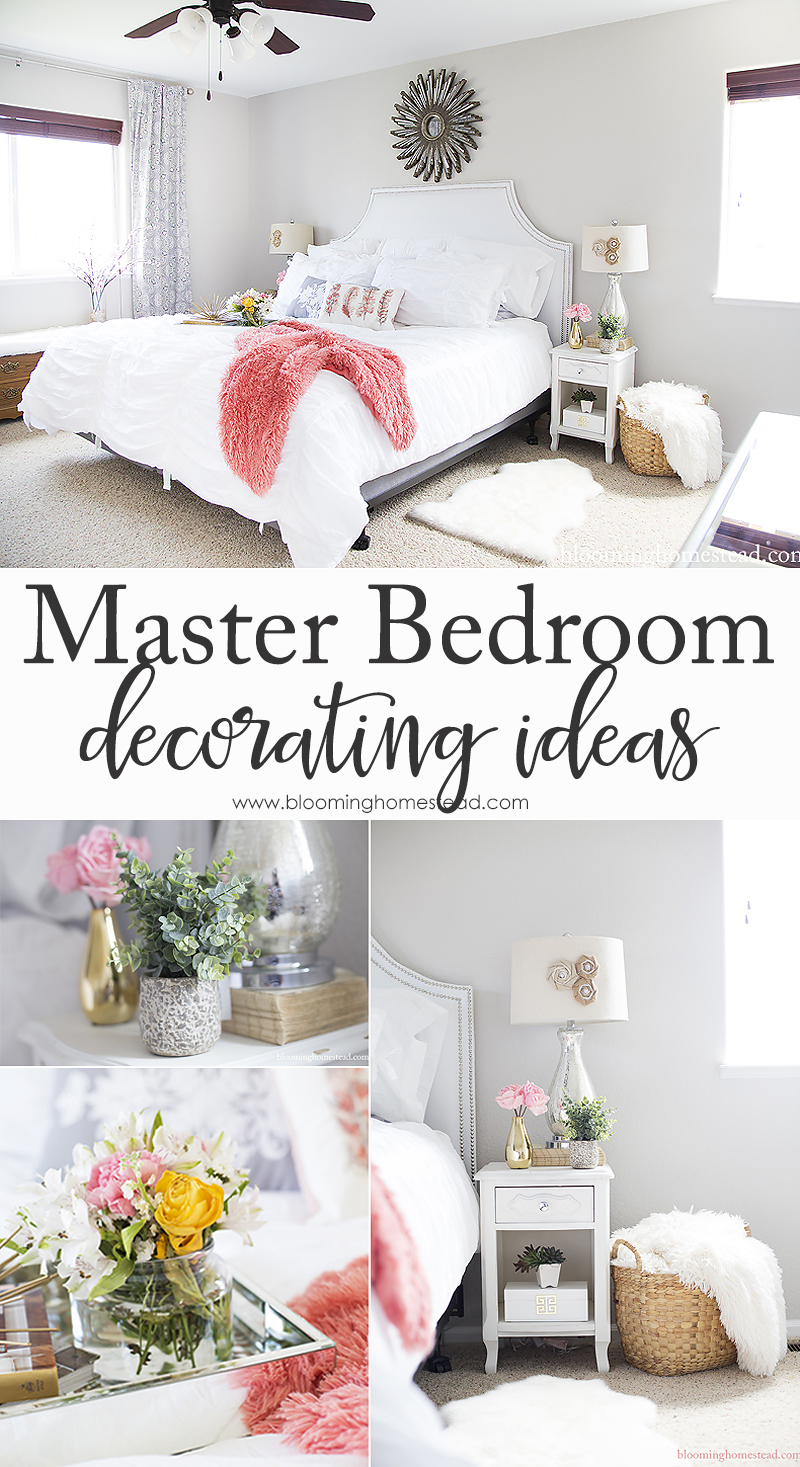 It's been so fun switching things up in our master bedroom and adding little pops of color. I am excited to share a full reveal on the entire room, but today I'll share a few of my favorite bedroom decorating tips.
Choose a focal point– Our bedroom is pretty small so we knew that we wanted the comfy bed to be the focal point. We anchored the bed in the central part of the room. Our headboard was a DIY project and I loved the simple lines and beautiful nailhead trim to draw the eye.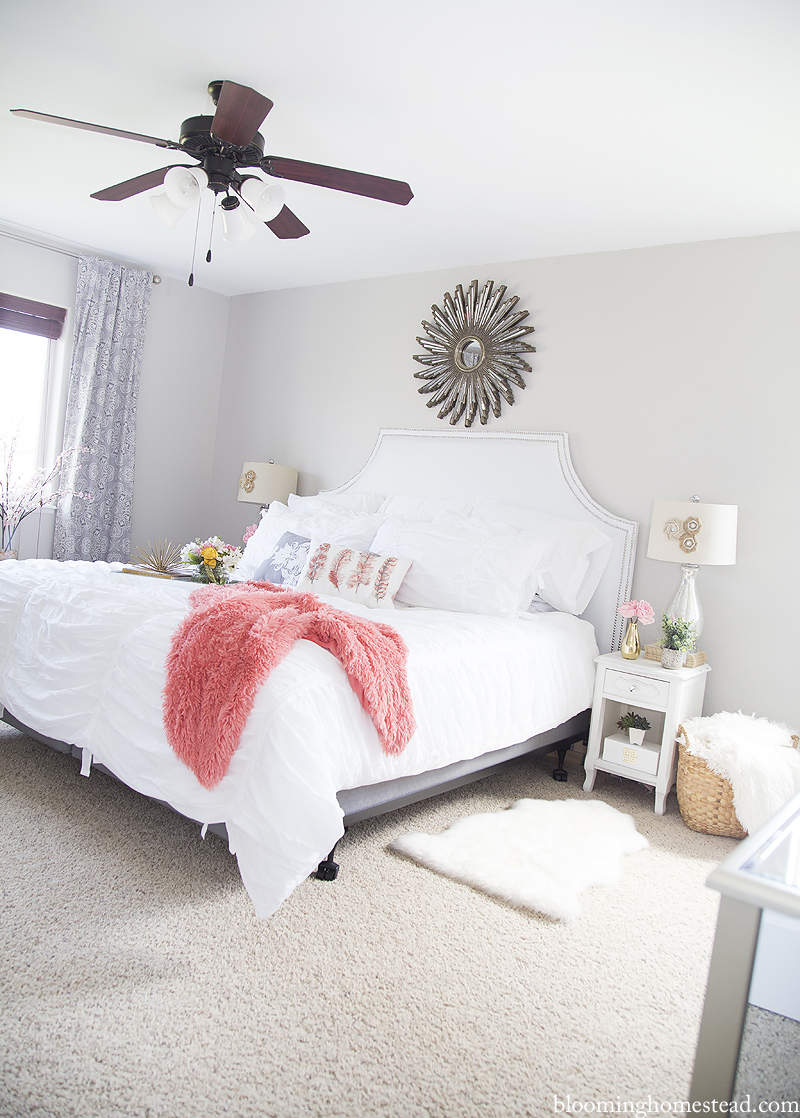 Add pops of color– There is nothing I love more than a simple and neutral color palette. While I love my white duvet cover. (found here) I wanted to add some pops of color. Pops of color are a fun way to add in personality to a room and with the neutral palette colors can be easily switched out. I love to add color using flowers (faux and real) along with little accents on the decorative pillows, throws, and nightstands.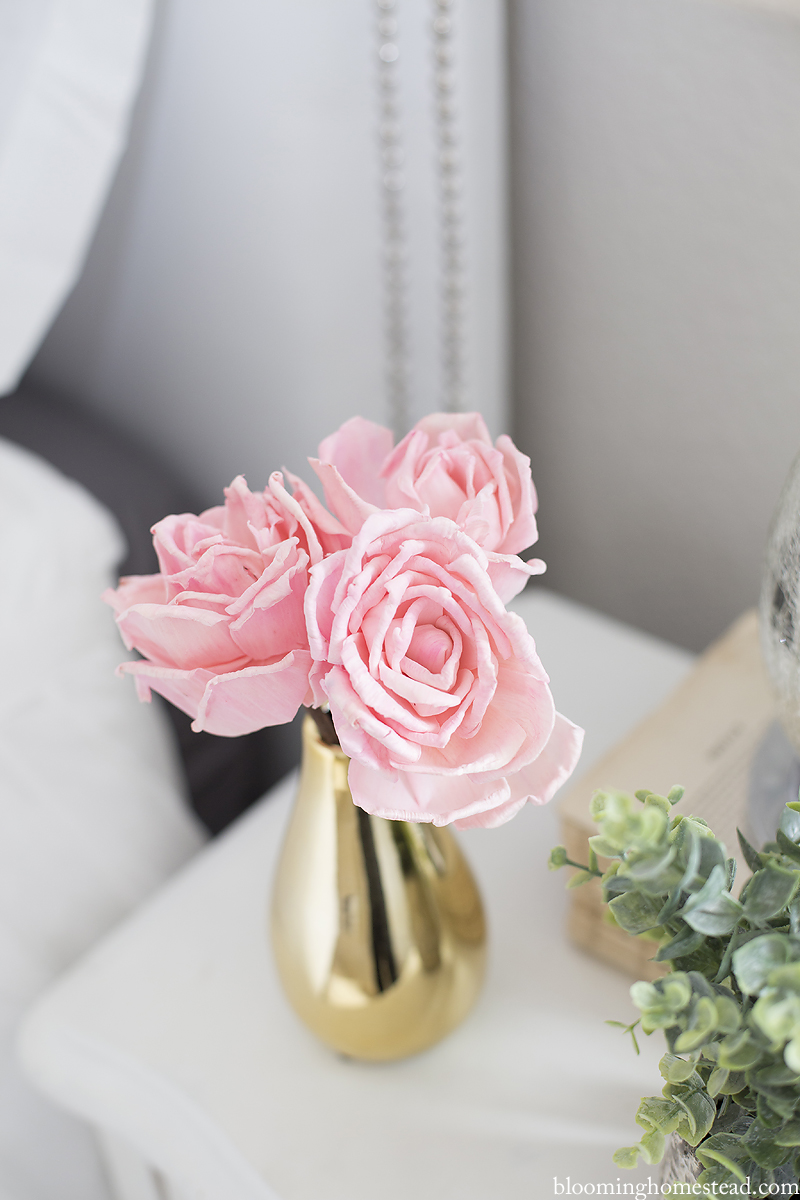 Make your bed comfy– No matter how pretty a bed is, the number one important thing is to make your bed comfy! Adding in soft and comfortable bedding and beautiful soft pillows is essential. I personally adore down comforters and love the ease of keeping them clean by using duvet covers.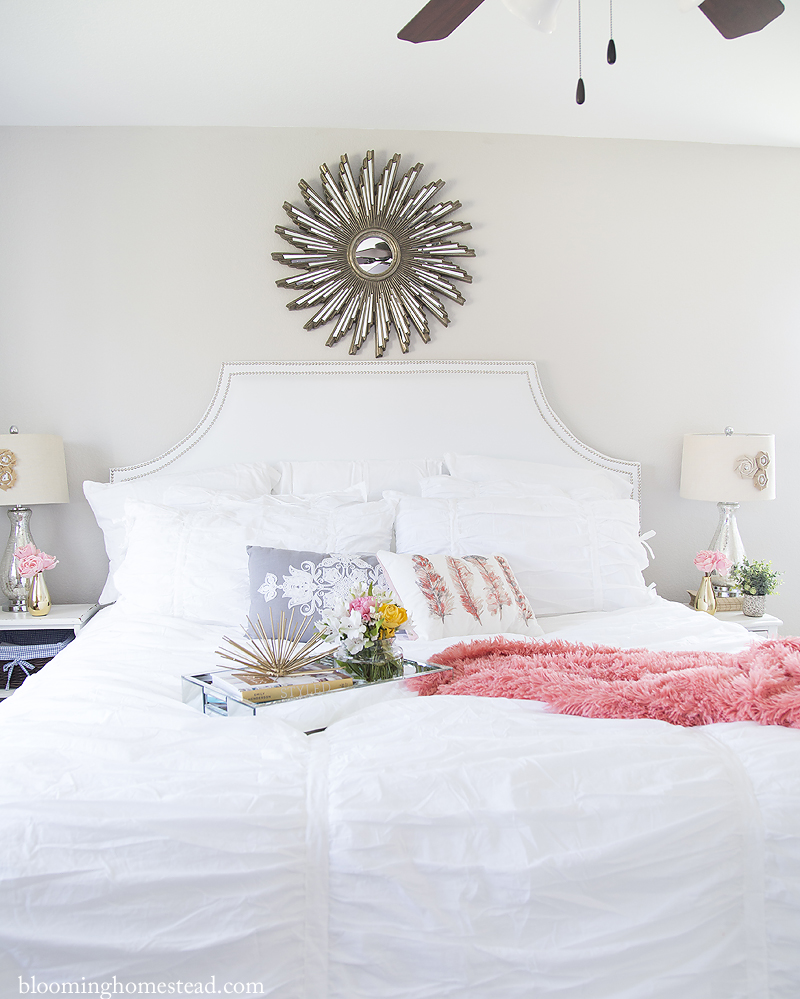 We've had our previous mattress for our entire married lives (14 years) and were on the hunt for a new mattress. When Tuft and Needle contacted me to try out their mattress I jumped at the chance. It arrived in big box, we cut open the plastic, unrolled it and allowed it to fill up. We were nervous about trying a memory foam mattress but so far we are loving it. If you've been toying with the idea of a memory foam mattress, be sure and check them out. Plus they offer free shipping and a 100 night return policy.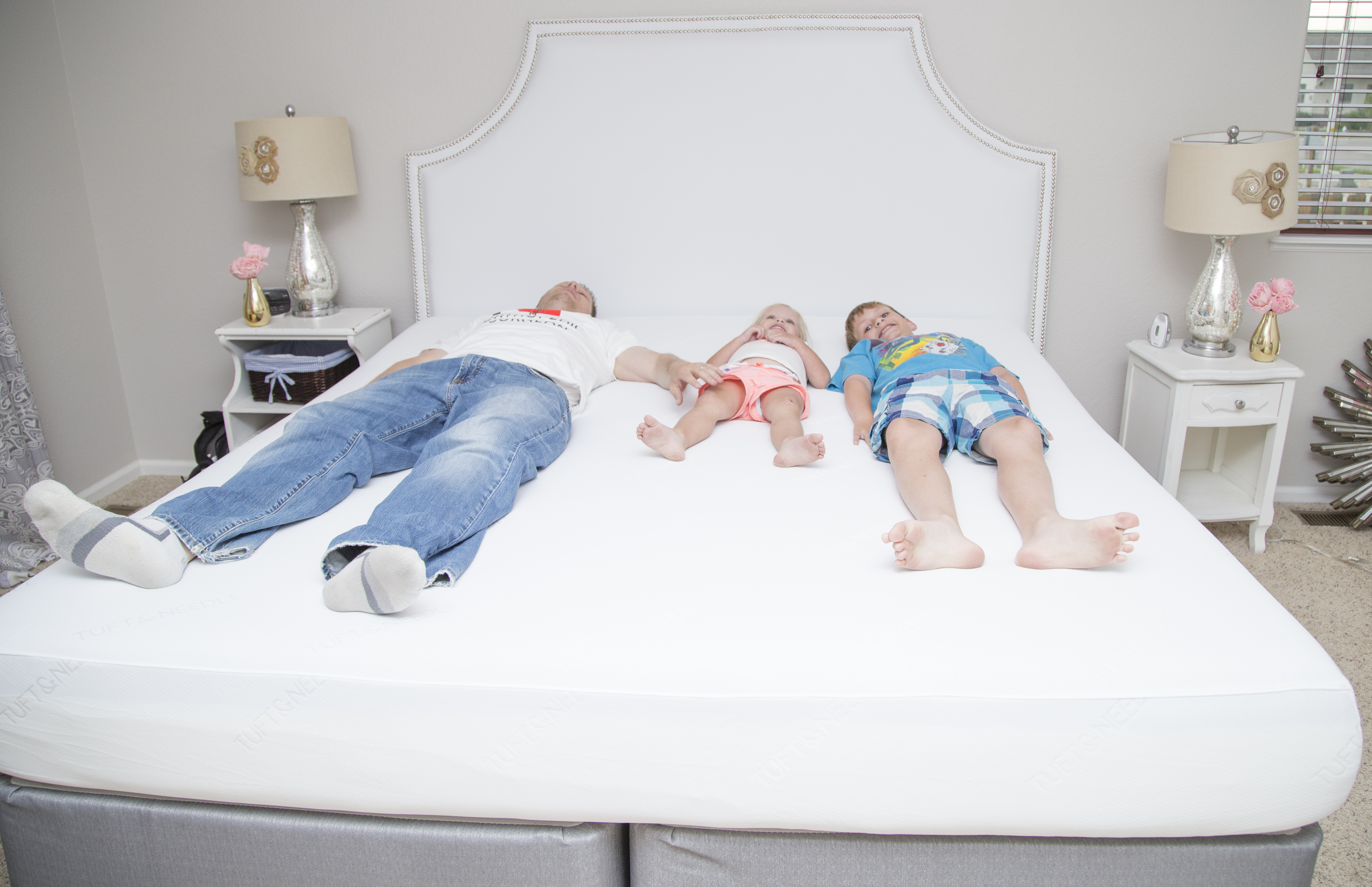 Allow accents to assume different roles- Using items for multiple functions is a great idea for your bedroom. Use an extra throw or a quilt as an accent piece in the day, then it can transform to extra bedding or blankets at nice. Another great idea is to use bed trays. They are versatile and offer a great way to contain frequently used items such as books, glasses, or even drink cups.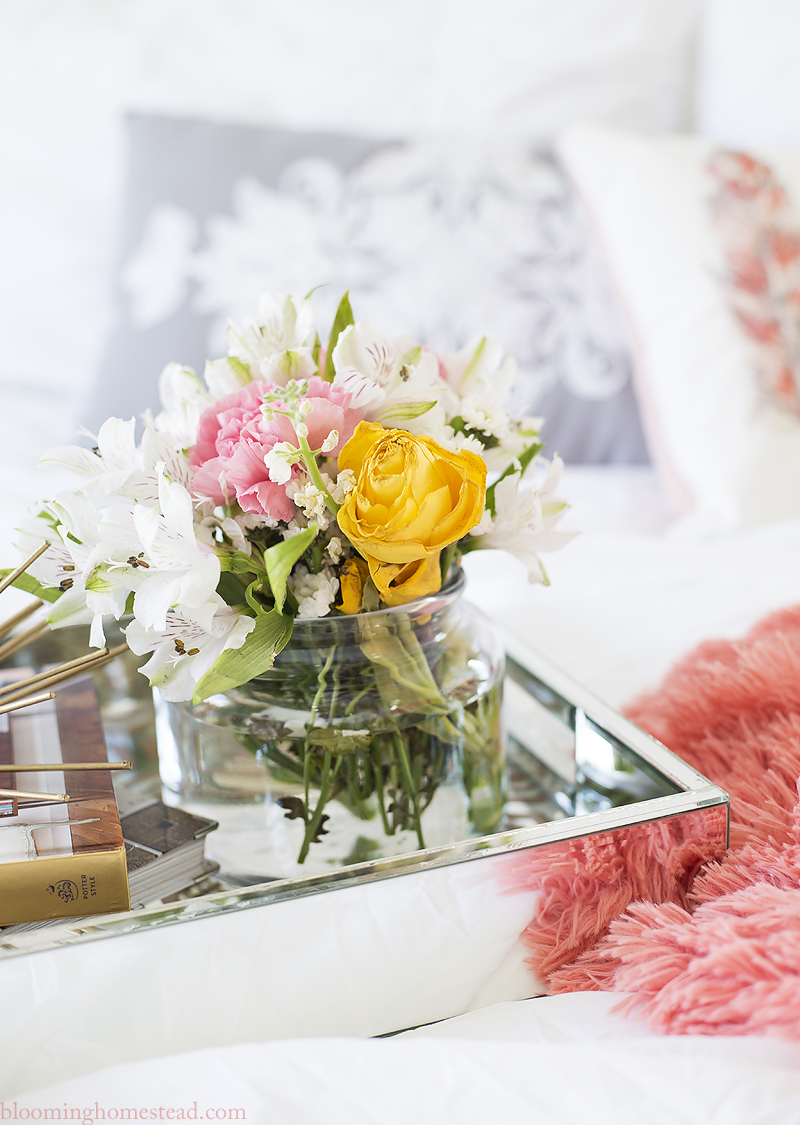 Lastly, Add in accent items– I love to keep things simple, but adding in a few small accent pieces really makes a room feel homey and comfortable. Using greenery whether real or faux is a great way to add texture to a room. I also adore baskets! They are the best way to add in storage and texture to a room.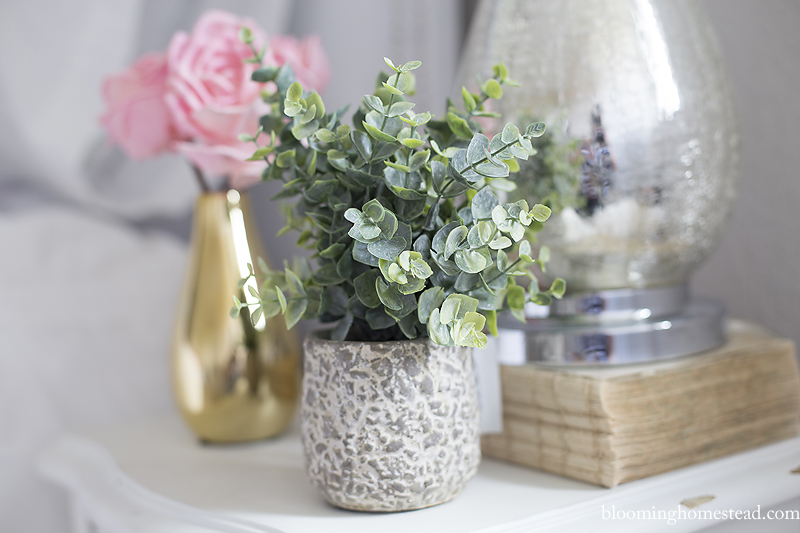 I hope you found these tips helpful. I'll be sharing my complete master bedroom makeover soon!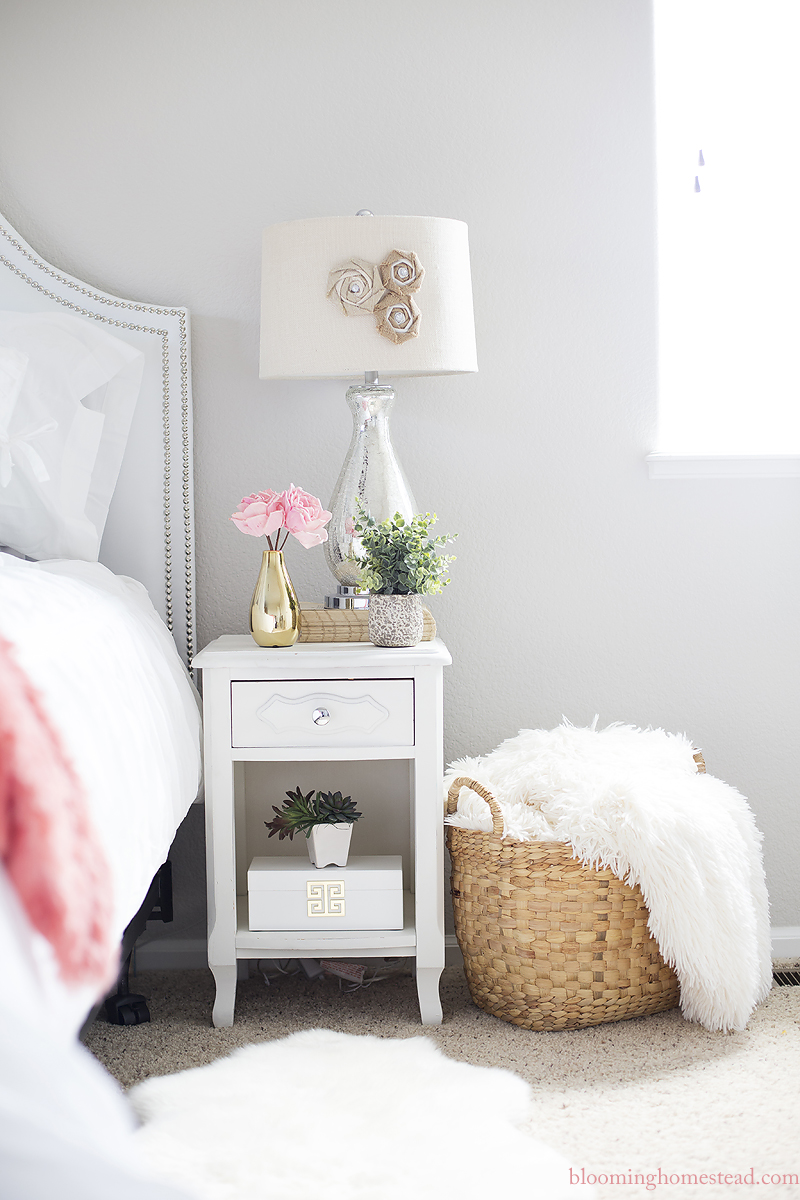 You might also want to check out some of our other room makeovers: