This post is sponsored by The Home Depot
Don't you just love this time of year? Once the beginning of November comes I can't help but get excited to get my home all decorated for the holidays. I've been dying to share my latest project as part of The Home Depot's #DIH Workshop, my version of the Holiday Ornament Display.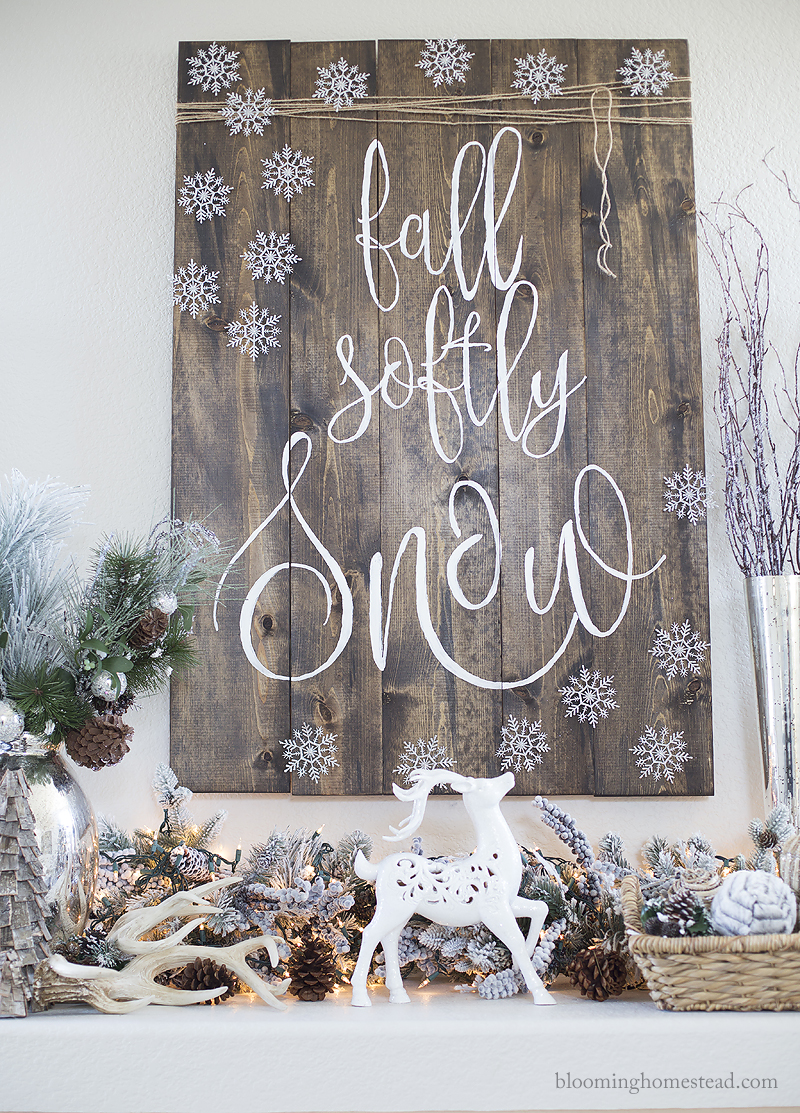 As I was browsing through ornaments at Home Depot, I came across these lovely, delicate snowflake ornaments. I fell in love right away and knew I wanted to come up with a fun way to incorporate them for my non-traditional rustic holiday ornament display. I wanted to do something rustic and woodland while also embracing the softness of the snowflakes so I decided to add some swirly text to my display. I'll walk you through the steps of how I put mine together. (If you want to skip the text part, you can just add the snowflakes directly to the board like the original DIH Workshop project pictured below in a fun shape like a tree or a "faux wreath".)
Here are the supplies you'll need to make this Rustic Holiday Ornament Display:
1- 1″x 8″x 12′ common board
1-1″x 6″x 8′ common board
1″x 4″x 6′ common board
1 box #8 x 1 1/4″ Phillips square drive flat head screw
1 roll jute twine
1 box 20 pack silver snowflakes ornaments
Dark walnut minwax stain
DecoArt Chalky finish paint in everlasting
brush for stain and small artist brush
chalk
sanding block or sander
drill
circular saw
pencil
lint free cloth
hot glue
Optional: Alphabet stencil
Step 1: First, you'll measure, mark, and cut (3) 48″ sections from the 1″x8″x12 common board, (2) 48″ sections from the 1″x6″x8′ board, and (2) 30″ sections from the 1″x4″x6′ board with the circular saw. Lay out the 48″ sections side by side starting with the 8″wide then a 6″ wide piece, then repeating that until all 5 boards are in place.
Step 2: Center one 30″ board horizontally across the five 48″ boards about 3 1/2″ down from the top. Repeat with the bottom.
Step 3: Secure bracing boards using two wood screws in each board.
Step 4: Lightly sand your boards if necessary and apply stain. I let the board sit overnight to make sure the stain set so it would be ready to paint.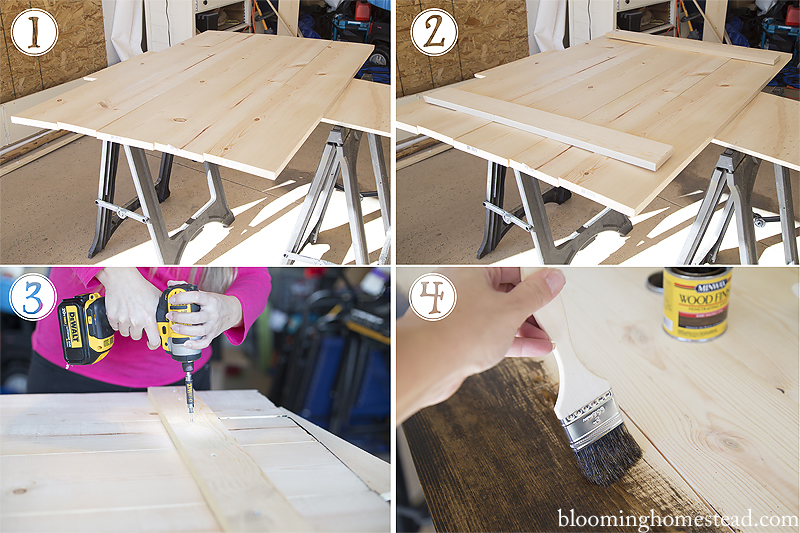 Step 5: Here comes the fun part by adding on the ornaments and lettering! I loved these snowflake ornaments and wanted them to look like they were falling down. I decided to add some whimsical text to the display as well. Using the font braveheart for inspiration, I decided to try my hand at free-handing the lettering and was so pleased with how it turned out. If you don't want to try free handing, you can use alphabet stencils. Since I am NOT an artist, I decided to use chalk to sketch on the text as a pattern. This took a bit of trial and error but the good news is that it will wash off completely and the chalk shows up on the stain creating a "guide" for where to apply the paint.

When you make a mistake with the chalk, just wipe it off and start again. This is much more forgiving then if you make a mistake with the paint! (If you are painting your boards, you can use pencil to lightly sketch out your lettering.) After you get your text "chalked" on, you can start applying the chalk paint by hand using an artist brush. Another tip I learned after some trial and error, is to use a light hand with the chalk. When I started with the top of the letters I was using wide deeper strokes that took longer to wipe off and correct. Using a light hand and gently chalking it on works much better!
Step 9: After you have painted on all your text, you'll let the paint dry. When the paint is completely dry, you'll use a damp lint free cloth to wipe away excess chalk. If you notice any major mistakes with the paint, you can fix them at this point but for the most part imperfections add character. 🙂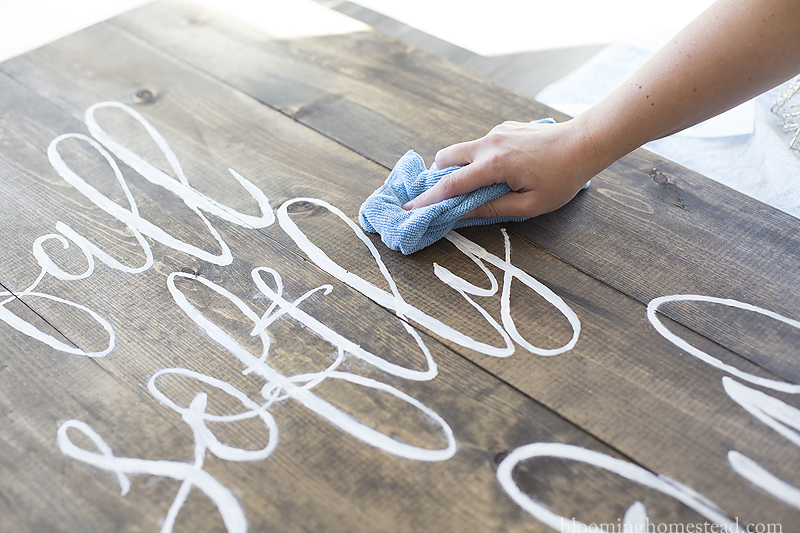 Step 10: Finish off your holiday ornament display board by wrapping around jute twine several times and securing in a knot. Use hot glue to attach your snowflake ornaments to the board base and you are all done!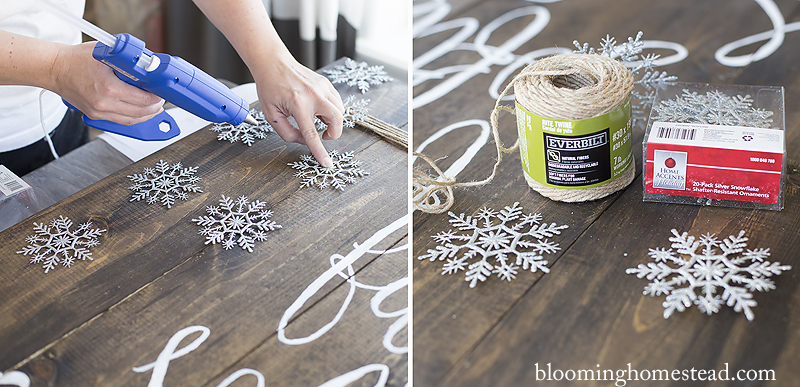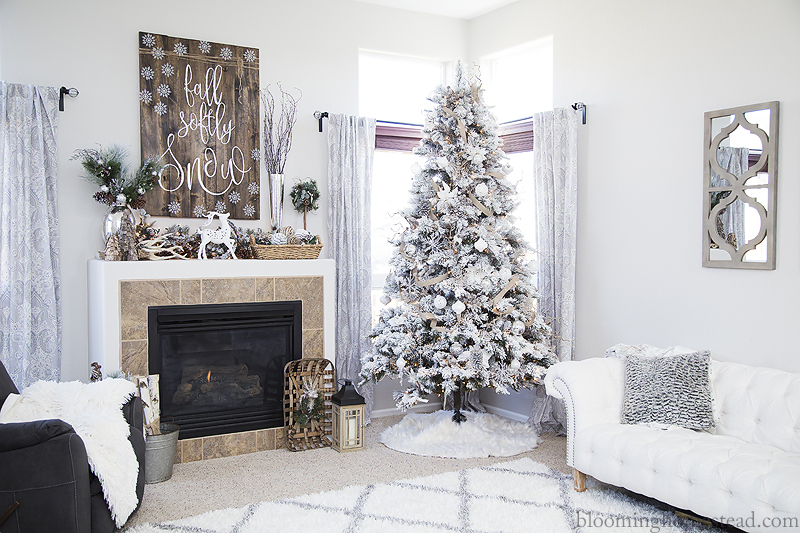 Don't you just love how it turned out? You can register for your local DIH Workshop at The Home Depot by signing up here. These are so fun and you can customize the ornaments to fit your design style and colors. Here's a reminder of the original workshop project: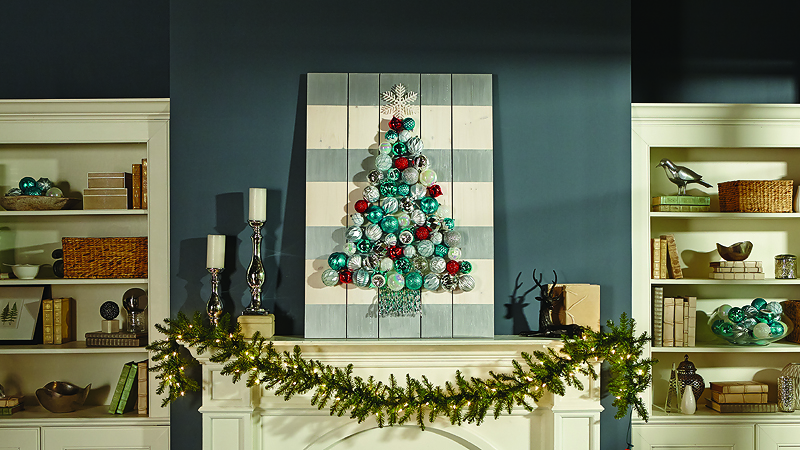 Check out these other fun variations on the Holiday Ornament Displays by some of my team members: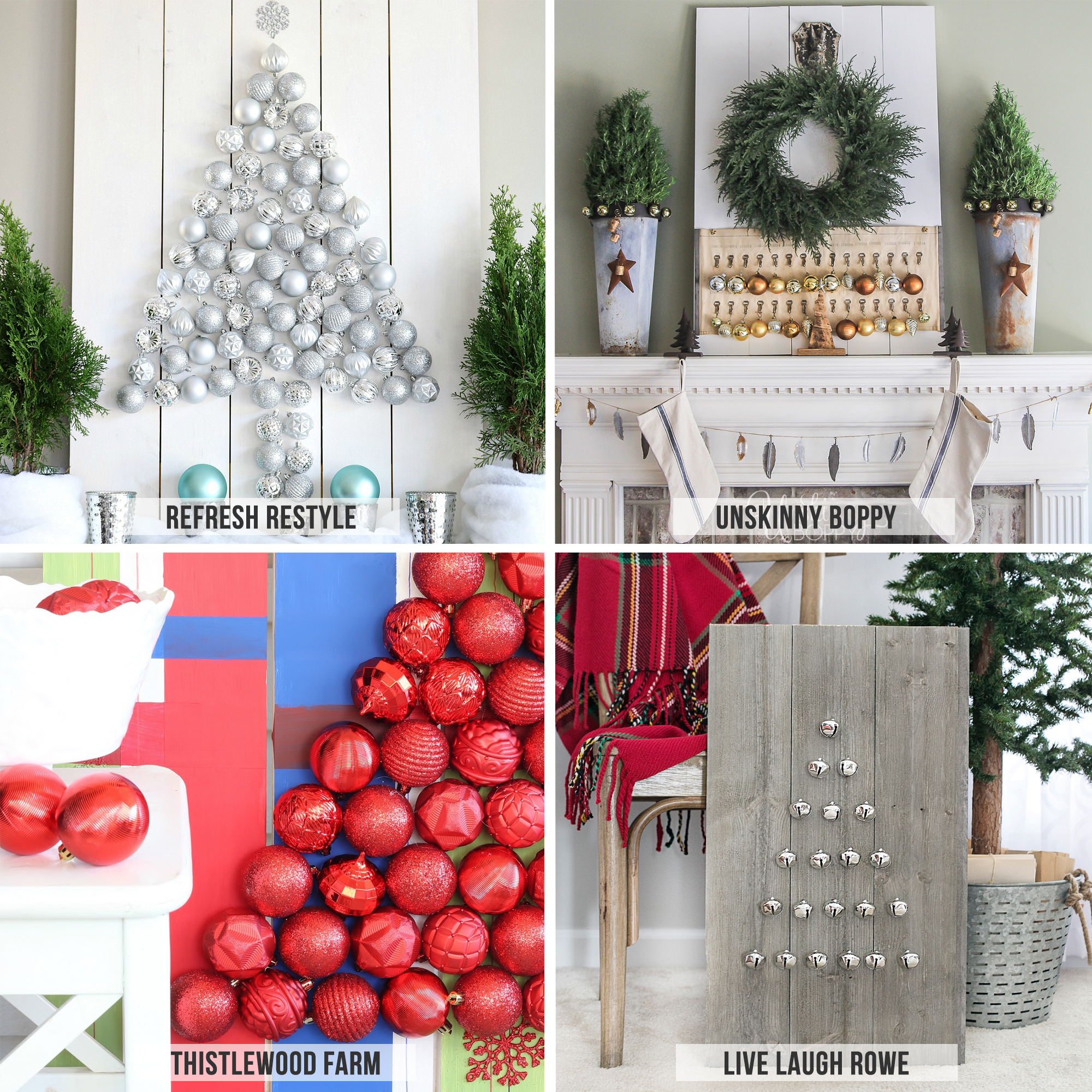 Refresh Restyle | Unskinny Boppy | Thistlewood Farm | Live Laugh Rowe
Don't worry, here are even MORE fun variations on the holiday display board to check out! Don't you love that you can customize this to fit your decor style.
Domestically Speaking | Find It Make It Love It |My Sister's Suitcase | 2 Bees In A Pod | My Uncommon Slice of Suburbia | Virginia Sweet Pea | Designed Decor | The Creative Mom | A House and A Dog | Little Vintage Nest | All Things Thrifty | A Pumpkin and A Princess | The Crafting Chicks | Finding Silver Pennies | Infarrantly Creative | Simply Designing | Girl Loves Glam | The Rustic Life | The Glam Farmhouse | She Leaves A Little Sparkle
Don't forget to go here for more info on the DIH Workshops from Home Depot.
The Home Depot offers Workshops at all of their locations for do-it-yourselfers of all ages and experience levels. There are three types of Workshops offered – Do-It- Yourself (DIY), Do-It-Herself (DIH) and Kids.Customers can learn how to build décor projects, how to make easy home repairs and how to operate tools through demonstrations and step-by-step instructions.
This would be such a fun girls night out! Register here.