This post is sponsored by Hobby Lobby. All ideas are my own and I am excited to share them with you today! One of my goals this year is to get my home in order and keep it running efficiently. We decided to start in the kitchen. We recently renovated our kitchen and I've been on the hunt for simple kitchen organization ideas for our countertop clutter. Keeping healthy snacks handy for the kids is essential but I also wanted to keep the room functional and stylish.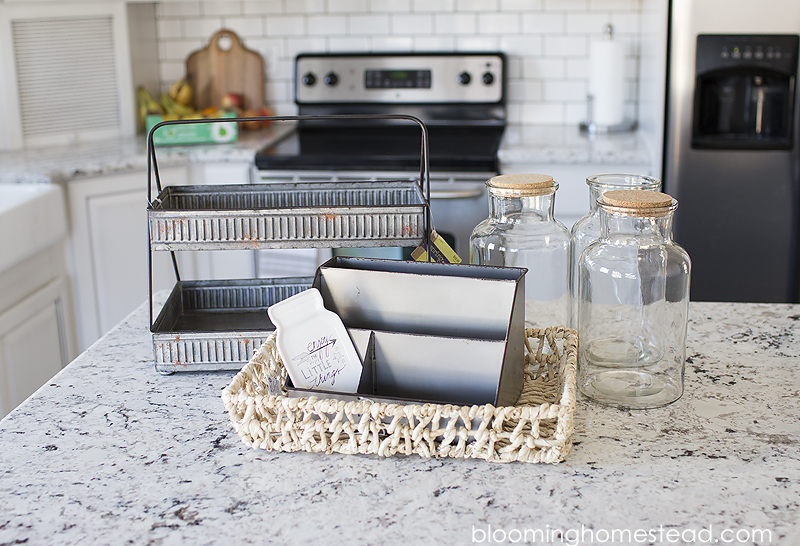 Today I am sharing a few pretty and functional items I purchased at Hobby Lobby that helped me get my kitchen organized (and I did it all for under $100!). First off is my most favorite find…this tiered galvanized tray found in the spring section.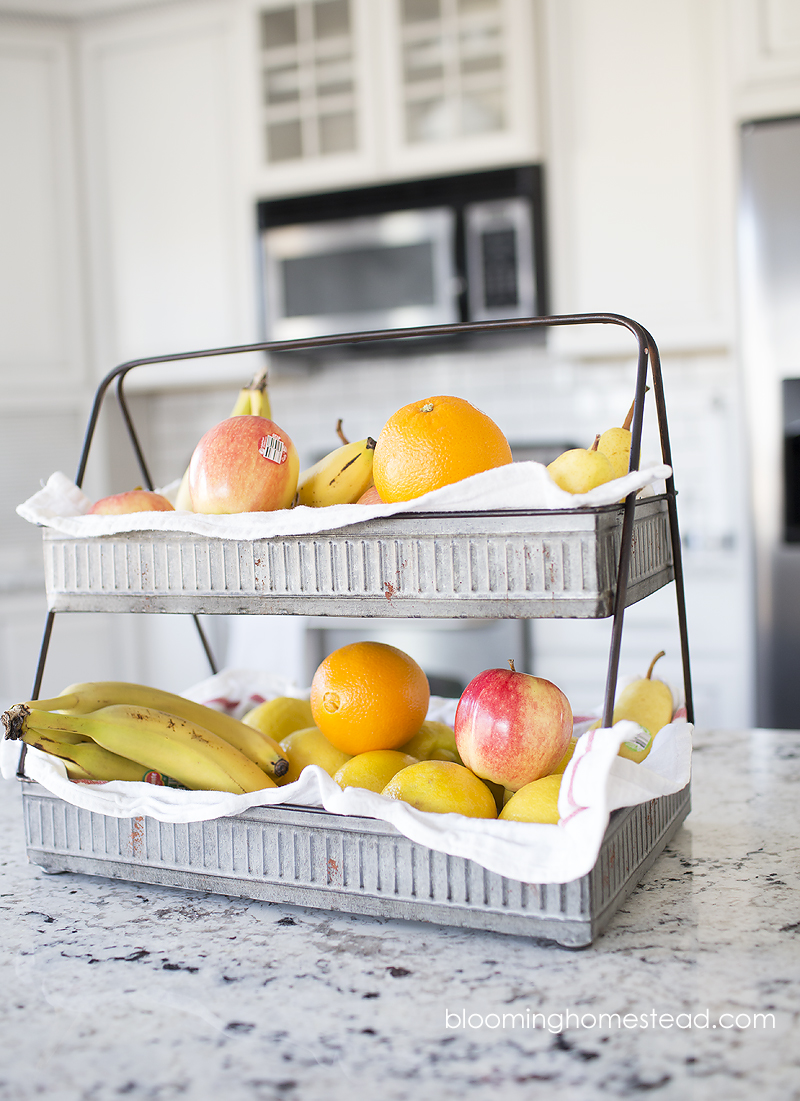 With limited countertop space, I wanted to find a cute way use fruit as a centerpiece. I've purchased different bowls and trays but none of them were big enough to hold all the bananas, apples, oranges, pears, etc. we keep on hand. I came across this galvanized tray and not only does it fit all the fruit with room to spare, but it adds farmhouse charm to the kitchen and makes a lovely centerpiece. This tray is meant for wrapped or packaged foods, so I lined it with clean kitchen towels before placing the fruit inside.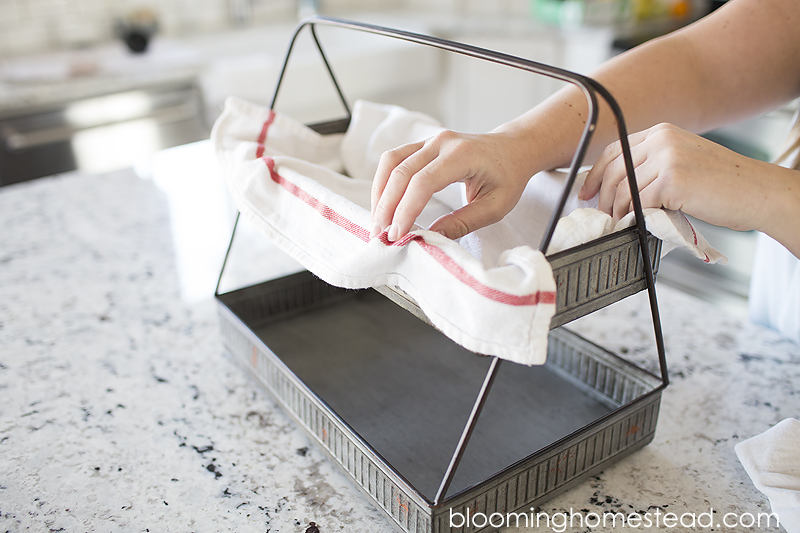 Keeping healthy snack options like fruit easily accessible for my kids helps them make smarter choices which is a win-win. Along those lines, our pantry is quite small, so we keep a few of our favorite snacks on the countertop. This makes it easy when we need to pack lunches or grab a quick after school snack.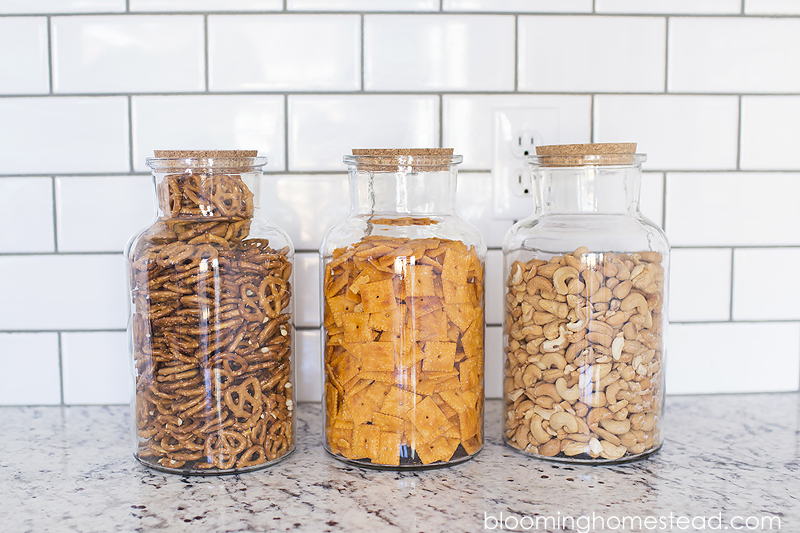 These glass jars are not only the perfect size for our bulk snacks, but they look great too.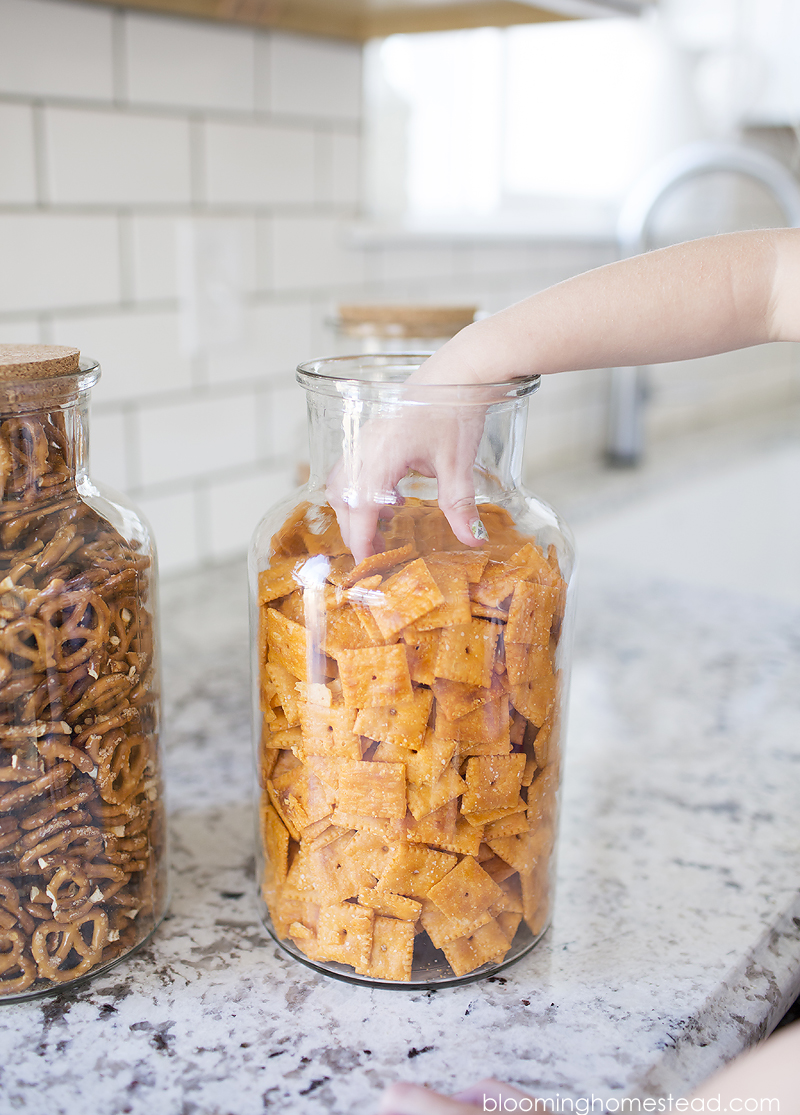 I found this cute basket that works well to hold all those miscellaneous kitchen items that tend to end up all over the countertop. This basket holds our stovetop utensils as well as napkins, cutting board, salt and pepper shakers, and a butter dish.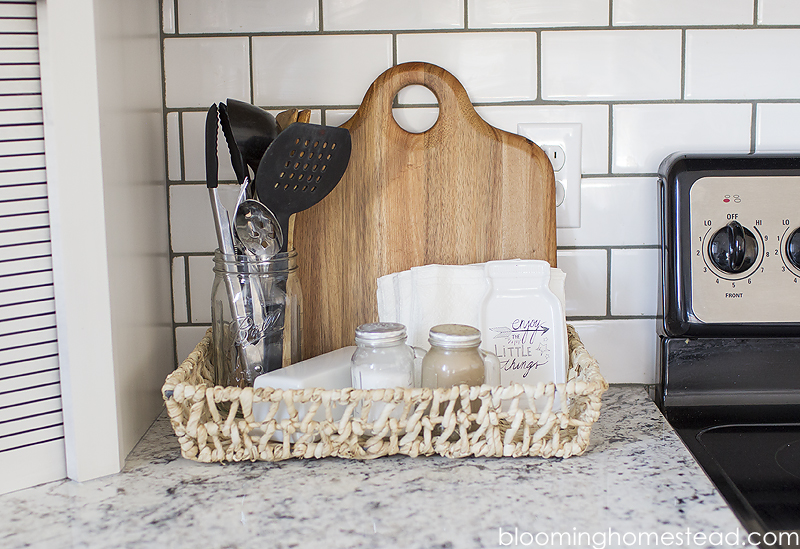 I bought this cute little ceramic mason jar accent to help hold the napkins in place and add a little cuteness.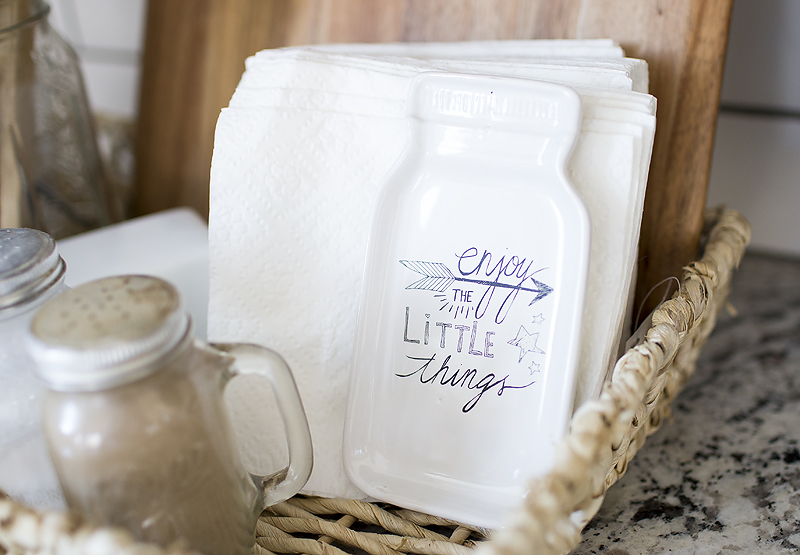 In the corner of the kitchen we have a little nook that tends to be a "catch all" for all the paper clutter. With incoming mail and school papers, sometimes things fall through the cracks or they just end up in one big pile. It gets frustrating and overwhelming pretty quickly.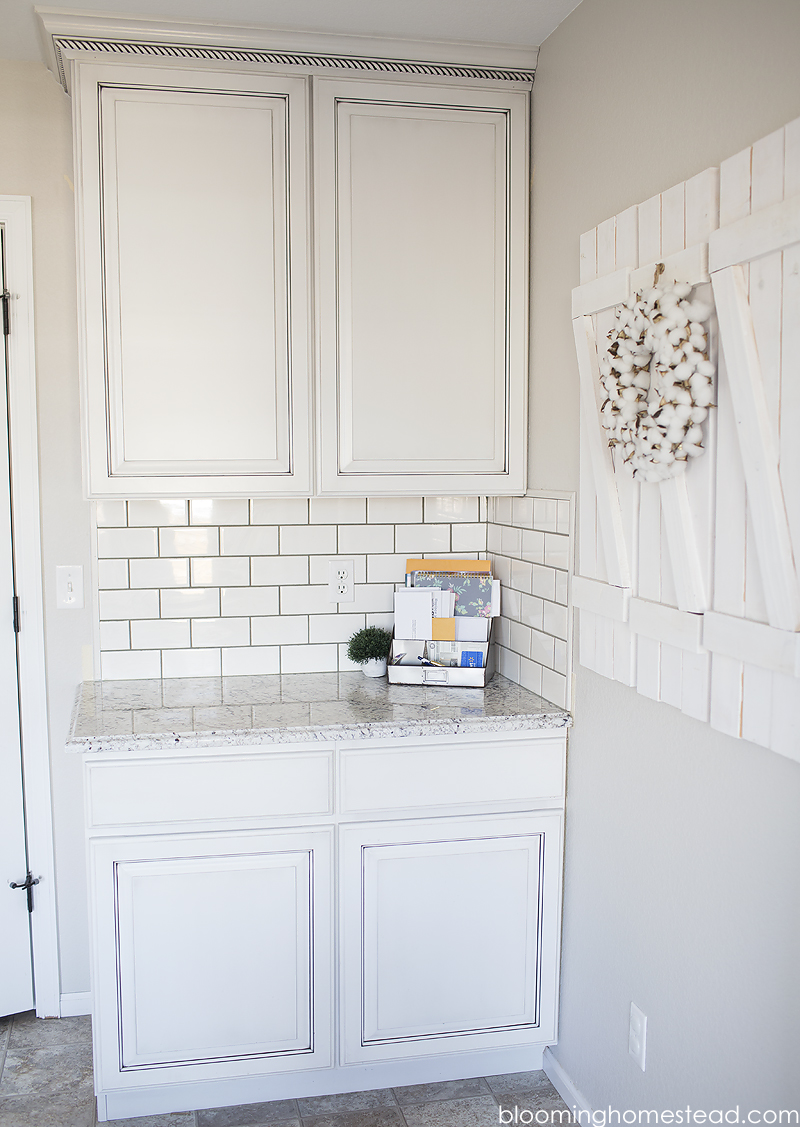 I found this cute galvanized mail sorter that works perfect to keep this area clean and organized. Not only does it keep the paper clutter minimized, but it also holds stamps, gift cards, coupons, and pens.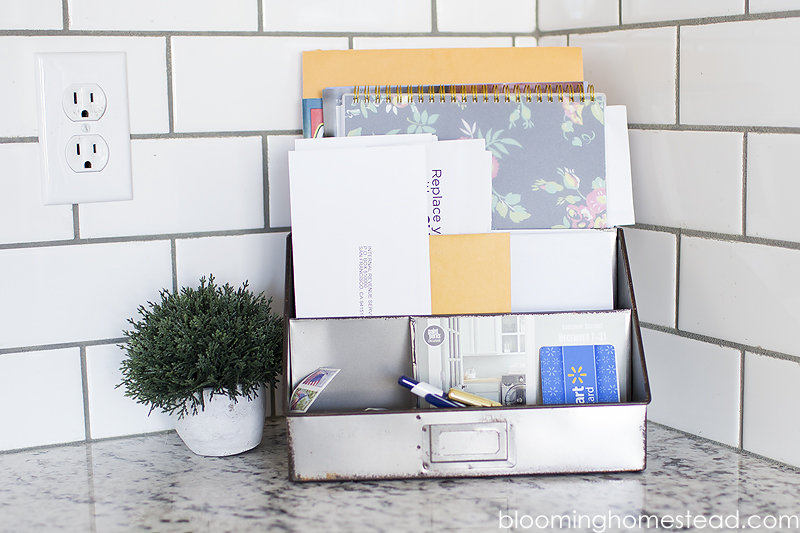 I hope that I've been able to spread a little organizational inspiration your way. It's amazing how having just a few "tools" on hand can make such a big difference. Now I can honestly say I love my new kitchen, not only is it beautiful but it is functional and organized too! Visit HobbyLobby.com for these great items:
3 Glass Jars with corks (2 jars @ $14.99, 1 was 40% @ $8.99)-$38.97
Mail Organizer- 40% off-$11.99
Galvanized Tray-44% off-$35.99
Basket-$8.99
Decorative ceramic mason jar-40% off-$2.99
Total: $98.93 And don't forget the 40% coupon!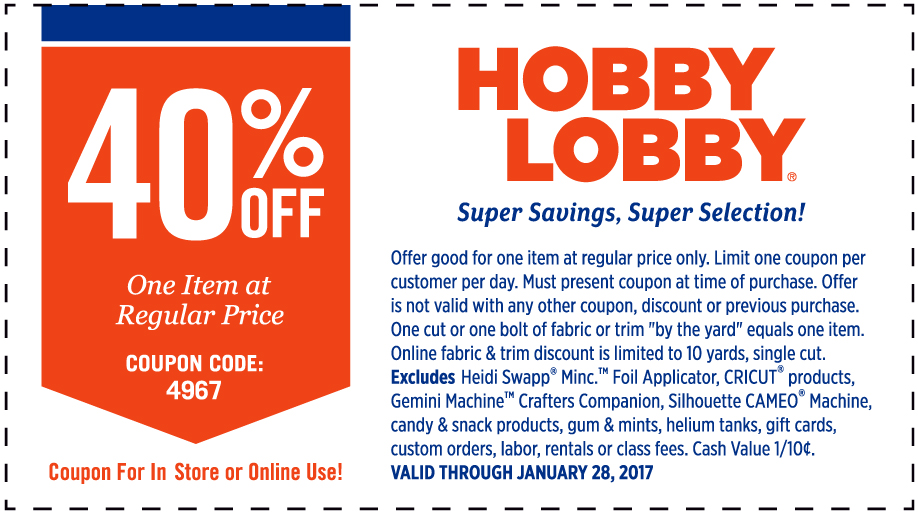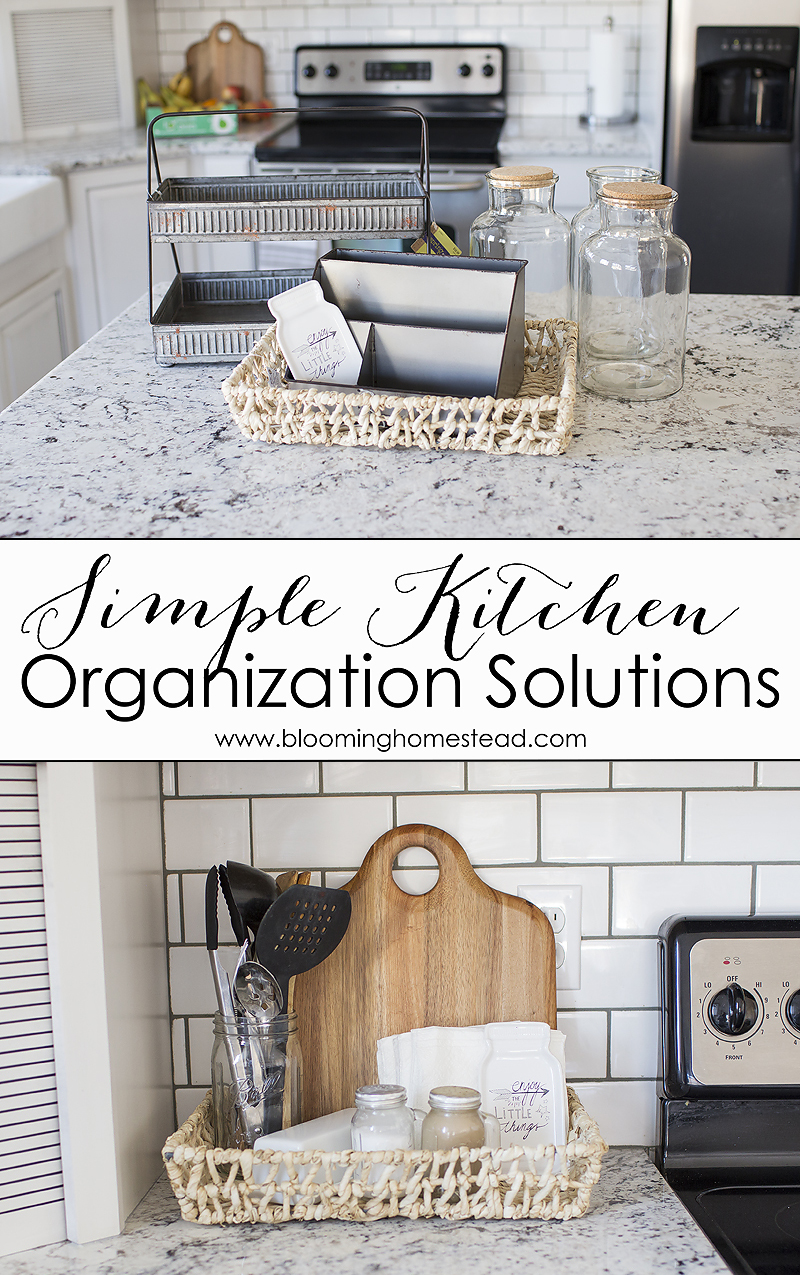 This is a sponsored conversation written by me on behalf of Hobby Lobby. The opinions and text are all mine.