This is a sponsored post written by me on behalf of Devine Color. All opinions are 100% mine.
Today I've got a fun and simple project for you. I've been working on our office makeover the past few months and I've been hoping to capture that perfect farmhouse feel. I've been eager to create a large chalkboard area in our home office but with the wacky texture of our walls and the fact that we are always moving furniture around, I've had trouble locating the best wall space. After looking for an oversized farmhouse style chalkboard at a reasonable price, I decided my best bet would be to go the diy route.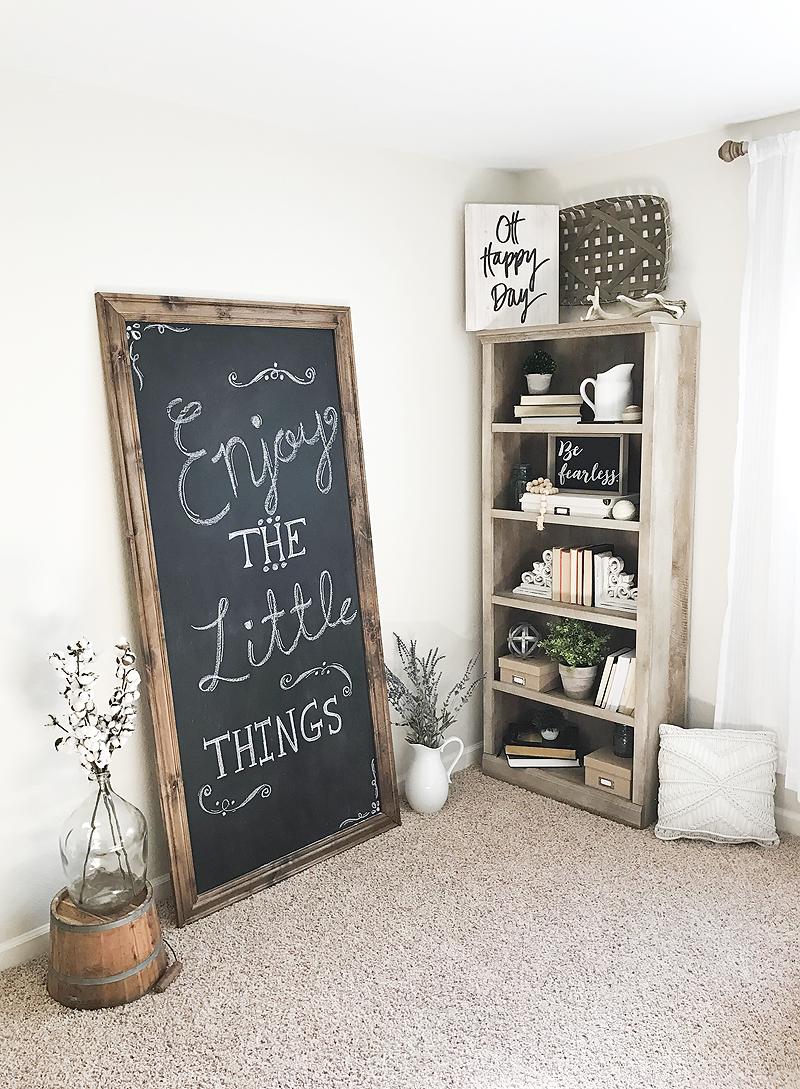 I'm all about keeping things simple and to be honest I am no master builder so I wanted to keep this project as basic as possible. I came across this Devine Color by Valspar Chalkboard Paint while browsing the home improvement isle at Target and knew it would be perfect for this project. I'm always checking out the latest home decor at Target and I love that this line coordinates with Target's home decor. Devine Color (exclusively at Target) makes it easy to add updates in your home at an affordable price.
Here are the supplies you'll need to make your own DIY Oversized Chalkboard:
3 ft by 6 ft sheet of 1/4″ underlayment-(Skip this if you want to paint directly on the wall)
3 (7ft) strips of casing trim
smooth roller brush
stain (I used dark walnut)
cloth
miter saw or miter box
nail gun or (hammer and tack nails)
Step 1: You'll determine where and what size you want your chalkboard. I knew I wanted my chalkboard to be large to fit our empty office wall, but I decided to use underlayment as a base instead of painting directly on the wall because of the wacky wall texture and also because I wanted to be able to take it with us in case we moved. I bought the underlayment at the hardware store and had them cut down a 4′ x 8′ sheet to 3'x6′.
Step 2: Paint your surface using the chalkboard paint and a smooth rolling brush. This paint applied so smoothly and was completely covered in one coat!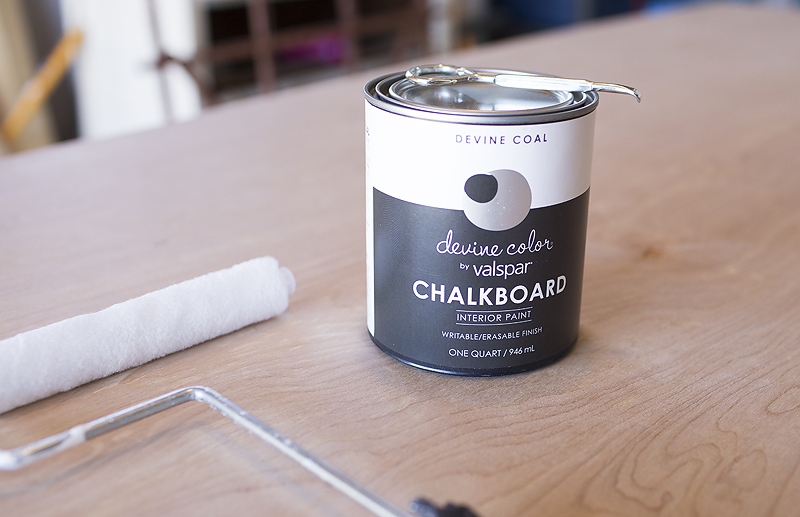 I decided to add a second just for extra coating but I was so impressed with the coverage of this paint.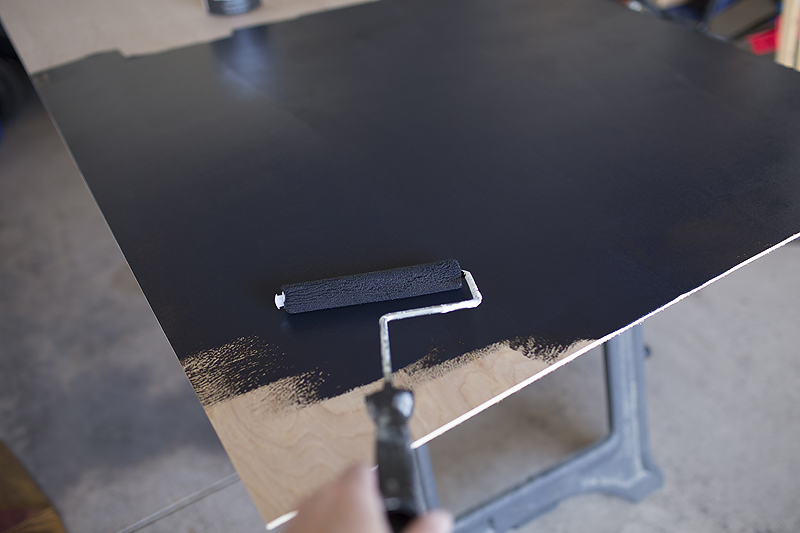 Step 3: While the paint was drying, I decided to miter the edges of my trim to 45° angles using my miter saw. If you don't have a miter saw, no problem! You can either use a miter box or make straight edge cuts instead of angled mitered edges.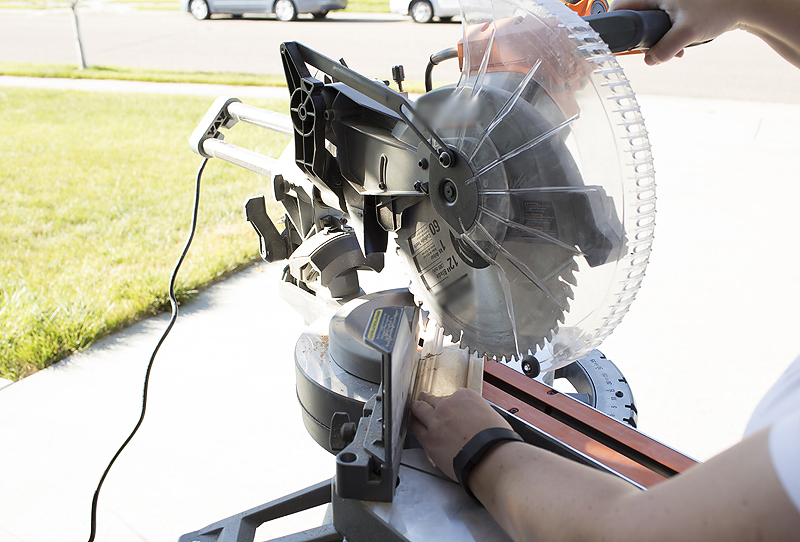 Step 4: While the chalkboard was drying, I stained the trim a dark walnut color and left it to dry.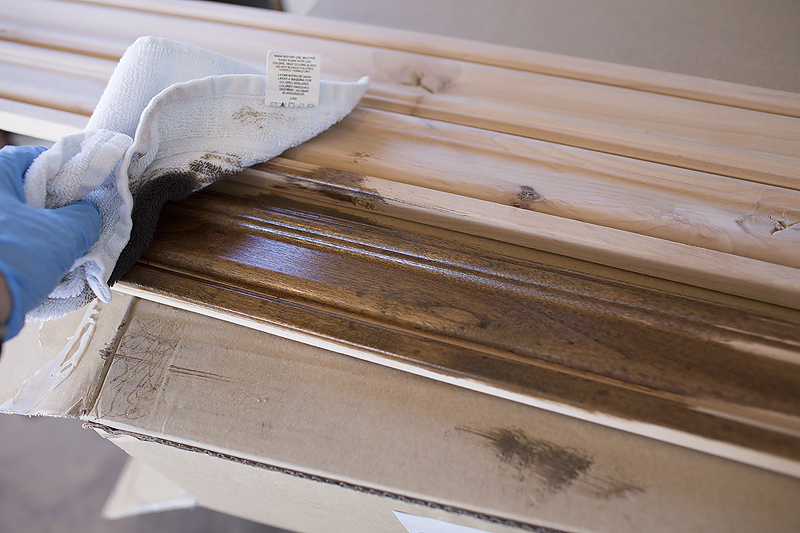 Step 5: Time to assemble! Simply line up the trim pieces around the edges of your chalkboard and nail into place. This is easily done with a nail gun and 5/8″ or 1″ nails, but can also be done by hand with hammer and nails.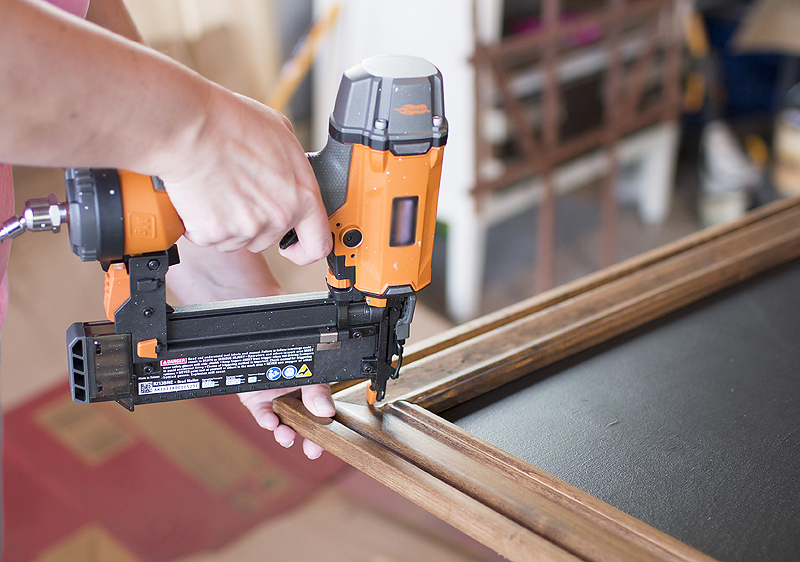 That's it! A super simple way to create your own large farmhouse style chalkboard. I recommend "seasoning" your chalkboard before your first use by rolling on chalk lengthwise over the entire chalkboard and then wiping it off. Now its ready to use!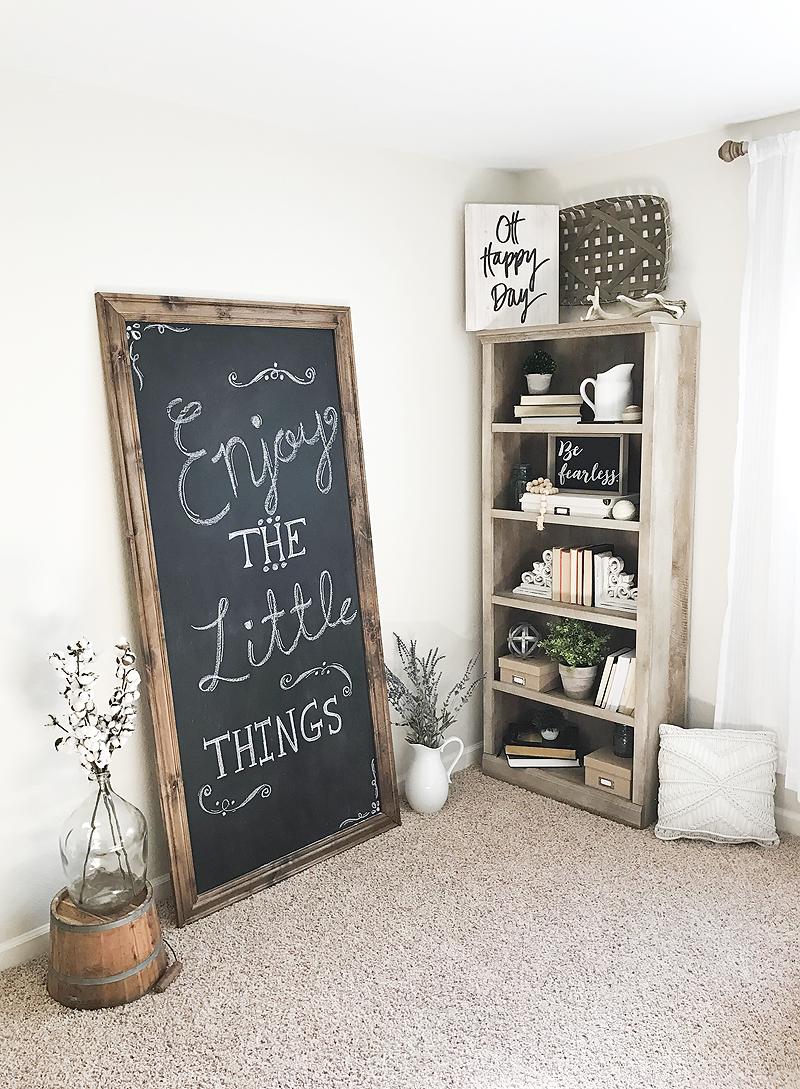 Of course I had to pick up some cute home decor accessories from Target to finish off the space. While I had some antique market finds such as old books and mason jars, I wanted to add in some new cute accessories. Target has a great selection of home decor and I picked up some fun finds for my bookshelf including decorative jute balls, small plants, and this cute macrame pillow.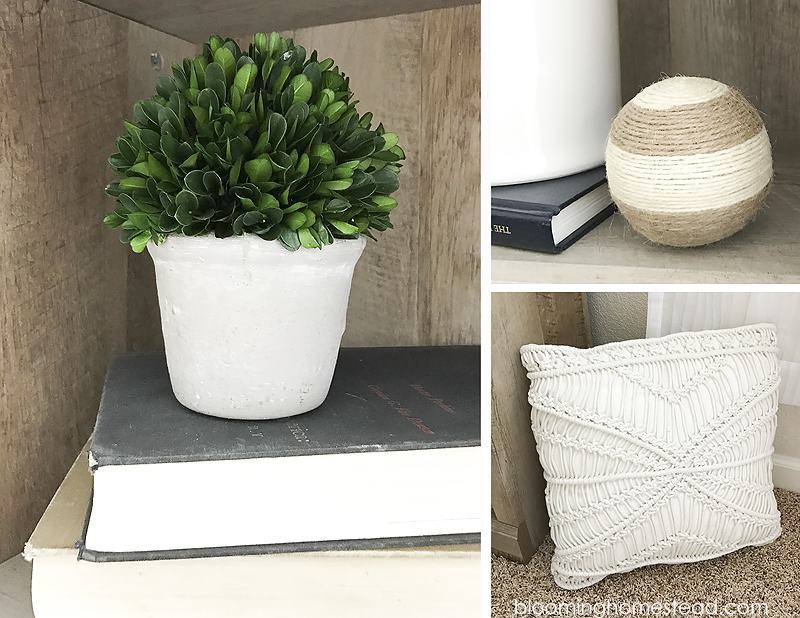 The white pitcher by the chalkboard I've had for a few years now and it is my favorite! I paired it with faux lavender stems to complete that farmhouse style look.
To finish off the bookshelf, I added this cute "Oh Happy Day" Sign. Devine Color + Target coordinate seamlessly for affordable home decor and great style.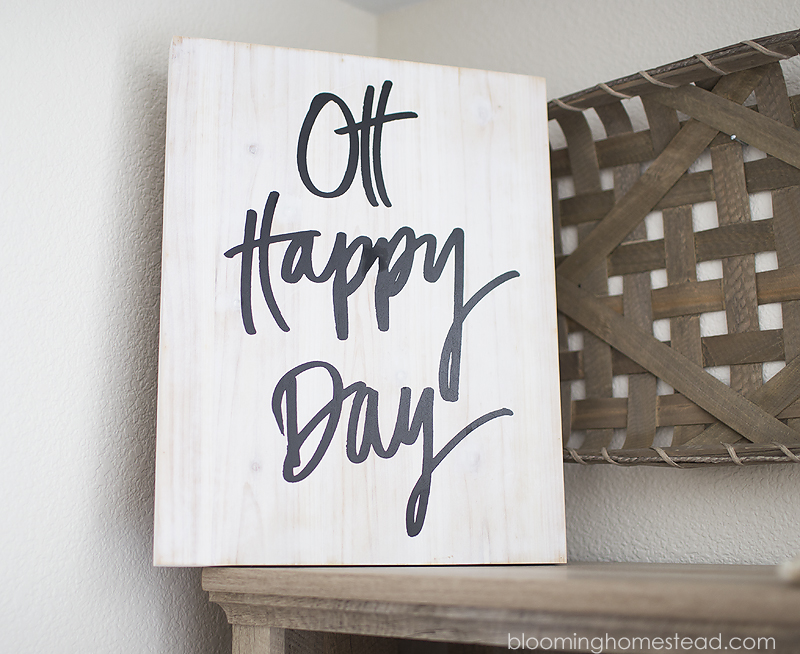 Check out Devine Color on Instagram for more wallpaper and paint inspiration.
' '