As I mentioned last week, we are coming up on our 4 year anniversary for purchasing our first home. In honor of this little occasion I thought I would share 8 things to know about purchasing a home.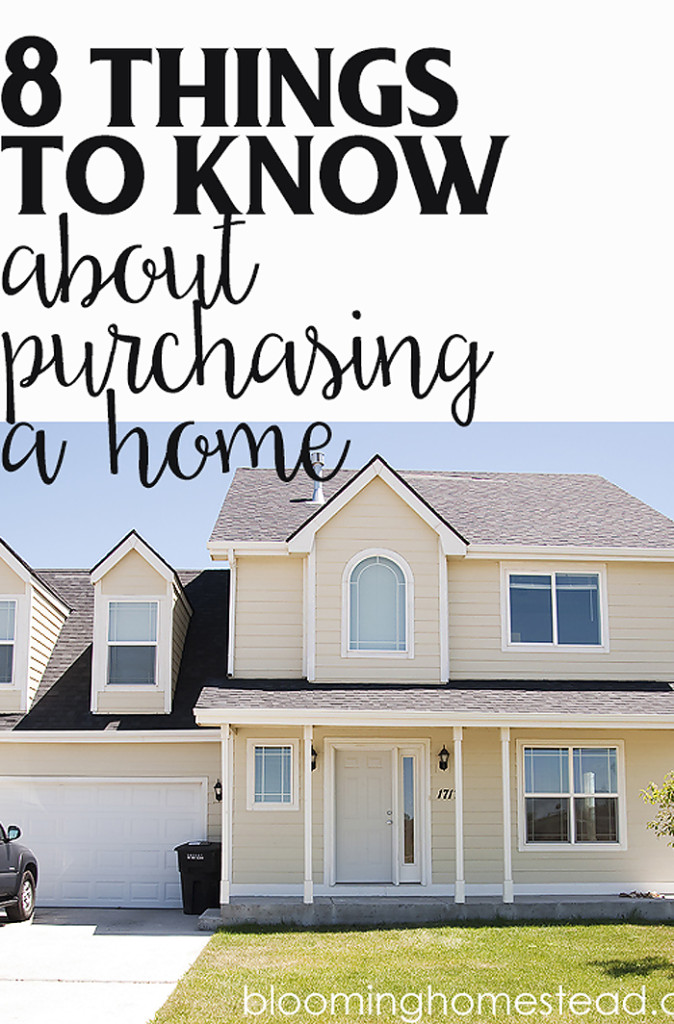 When we were finally ready to purchase our home we were nervous. We had spent our whole adult life up until that point as renters while my husband plugged away at his graduate school and residency. I loved watching fun tv shows like house hunters and property virgins but I still didn't really have any idea of what purchasing our first home would really entail. These are 8 great tips to hopefully make the process easier.

8 Things you should know about purchasing a home.
Know what you can afford: One of the first steps to purchasing a home is to figure out how much you can afford. Start by sticking to the right price range. A rule of thumb is to look at houses that are 2.5 times your annual salary.

Ideally, your monthly housing payment shouldn't be more than 28 percent of your gross household monthly income.
Use an online mortgage calculator to help figure out what you can afford.

Check Your Credit– You'll want to make sure you have adequate credit to receive financing and sometimes you'll recognize mistakes or issues that need to be cleaned up before you an proceed.
Get Organized– You'll want to make sure you have all the necessary documents you need regarding financing.
Decide what type of home best suits your needs. What kind of neighborhood do you want to live in? What about location of schools, work, recreation?
Don't Expect Perfection– While we all have a wish list for our perfect home, you have to take into consideration that nothing is perfect and concessions need to be made. Perhaps you love the kitchen but hate the wall color? That's an easy fix and not a deal breaker.
The Down Payment-The traditional estimate for a down payment is 20 percent of the purchase price of the house, which can lower your monthly payments and avoid mortgage insurance better than a lower down payment.
Don't Forget Closing Costs– Remember that closing costs can add to the amount you need to close your loan and take possession of your new home. Look them over carefully, because they can vary from one lender to another.
Understanding Mortgages- Mortgages come in all shapes and sizes, and which one you choose depends on a lot of variables, including your budget, the amount you can afford to put down, the interest you'll pay and the term length. All mortgages have pros and cons, but starting with at least a top-line understanding of what's available is important as you save for this major purchase. Capital One has launched a new online learning center which is a free online resource where you can learn all about home buying. They've gathered easy-to-understand articles and helpful videos, as well as information about Capital One's Home Loans offerings.
I hope you found these tips helpful and I wish you luck with your home buying experience. It can be frustrating, annoying, heartbreaking, and wonderful all at the same time but it feels to good to have a place you can truly call your own! We love having the freedom to make home updates and choose fixtures that WE want.
I was selected for this opportunity as a member of Clever Girls and the content and opinions expressed here are all my own.