In honor of Memorial Day and the upcoming 4th of July, I decided to make these cute Patriotic Rice Krispy Treats. Aren't they fun?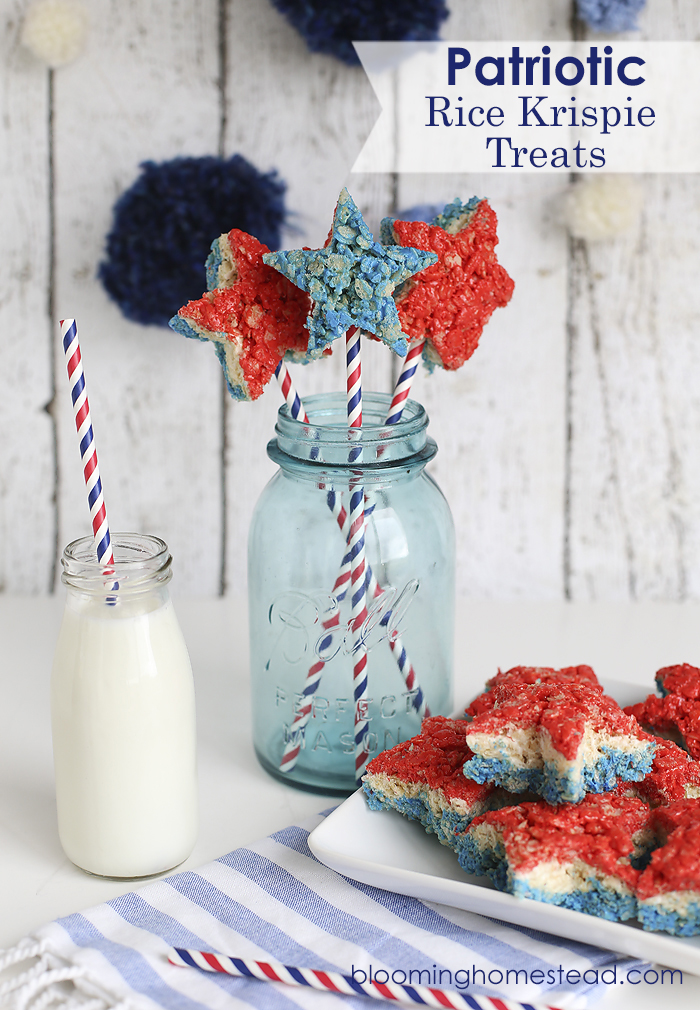 They are pretty simple to make. First you'll start melting your butter and marshmallows together. Then you'll separate the melted mixture into 3 bowls evenly and add food coloring to two bowls. Next you'll start adding in the rice krispies. Mix well. (I did one bowl at a time starting with the bottom layer, that way if the marshmallows get too set you can microwave them a little bit to soften and remelt it.) Now start layering them in the 9×13 pan. I did blue, then white (plain), then red. Press them firmly so that there are not empty pockets of space.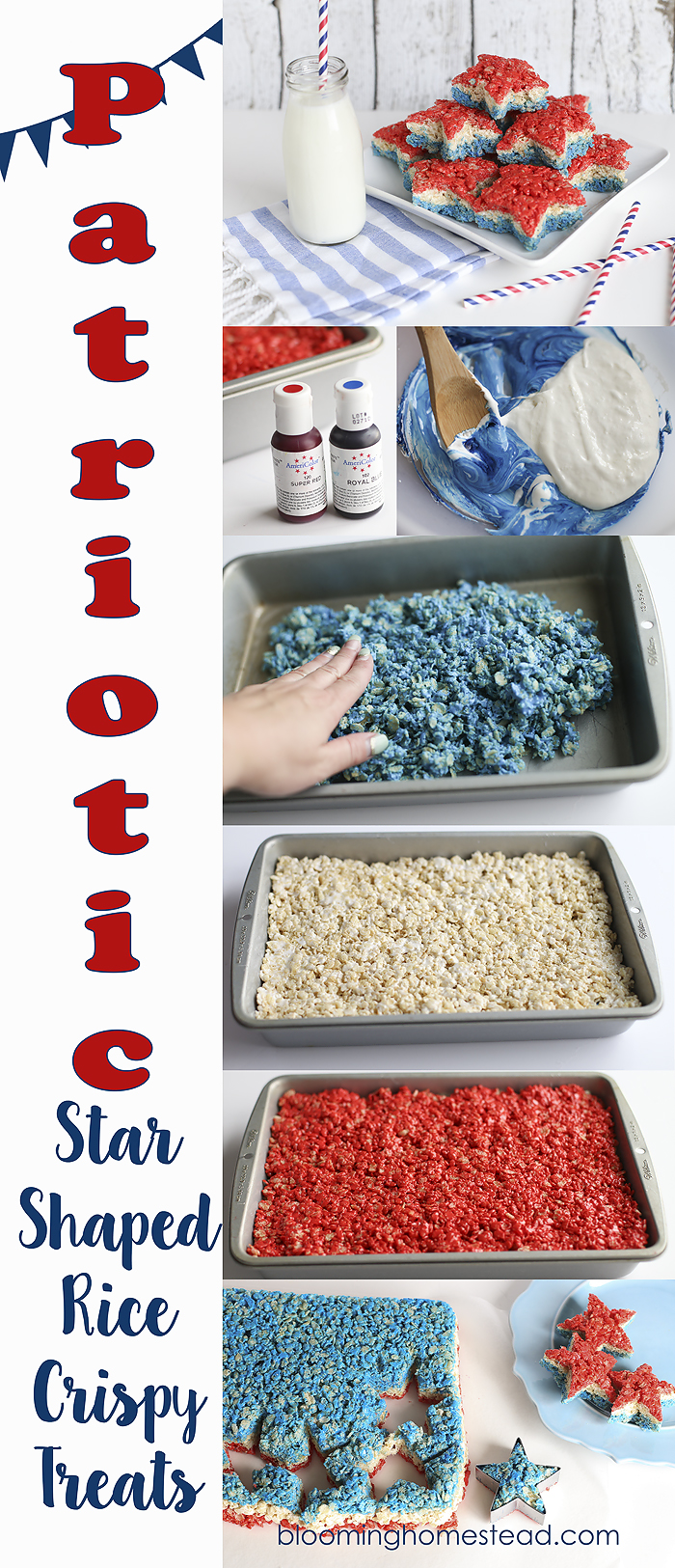 If you let each layer set up while youre mixing up the next layer it is easier to spread on the layers. After all layers and spread and pressed you'll let them set up. This can be just an hour, I usually make them the night before because we like them better that way.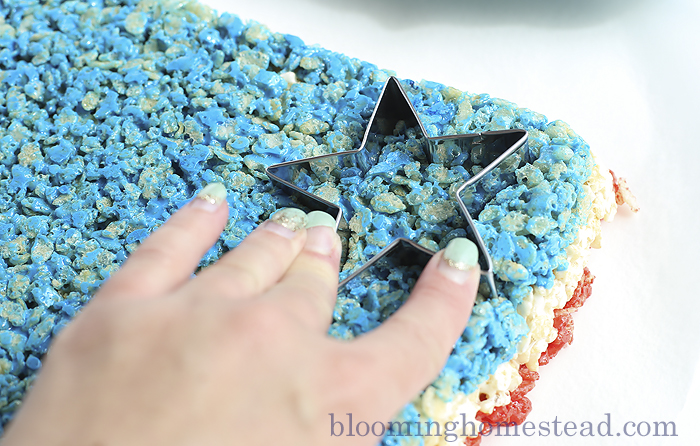 After they are set, you can flip them out onto parchment or wax paper and use a star shaped cookie cutter to cut them out. And yes…this took some elbow grease to get through the thick layer but I wanted to make sure I had a nice, thick, colorful treat.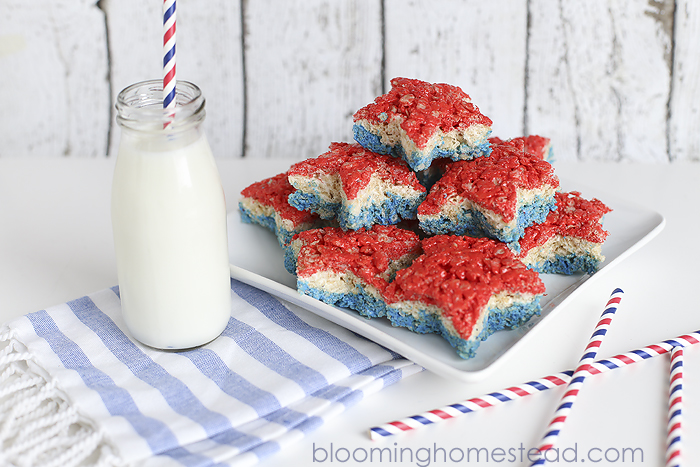 For variety, you can add a stick or paper straw and make them into Patriotic Rice Krispie Pops!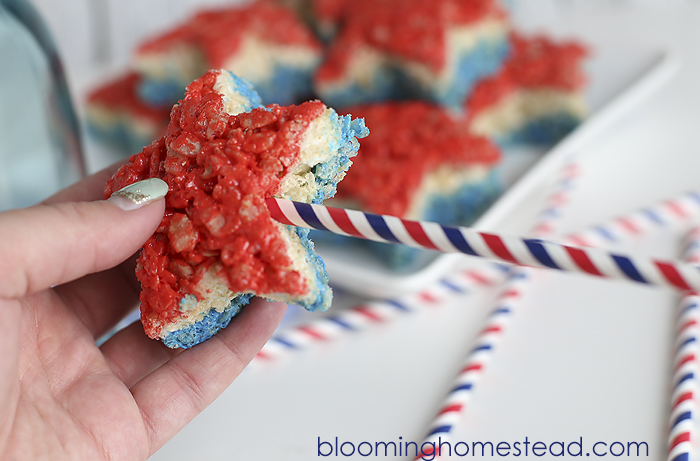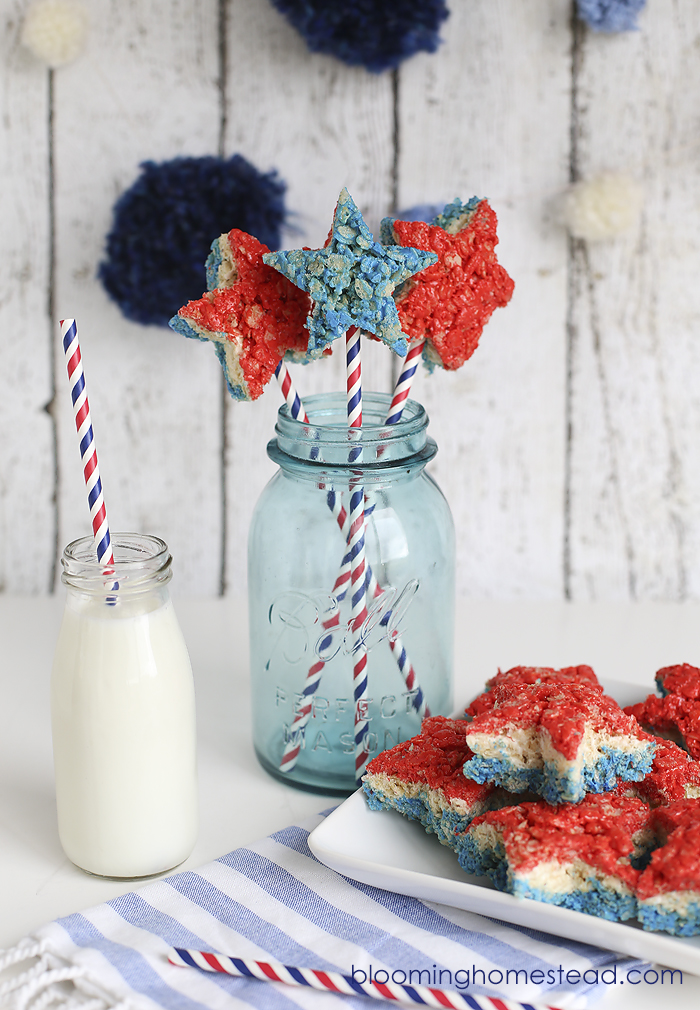 I link up to these parties here
Patriotic Rice Krispie Treats
Ingredients
8 tablespoons butter
2 package (10 oz., about 40) Marshmallows
OR
8 cups Miniature Marshmallows
9 cups rice krispie cereal
Instructions
Melt Butter and marshmallows in microwave in 30 second intervals, stirring in between, until melted.
Separate marshmallow mixture into 3 bowls and add food coloring for layers.
Working one layer at a time, start pressing in the colored layers into 9x13 pan.
Make sure there are no empty spaces or gaps.
Allow a few minutes for each layer to set before adding on next layer.
After top layer, allow entire treat to set up before using star shaped cookie cutters to cut out shapes.
https://www.bloominghomestead.com/2015/05/patriotic-rice-krispie-treats.html
.
Looking for more? Check out these fun
DIY Pinwheel cupcake toppers.