Hello friends! I've got another cute diy project to share with you today. This DIY Sunburst Mirror was fun to make and you won't believe how it all came together! I received a StyroCutter® Plus and some Make It: Fun® Foam Sheets from FloraCraft® to play around with and as you can tell I was pretty excited about the finished product. (We all know I have a thing for mirrors!) Check out the tutorial below.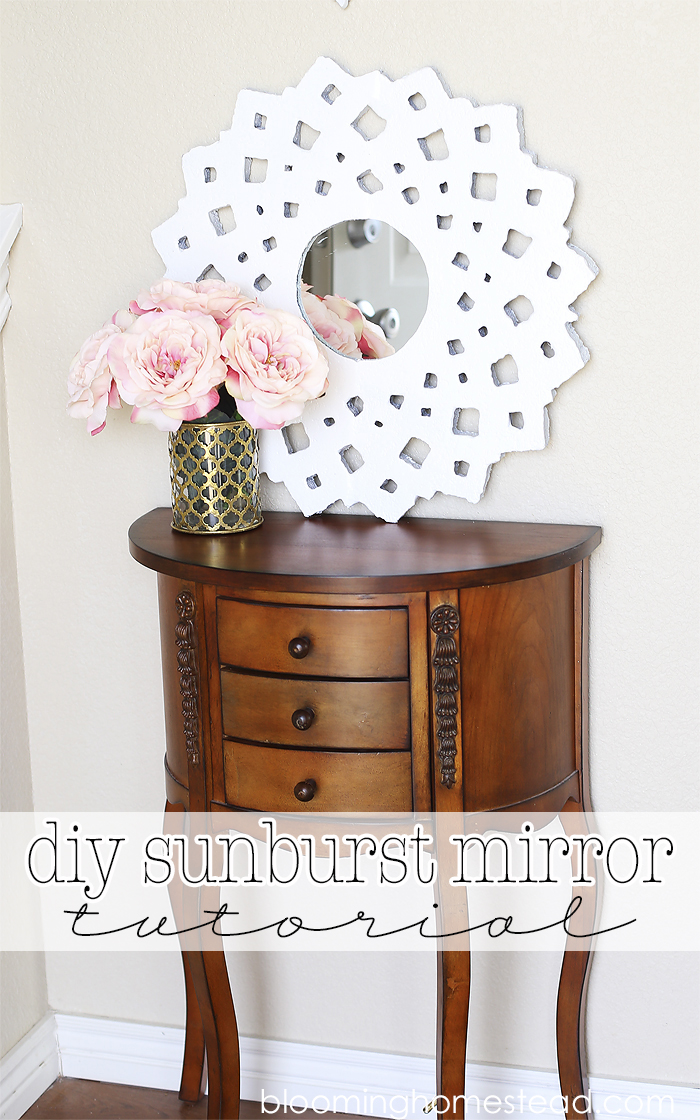 Supplies:
1″ thick foam sheets
StyroCutter® Plus
Pattern/stencil for mirror (I purchased the design and cut it with my silhouette)
marker for tracing foam
Smoothing coat (I used Magikote)
foam roller
6″ mirror
sandpaper
Finishing paint
Xacto knife
Hot glue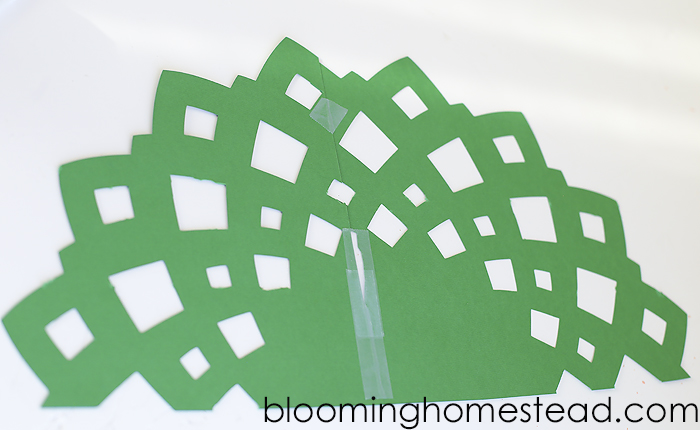 To start, you'll want to design your sunburst pattern. I purchased a design from the silhouette online store and cut it out with my silhouette. If you don't have a craft cutter I recommend freehanding your own design on cardstock until you get a pattern you like then cut it out with an Xacto knife. When my pattern was cut with the cardstock I placed it on the sheet of foam and traced it on with marker. Because of the size I wanted my mirror, I needed to use 2 foam sheets. I traced 1/2 of the pattern on each sheet which I eventually glued together to make my full circular mirror.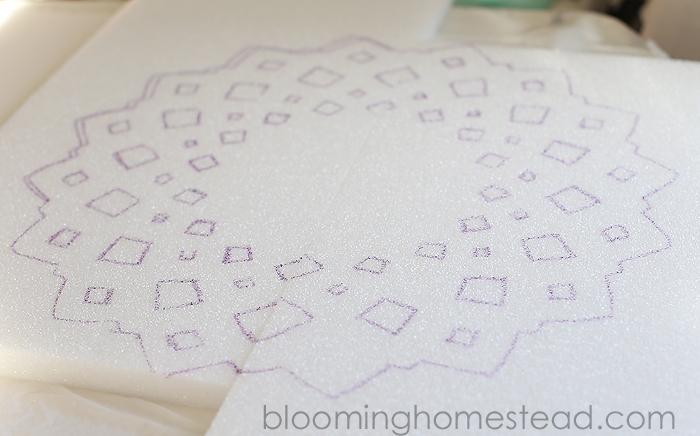 When you have your pattern traced on it is time to cut it out. I must say I was fairly impressed with how easy the StyroCutter® Plus was to use. It worked through the styrofoam nicely and was easy to maneuver. I created a video sharing some tips and trick and my thoughts on the styrocutter that hopefully you'll find helpful.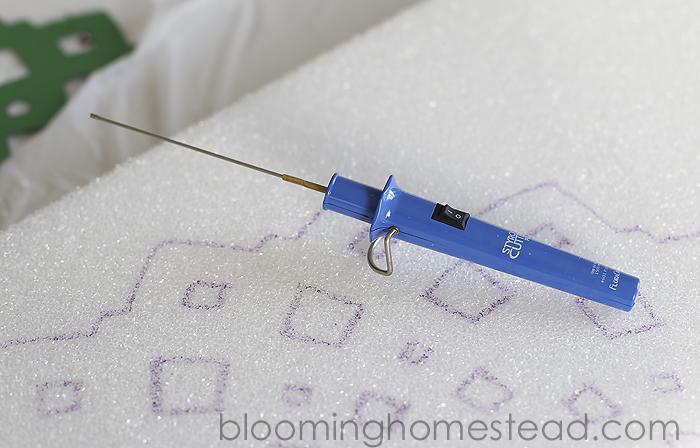 Because of how hot it got I decided to wait and use it after my little girl was in bed…I always get nervous using hot tools when she is toddling around my feet. (Just in case!) So don't mind the horrible night lighting in the video. 🙂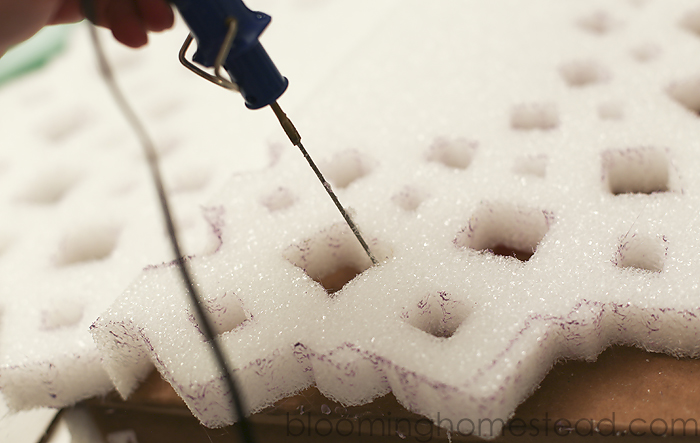 After my design was all cut came the tedious part. When working with foam you can paint it with a water based paint but you'll still have a "foam" texture so I used some smoothing paint/putty to help reduce the foam texture as well as give it a good primed base for me to spray paint the final coat. (You do not want to use spray paint on foam that hasn't been treated unless it is water based otherwise it will eat up your foam!)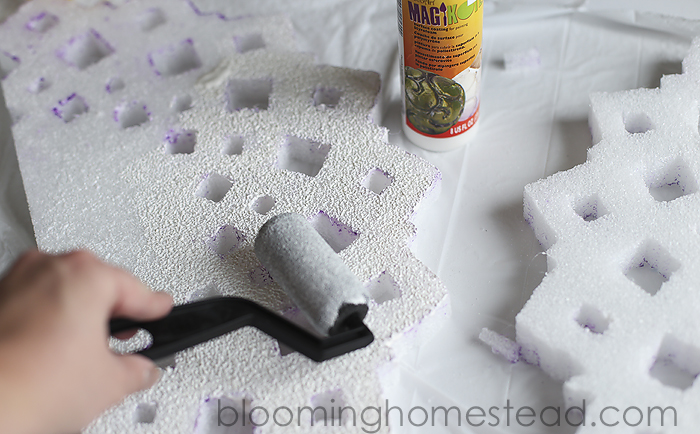 This process took me like 6 coats to get it the texture I wanted. Plus I had to use a small paintbrush to coat the inside of each square (I wasn't super exact with it because it isn't very noticable). It was a long process but after it was sanded down to smooth it, it looks great. One thing to note is some of my squares became less uniform because of the amount of putty that settled in them so if you want to be more precise go over each square with a small paintbrush while each coat is wet to smooth it down. Before I painted the final product I flipped over the foam and traced where I would be placing my mirror.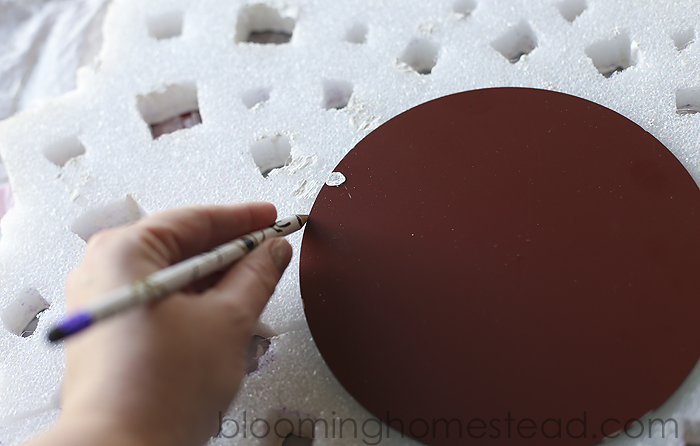 I decided that I wanted to leave a 1/4″ lip around the mirror to help hold it in place and provide a more seamless look so I used an Xacto knife to cut down into the foam 3/4″ deep. (I still have not attached the two pieces at this point. It was easier to cut through doing each side separately.)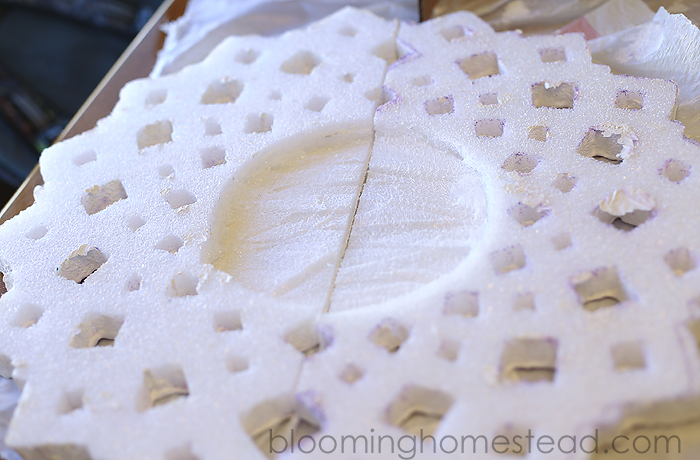 Now you'll cut out your inner circle so the mirror will be visable leaving the 1/4″ ledge for your mirror to sit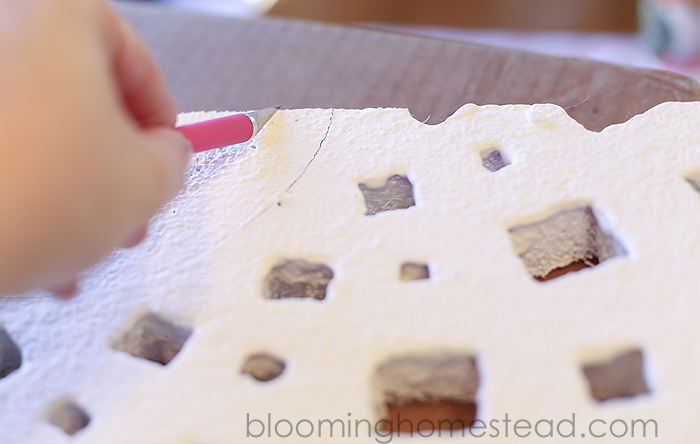 When you have your inner area cut out, you'll want to coat it with the putty to match the texture. At this point I used a dab of hot glue along the inner edges to secure them together. There may be a better way as hot glue can melt foam, but it seemed to work okay and was sturdy enough to hold so I went with it. Now you'll just paint your foam, when it is dry hot glue the mirror into place. And that is it! A fabulous sunburst mirror that is lightweight, customizable, and affordable!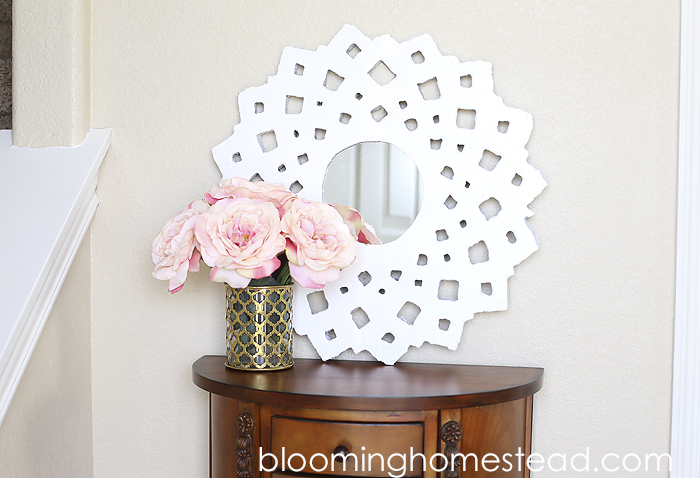 This was a pretty fun project to do and I think my styrocutter and I will be creating some more fun projects soon. Be sure to check out Make it: Fun Crafts for more fun craft ideas!
I link to these parties here.