This is a sponsored post written by me on behalf of FrogTape®. All opinions are 100% mine.
Today I am sharing this Striped Accent Wall which is one of my most favorite home projects since we moved into our home about 4 years ago. This bathroom has presented us with some design challenges because of the small space and I knew that I wanted to add some elements to help the room feel more spacious and larger than it actually is. (It also makes it very tricky to photograph!)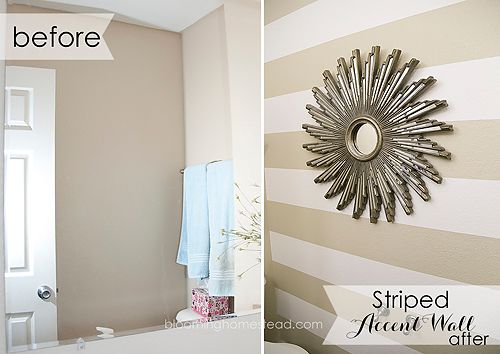 I knew I wanted to create a striped accent wall, but was so nervous and frankly dreaded the process. I enlisted the help of my sister who has mastered the art of straight lines (her daughters bedroom is amazing) and we got to work. Today I am sharing a secret to beautiful straight lines with no bleeding…FrogTape® brand painter's tape!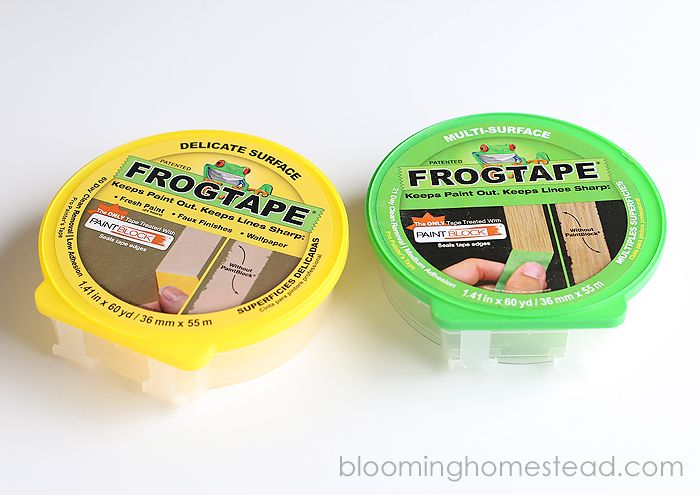 This stuff is awesome and made it so easy to create straight seamless lines. It comes in two options: FrogTape Multi-Surface which works great on cured painted walls, trim, glass and metal and FrogTape Delicate Surface paint which is ideal for fresh painted surfaces, faux finishes, primed wallboard, and wallpaper. They both remove easily and come with PaintBlock® Technology to prevent bleeding. We started by taping off stripes about 8.5″ apart.
We went ahead and painted a little of the beige wall color on the very edges of the tape to ensure a crisp line then we got started with our white stripes. I chose the color Polar Bear from Behr in semi-gloss so the stripes would be easily wipeable for cleaning.
After painting two coats we easily removed the tape and were left with beautiful crisp white stripes.
I am so amazed at how much bigger the bathroom looks now. I cannot wait to show you the full reveal soon.
Have you heard of the Earn Your Stripes Room Makeover Contest? To enter you just re-do a room with the help of FrogTape and submit your photo to the contest site. You can visit the FrogTape site for the full official contest details. The winner will receive a $5,000 prize! For more FrogTape® painting inspiration be sure to visit and follow @FrogTape on twitter, instagram, Facebook, and pinterest.