This is a sponsored conversation written by me on behalf of Delta Faucet. The opinions and text are all mine.
Looking for a fun new holiday tradition? As a family we are always looking for opportunities to create memories together especially while our children are young. I want them to look back and remember these fun traditions and recreate them with their own children. A new tradition we started this year was making these DIY Ornaments from cornstarch. They are so fun and easy to make and the kids will love them. Plus, I'm sharing a few of my mess coping strategies for other moms out there like me. I used to shy away from certain activities especially involving kids and glitter, but they just love it so much and what is childhood without glitter? 🙂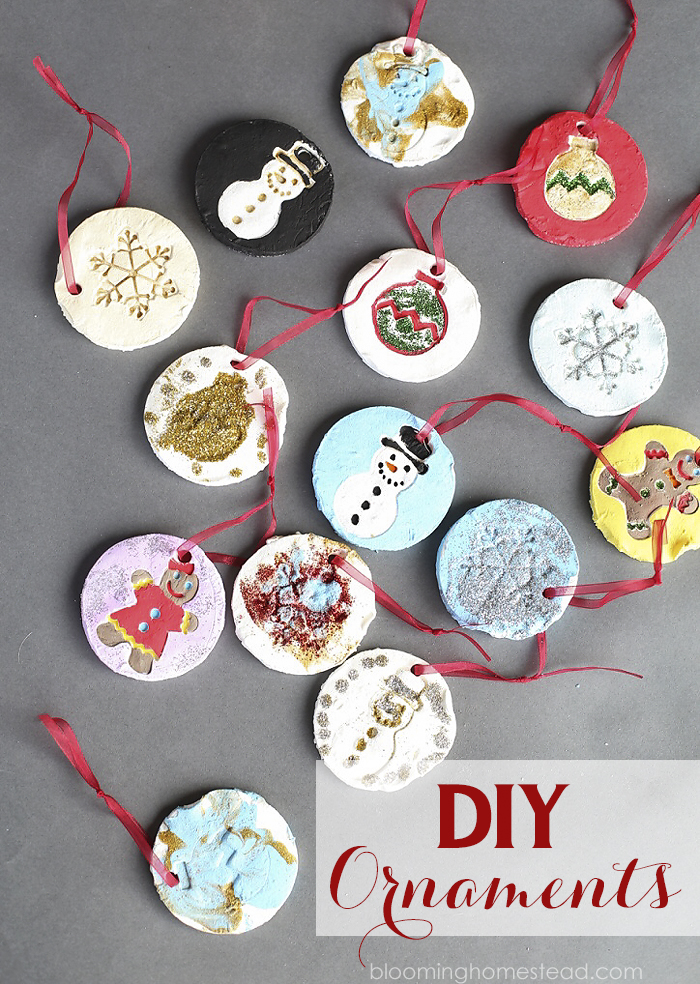 Supplies:
1/2 C cornstarch
1 C baking soda
3/4 C water
1 straw
spatula
medium saucepan
bowl
damp kitchen towel
Extra supplies: cookie stamps, cookie cutter, baking sheet, brushes, paint, glitter, ribbon, protective spray coating, craft paper or plastic tablecloth.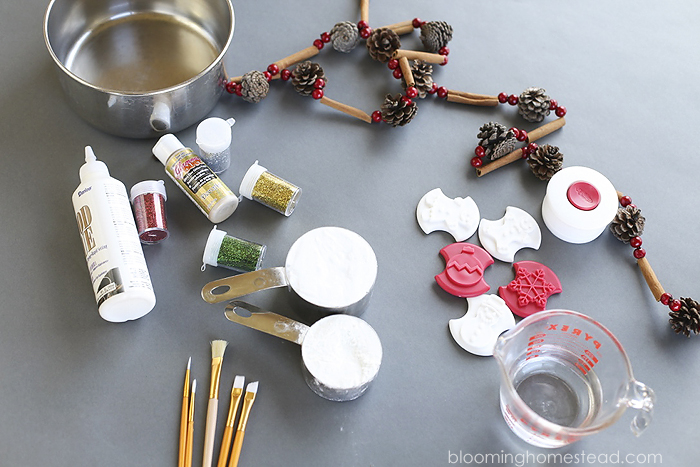 To start, you'll make the dough by mixing together 1/2 cup cornstarch, 1 cup baking soda, and 3/4 cup water in a saucepan on low heat. Stir constantly until mixture thickens to a mashed potato consistency. Place dough into a bowl and cover with a damp kitchen towel for 20-30 minutes until dough cools enough to roll out. When dough has cooled, its time for the kids to get busy! You will roll out the dough to 1/4″ thick. Cut out with cookie cutters and then apply the cookie stamps gently to the top of the dough. My little helpers had a blast with this. I helped by using a straw to make the cutout hole at the top to thread the ribbon through for hanging the ornaments.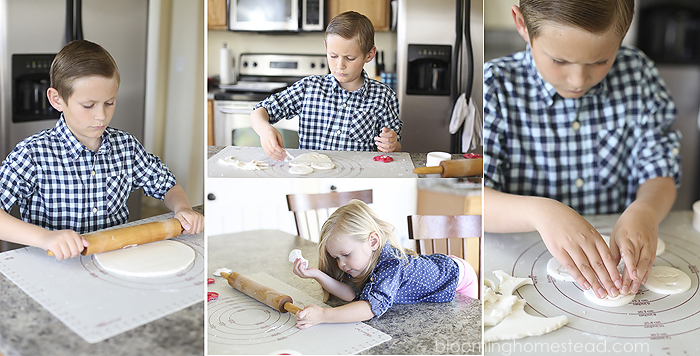 Place shapes onto clean sheet pan and bake at 175° for 40-60 minutes. Take them out and gently flip them over and put them back into the oven for another 40-60 minutes until they are fully dry. When the cookies have baked and cooled its time to paint! At this point, if you want to leave them white you can just spray them with a protective finish and thread them with ribbon to hang.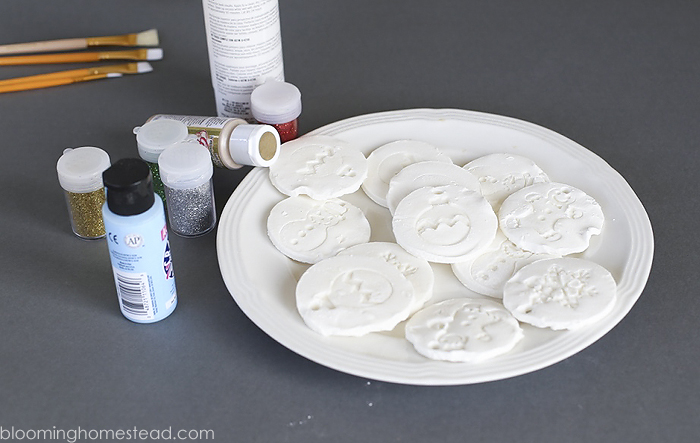 The kids couldn't wait to start adorning their ornaments. Not going to lie…this can get a bit messy but it is also a lot of fun. My first mess coping tip…lay out a sheet of thick craft paper or a plastic tablecloth on the table to catch the mess. Then you can just gather it all and toss it in one big heap making clean up a snap. 🙂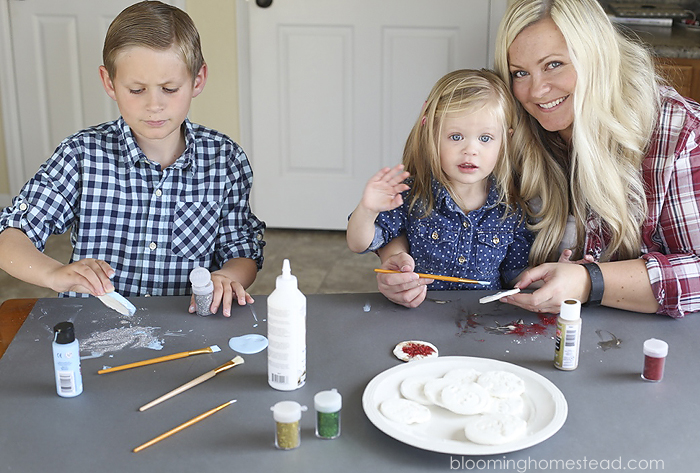 It's so fun to see the creativity bloom as they choose colors and brushes. I love these little moments, even when I need to keep a better watch on my two year old. She thought it was just as fun to paint her fingers and the table as it was the ornaments. I think I will always treasure this photo as it captures her personality perfectly. She marches to her own beat and I love that about her! Big brother is more about order and consistency…a boy after my own heart for sure.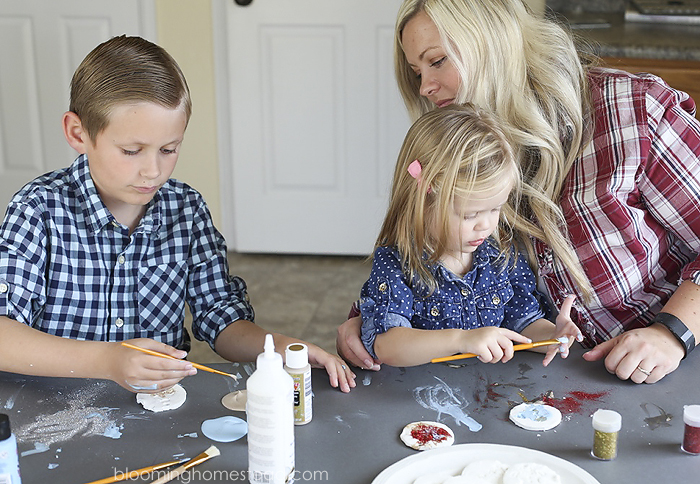 When the kids finished painting we headed straight to the bathroom to wash up. My #2 tip for handling messes is getting one of these awesome hands free faucets. The kids wash up in our bathroom with a Delta Touch 2O.xt™ Technology, seriously guys, this a game changer. No more paint or glitter (or who knows what!) all over the faucet and handle for me to clean up. You can simply tap anywhere on the spout or handle of the faucet to precisely start and stop the flow of water. My favorite feature is the proximity sensing that allows the faucet to be activated any time hands enter a 4" sensing field around the entire faucet. This is so essential for a bathroom in my opinion. Now I no longer dread activities where messes happen, instead we embrace the messes and concentrate more on the memories made!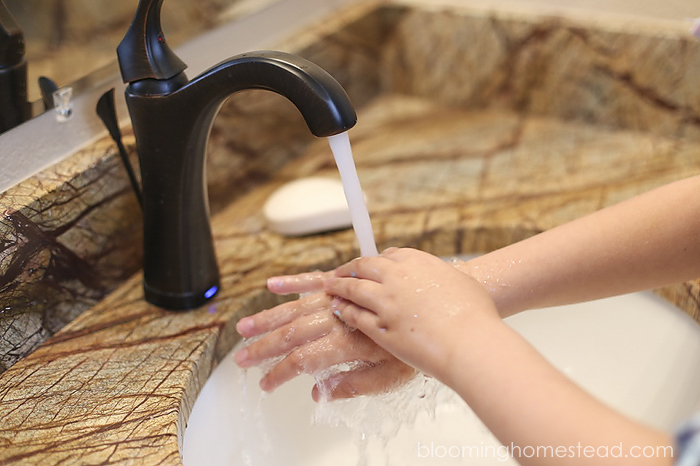 After you get washed up and let the paint dry, spray with a protective coating spray and thread with ribbon to hang.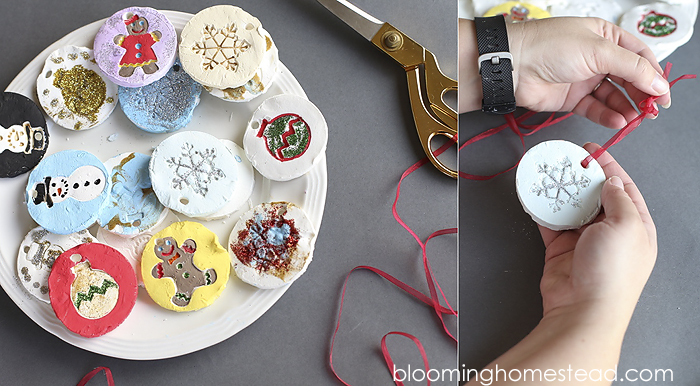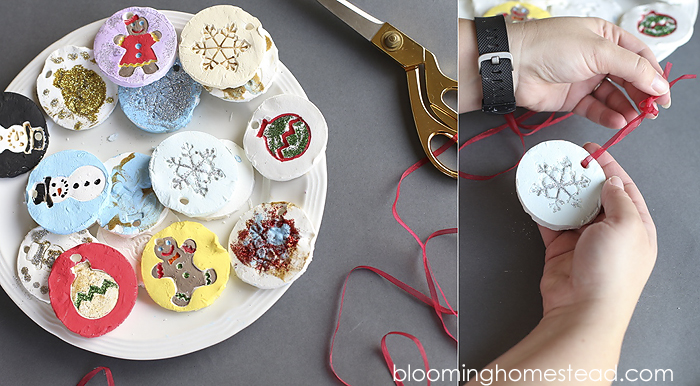 Now they are ready to hang and enjoy! Not only are these fun ornaments for the tree, but would make great gift for grandma and grandpa!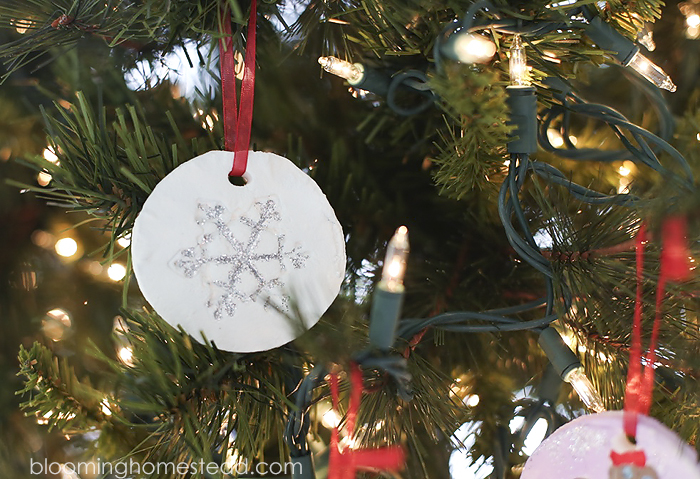 We created a little video to share some behind the scenes of our newest tradition.


Do you have some fun holiday traditions/messes planned this season? Be sure to share those special moments on social media with Delta using hashtag #HappiMess and #Deltaliving. Remember mess is the evidence of a life well lived, based on our messes I think we are doing a great job.