Here are the supplies you'll need to complete this project:
PREP:
Tip #1: I wish I would have realized before starting this project that the stain is quite messy and will drip all over your carpet even if you are being super careful. After doing my first coat of stain, I quickly realized my mistake and applied this carpet protecting plastic that sticks down and it worked wonderfully to prevent stains since we had no plan to replace the carpet any time soon. (For some reason the stain *seemed* thick and I thought I would be okay…I was wrong!) Also this is the time to tape off any wall or molding areas to prevent stain bleeding.
Tip #2: Prepare for this job to take a while, especially depending on the number of ballisters you have to paint. For some reason I was thinking I could have this finished within a few nights work. Friends…it took me like 2 weeks! If you don't have kids, you can probably nail out the ballisters a bit quicker but seriously this felt like the project that would never end. There was a lot of 24 hour waiting periods, no working when the kids were around, and TONS of touch up.
Tip #3: Figure out your ballisters before you start. I assumed I would be able to tape around the ballisters to protect them from the stain. However, I didn't realize that mine had a decorative piece on the underside of the top, and the top of the bottom railing which ultimately required me to do a lot of touch up and a lot of detail work with the primer and paint.
Tip #4: Wear high quality rubber gloves. This stain will get all over your hands and nails and stain your hands for days. (I learned the hard way by thinking I would be careful)
GETTING STARTED:
Step 1: You'll start by lightly sanding down the finish on the existing banister. Because we were painting the ballisters as well, I tried to sand them but because of the round spindle designs it was basically impossible. Because of this I knew I would need to either replace them or paint them with an oil based primer for best adhesion.
Step 2: Wipe down the banister and spindles to make sure they are all clear of dust.
Step 3: Start applying light layers of the stain onto the banister with an old t-shirt. (I bought bundles of cotton rags at the home depot paint department and they were a lifesaver). Try to coat it evenly and let it dry overnight. I was warned this stain had a very strong odor and to only complete this project when the weather was warm to ventilate. While it is ALWAYS good to have ventilation, I was expecting something awful, but honestly we didn't mind the smell too much. I much preferred that over the smell of the primer! Here is the look with 1 coat of stain. I actually think it looks quite rustic and lovely and considered leaving it lighter like this.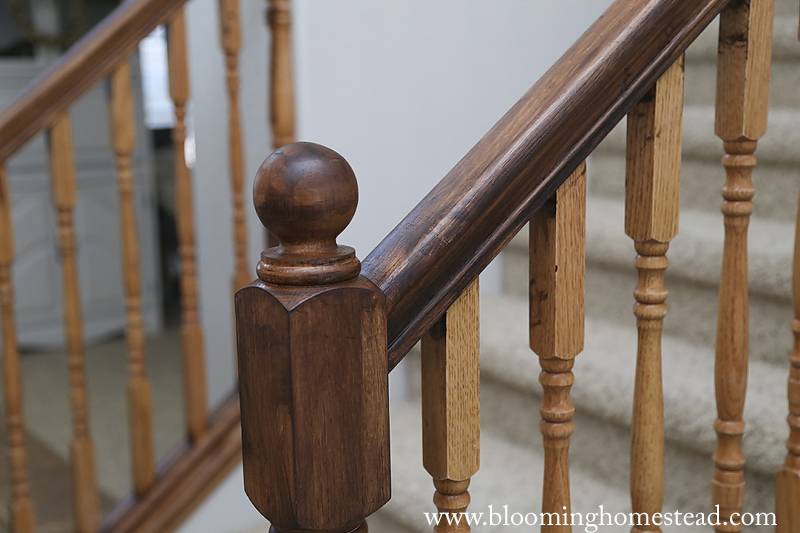 Step 4: Repeat step 3 until you have the color you desire. Here it is after 2 coats.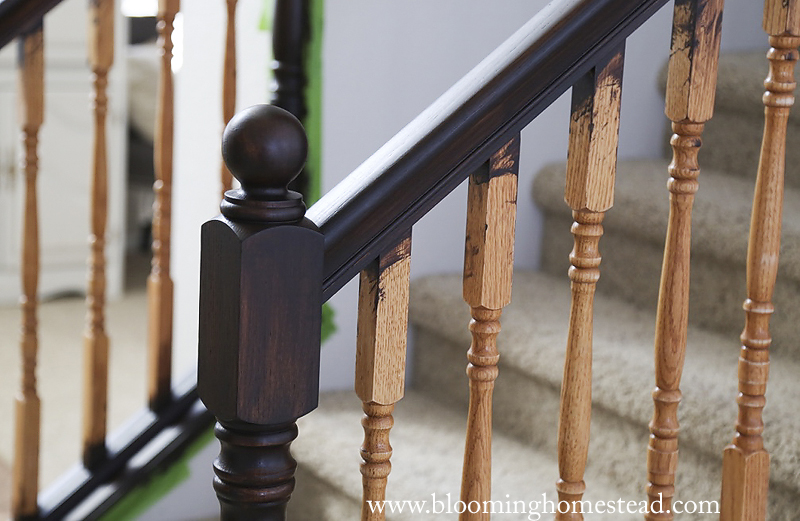 And the final coat.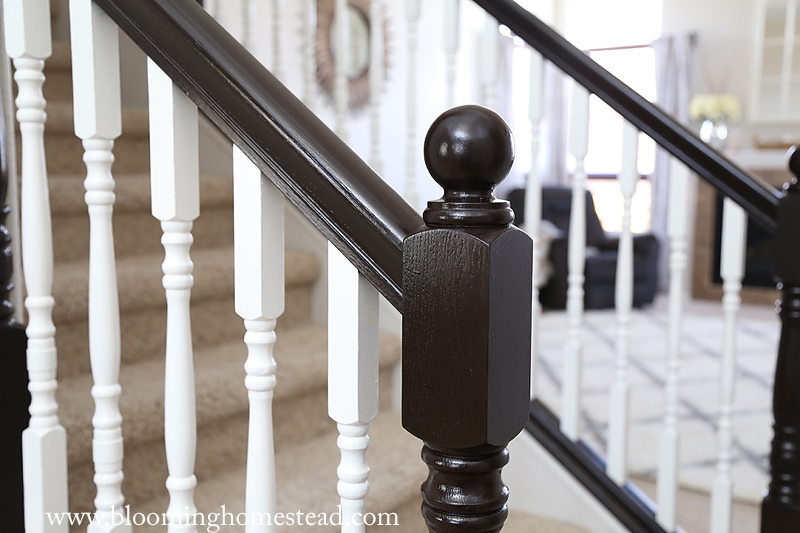 Step 5: Time to start painting the spindles. Guys this was the worst part! If I could do it over and had it in the budget, I would have just replaced them. This was so time consuming to go over them with primer and let it dry. Then to go back over and cover them with 2 coats of paint. (I chose a semi gloss finish so they would be easier to clean after). Each time you'll need to let the paint dry the appropriate amount of time. I usually waited 24 hours. This is where things got really annoying…no matter how careful I was the paint had some drip lines, also the paint had a few splatters on the stain. This started the process of going back and sanding it down, applying more stain, waiting. Then I'd realize I got stain on the paint and would have to go back and detail fix that. This felt like it took me FOREVER!!! Hence the reason I don't have any pictures of this process because I was so over it at this point.
Step 6: When I finally had the ballisters painted and the banister all ready to go I applied the top coat to finish off the stain. This added a nice sheen that mimicked the look of the semi gloss spindles that I really liked!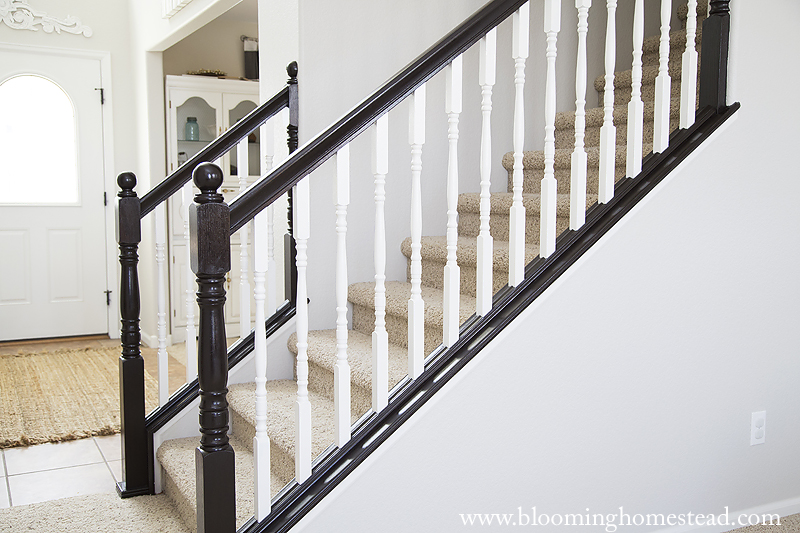 And I was FINALLY done!! To say I was ready to celebrate is an understatement. Guys, this project almost had me in tears, it was so painstaking but the results are gorgeous. It really updated the whole look of our home and since it is visible from the foyer it looks amazing. I am super happy with the results. Another before: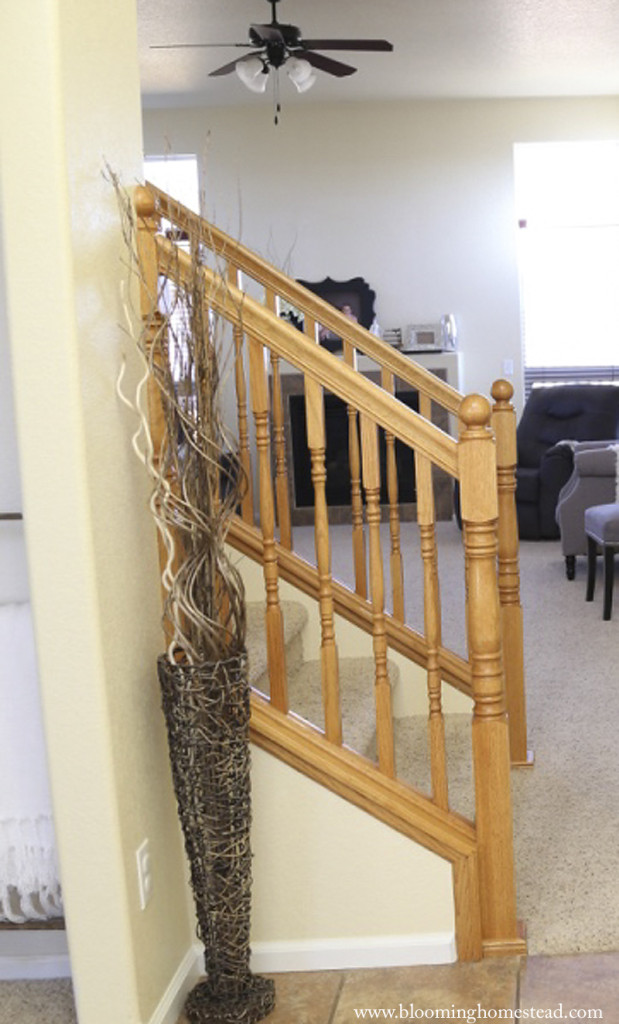 and after: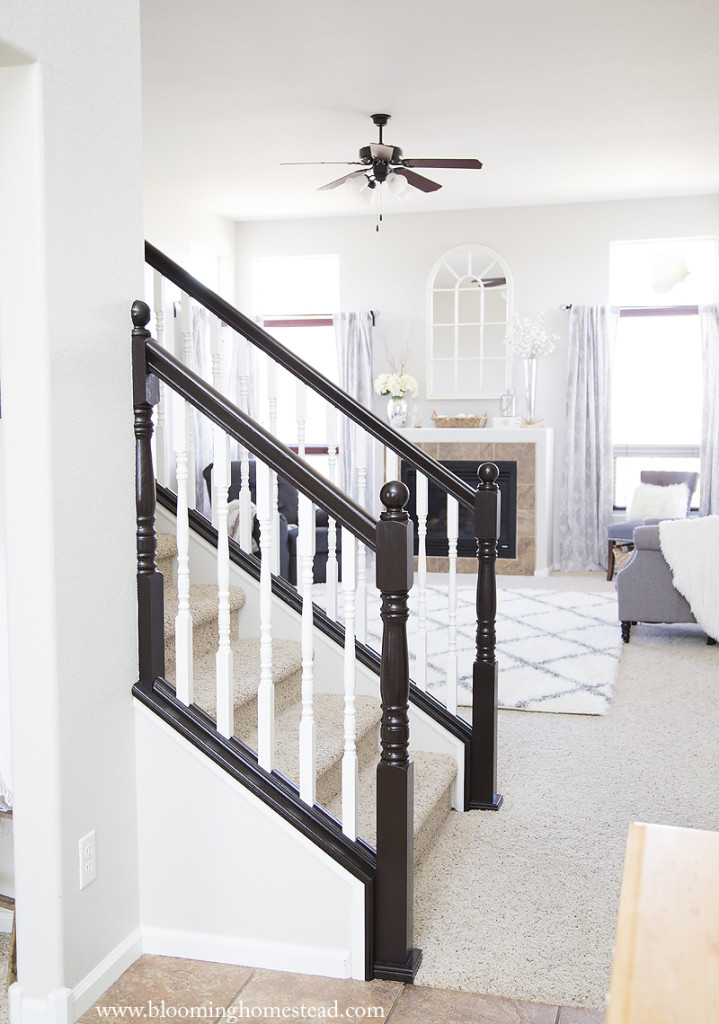 Before: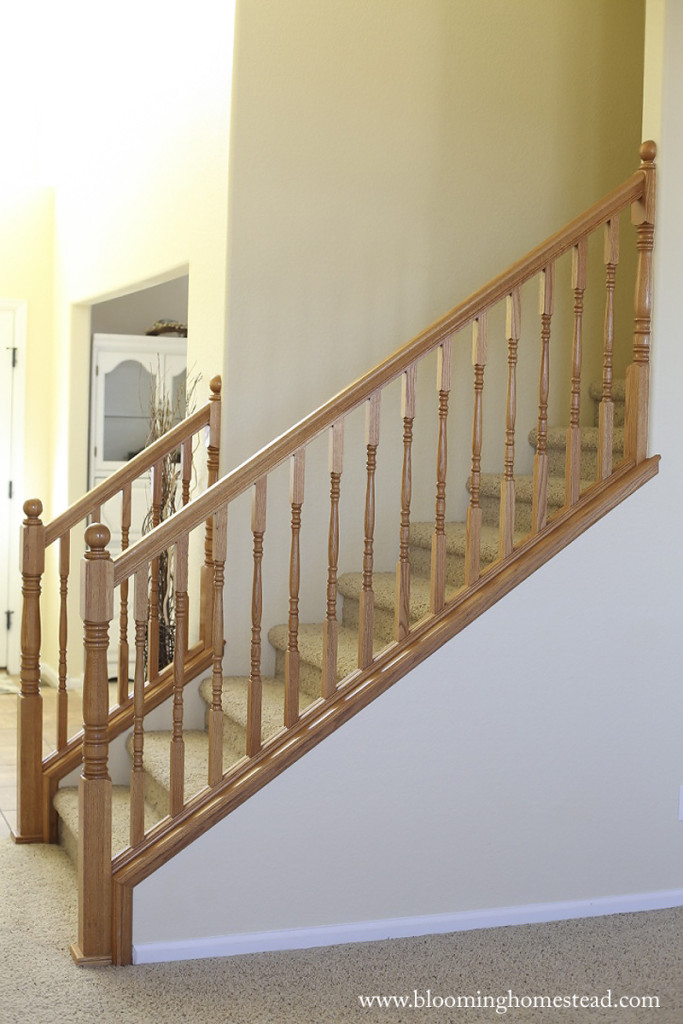 After: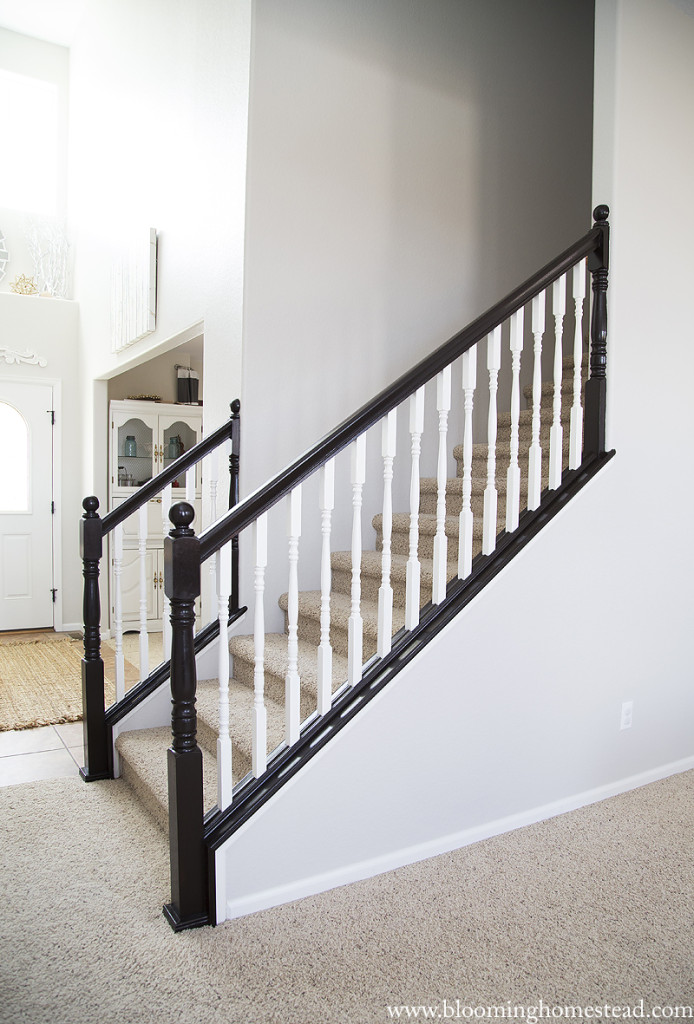 Would I do it ever again? I actually would. As awful as it seemed at times it makes such a huge impact for such little cost! Leaving more money to spend on other areas of home updates. Feel free to ask any questions!