Welcome friends!
If you are stopping by from Blue Gray Gal then welcome! Today I am joining with some friends for a Halloween Home Tour Hop. I am excited to open up our home and share a little Halloween Home Tour with you today. This is such a fun time of year and we love decorating for Halloween. Bold black and white is always such a refreshing change from the normally very neutral soft tones of our home decor. I love knowing you can decorate for holidays while still keeping true to the style and feel of your home. Before we get started with the home tour, I thought I would share a few instructions. 🙂

Here are a few things you WILL NOT find at our house:
Gory, bloody decor (sorry, its just not going to happen! I can't stand gory decor)
Spiders…okay, you might see an occasional super duper, small glittery spider used an a wreath accent but that's it. I've been full on terrified of spiders for my whole life and refuse to add in spiders (even fake ones) to my home on purpose!
Bright Orange, Green, and Purple- Okay, you'll definitely find small hints of those colors throughout my Halloween decor, but in very small doses. I personally love the bright contrast of true black and white.
Now here are some things you WILL find:
Black and white galore! Yes, bring on the bright contrasting black and white patterns in polka, stripes, and more.
Mercury glass- If you couldn't tell from our Fall Home Tour…I adore all things mercury glass and for Halloween I added in a mercury glass skull and poison bottle. These go great with my mercury glass pumpkins and vases.
Paper Bats- I probably went a little overboard with the bats but I love them…plus they are the easiest decor ever. Simply cut out bats (either print a template, use your silhouette or circuit) and tape them up in a flowing upward pattern. I have found pre-cut bats available at Michaels if you don't want to DIY your own. These just add so much character and lightness to Halloween decor.
Crows-These are new territory for me this year. I bought several crows and have added them to pumpkin stems, wreaths, and even tabletops. Even though I hate birds in real life, these are such a fun way to bring in the "harvest" theme with your decor.
Twigs/branches-I love added in floral accents to my mantle and different areas around my home. I decided to keep some wheat bundles out, but added in some black twigs and branches as well.
Now let's get to the eye candy…welcome to our home! This is the view from the front door.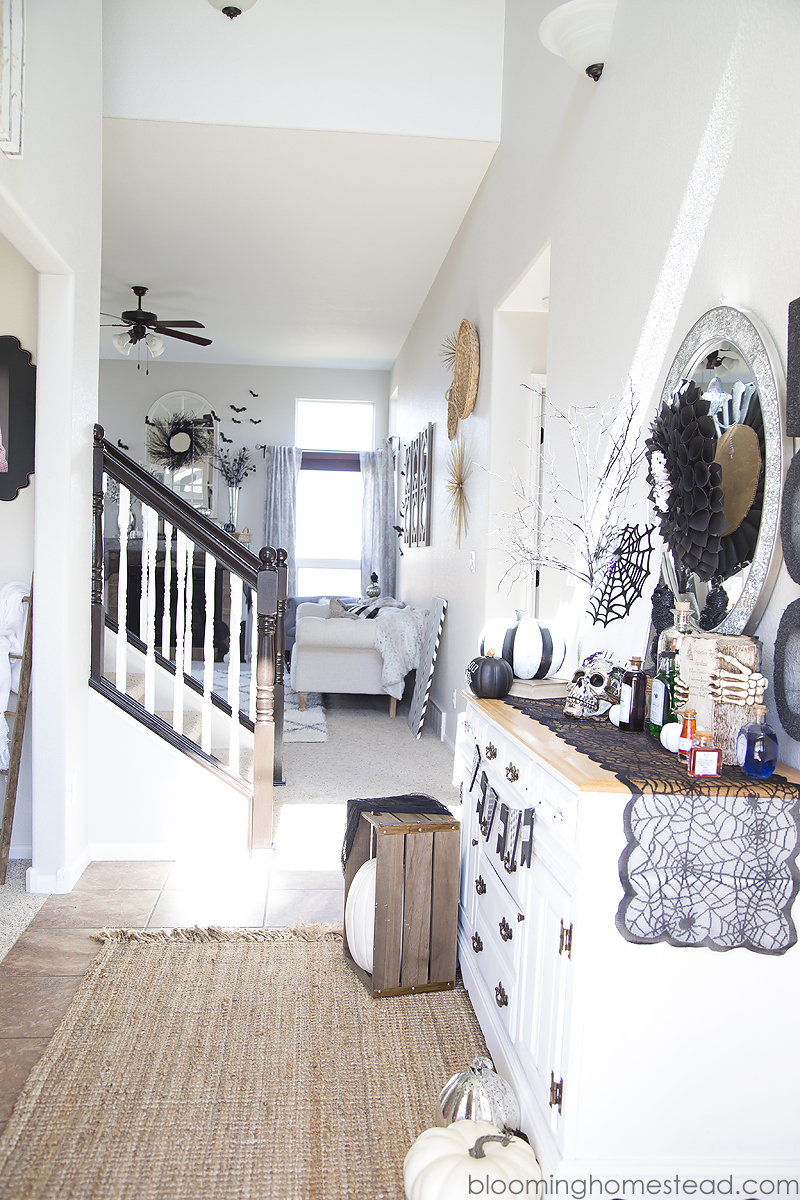 I love this entryway vignette.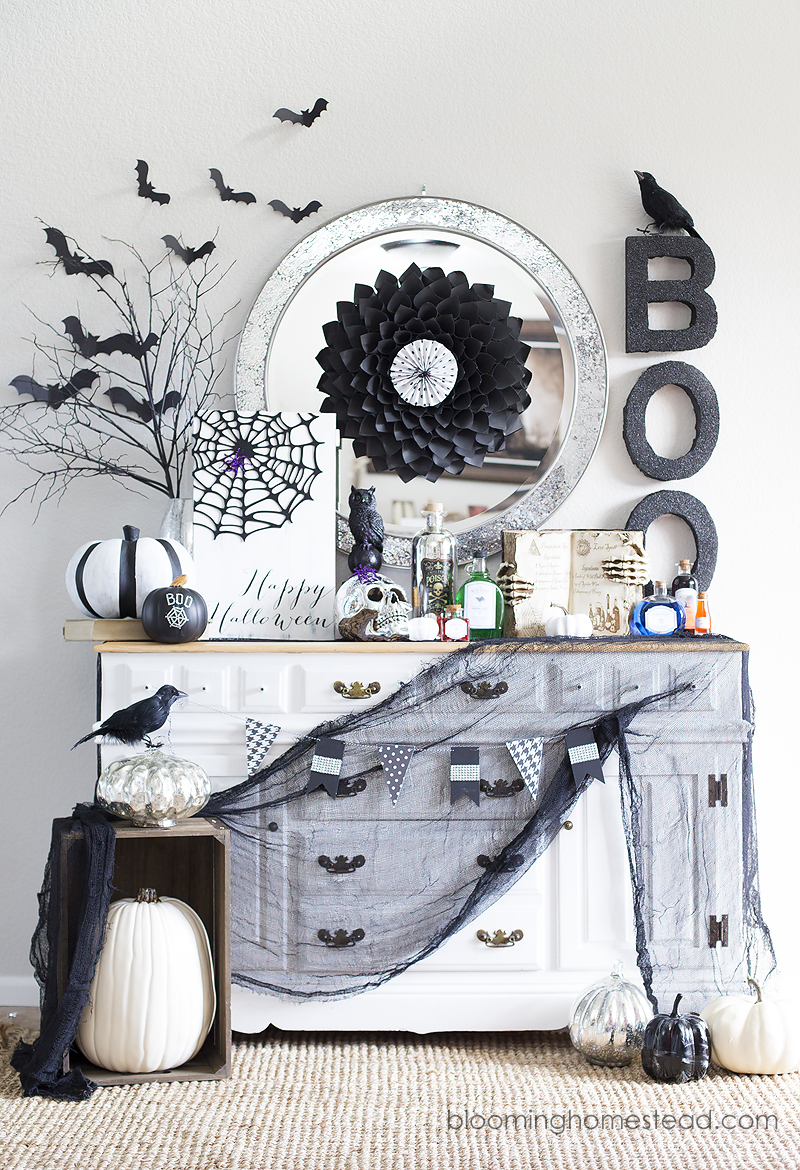 Love the little details like the wreath and apothecary bottles.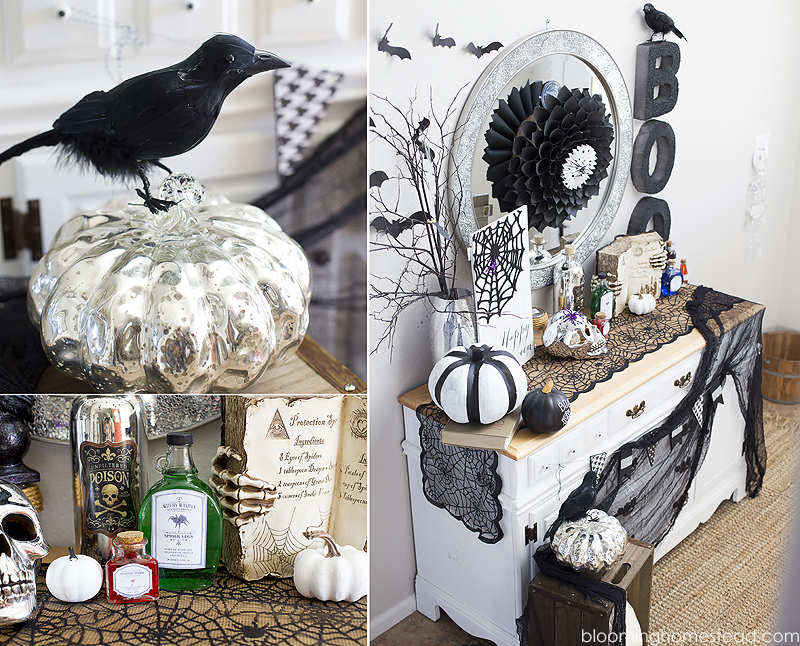 Next up is our great room. I bought a twig wreath form from the craft store and spray painted it black. I love how it turned out.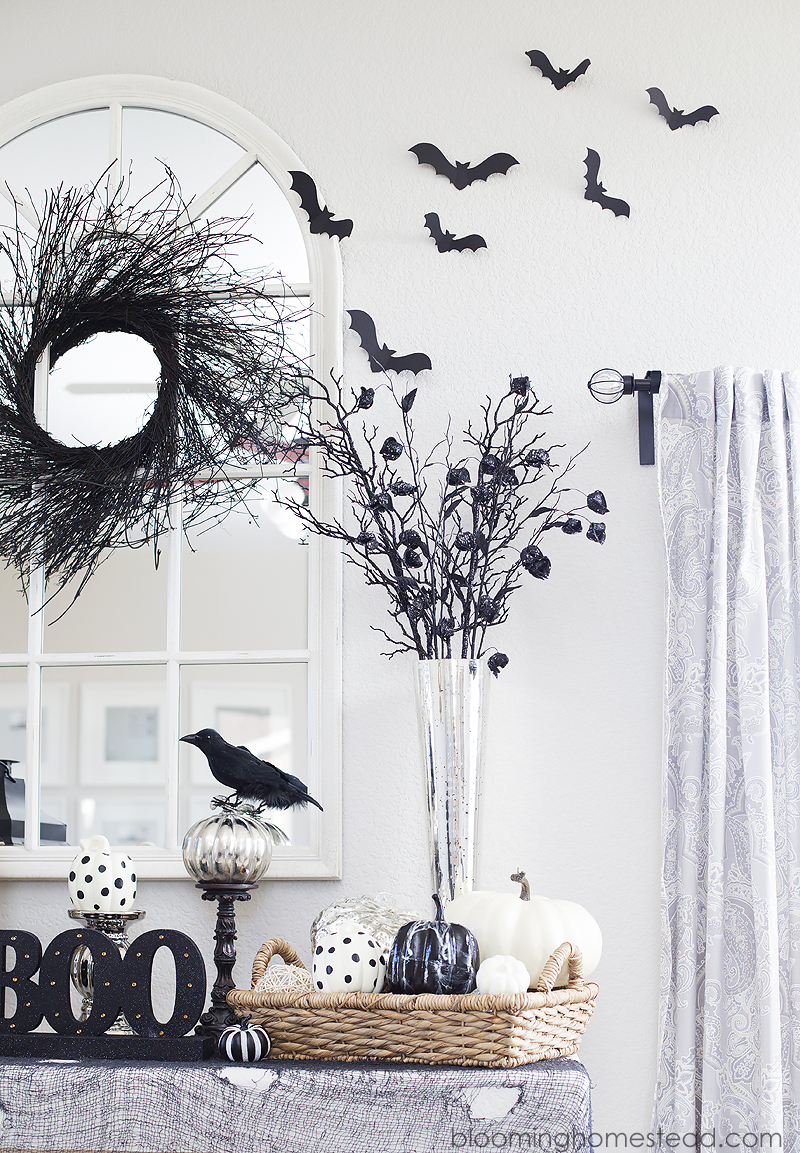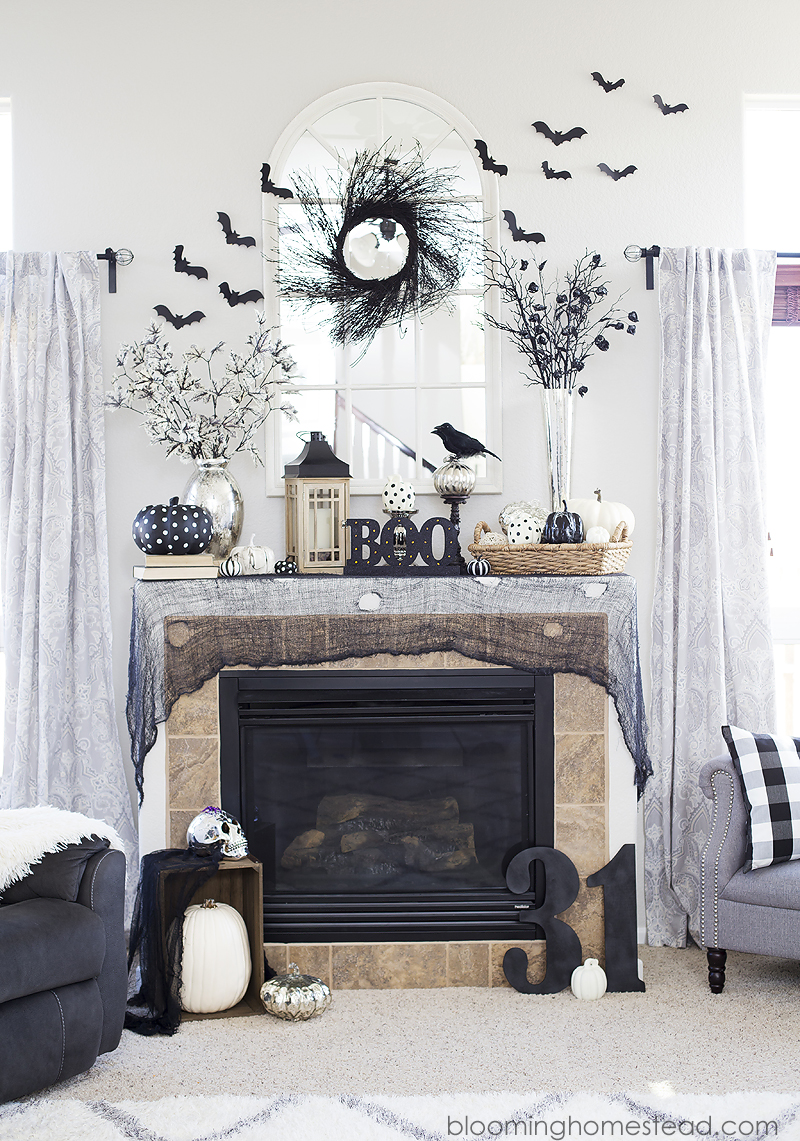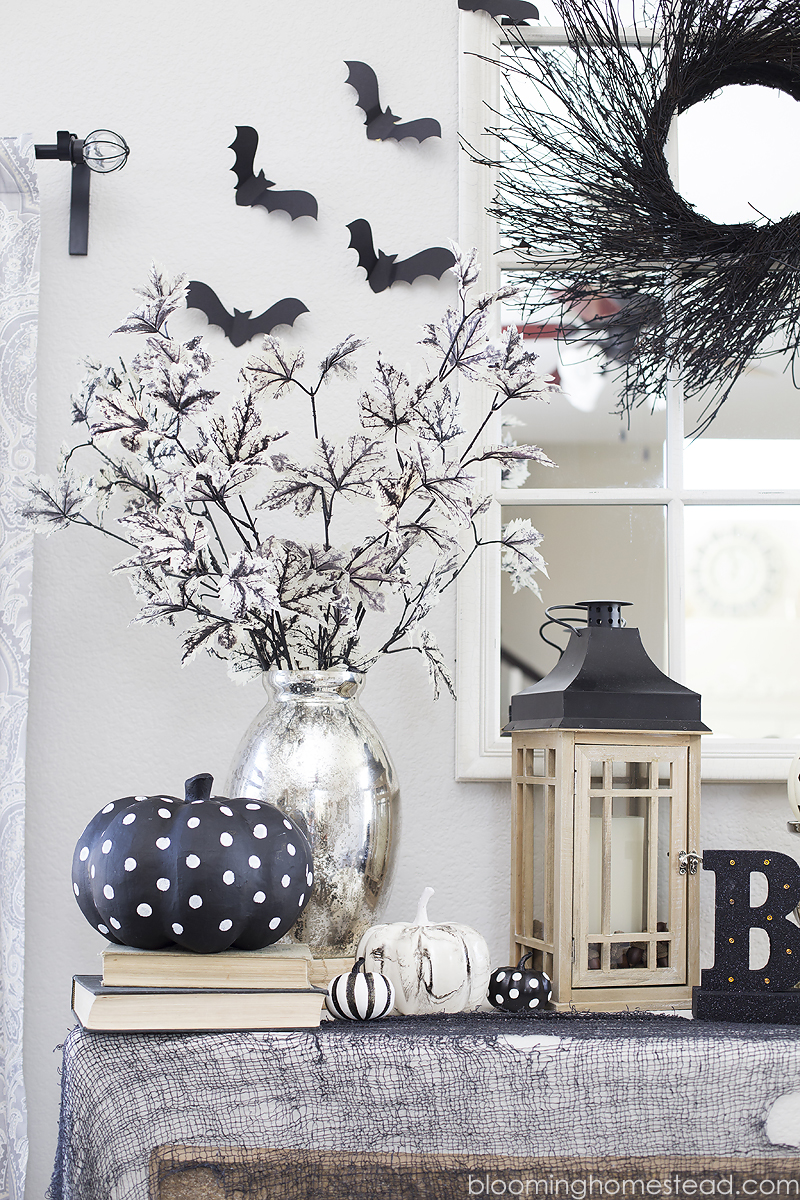 Now onto the kitchen, I keep things pretty simple because we are getting ready for a kitchen remodel and so we decorated the table and my barn wood shutters.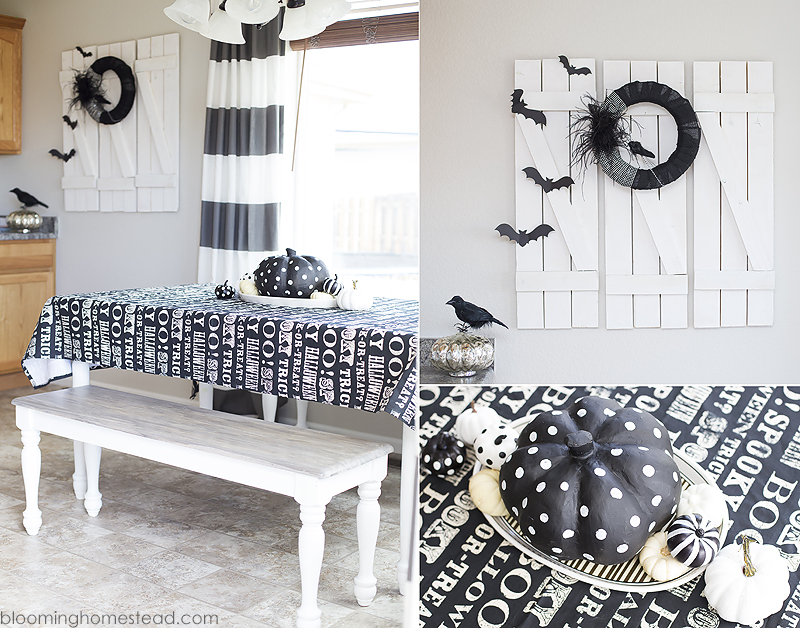 Onto the dining room, I still adore decorating my china hutch. (You can check out the makeover here)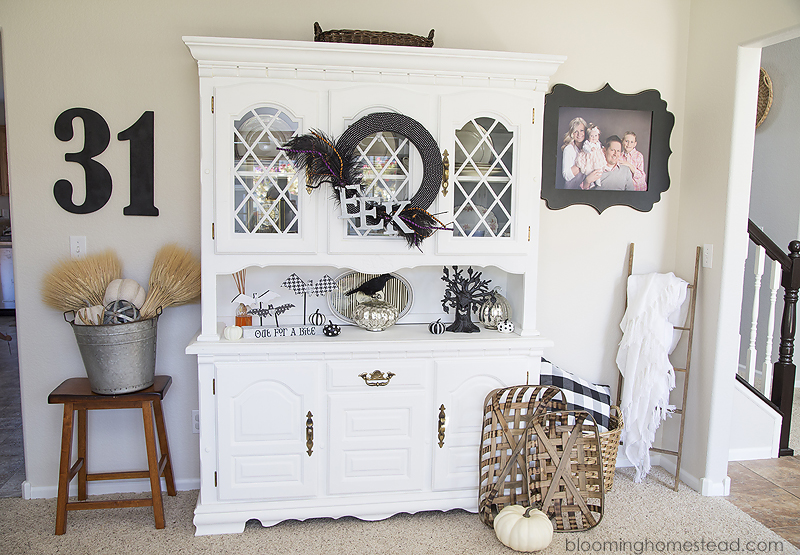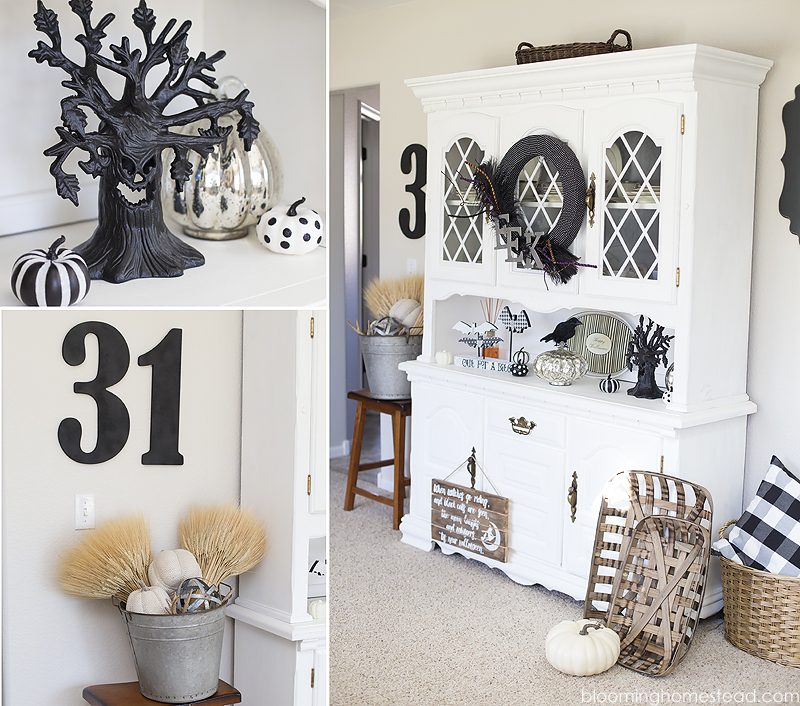 Thanks so much much for stopping by our home today. Be sure to check out Nina Hendrick's Design for the next stop on the Halloween Home Tour Hop.
Here are the rest of the stops on the Halloween Home Tour
Pink Peppermint Design * House By Hoff * Lindsay Hill Interiors