Last week I shared photos of our master bathroom. To be honest, the bathroom was actually fairly nice. It held a rustic quality that definitely fits with where we live (Wyoming), however a few issues with the shower arose and we knew when we purchased our home that we would be making some changes. Today I am sharing more details along with our design plans for this space. I can't wait to take you along with us for our Master Bathroom Renovation. (This post contains affiliate links.)
Here is the design board for this room.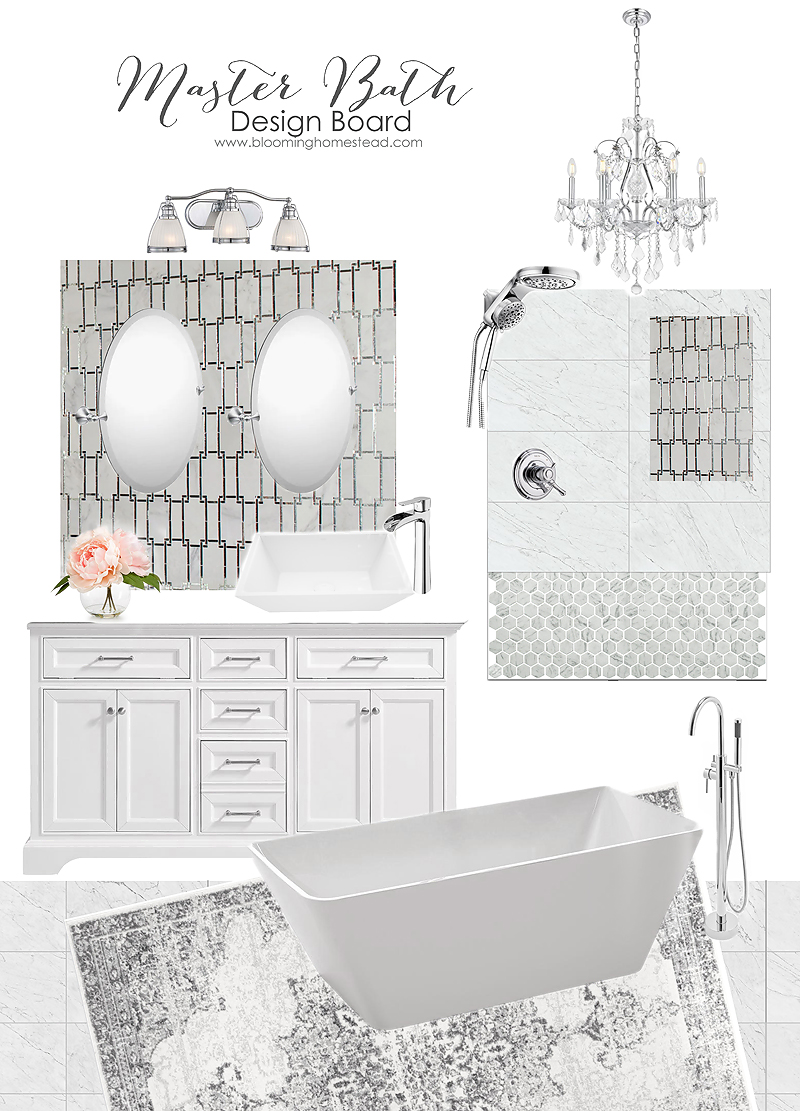 Be sure to check out the before pictures of this space so you can get a feel for the changes we will be making. Go here for the bathroom "before" and a discussion of some of those issues I mentioned.
My goal with this bathroom is to create a light and bright retreat, oh and having hot water will be a nice perk! 🙂 While we liked many elements of this home, the previous owners definitely loved things dark and rich. While this is a beautiful style choice, it didn't really feel like us so we are working towards brightening up the home while keeping things cohesive. We have already painted the main floor and that has helped bring some balance and a clean slate but I know that things will definitely look different when we redo the main flooring and kitchen. Keeping in mind some of those changes we would be making, we decided to create a similar style and feel in the master bath to carry it through.
We love the look and feel of marble, but don't love the maintenance and cost associated with it so we opted to use a marble look porcelain tile as our main tile. I came across this mirrored backsplash tile at the Dal Tile showroom and fell in love. We will be using it as an accent in the shower, as well as the vanity backsplash.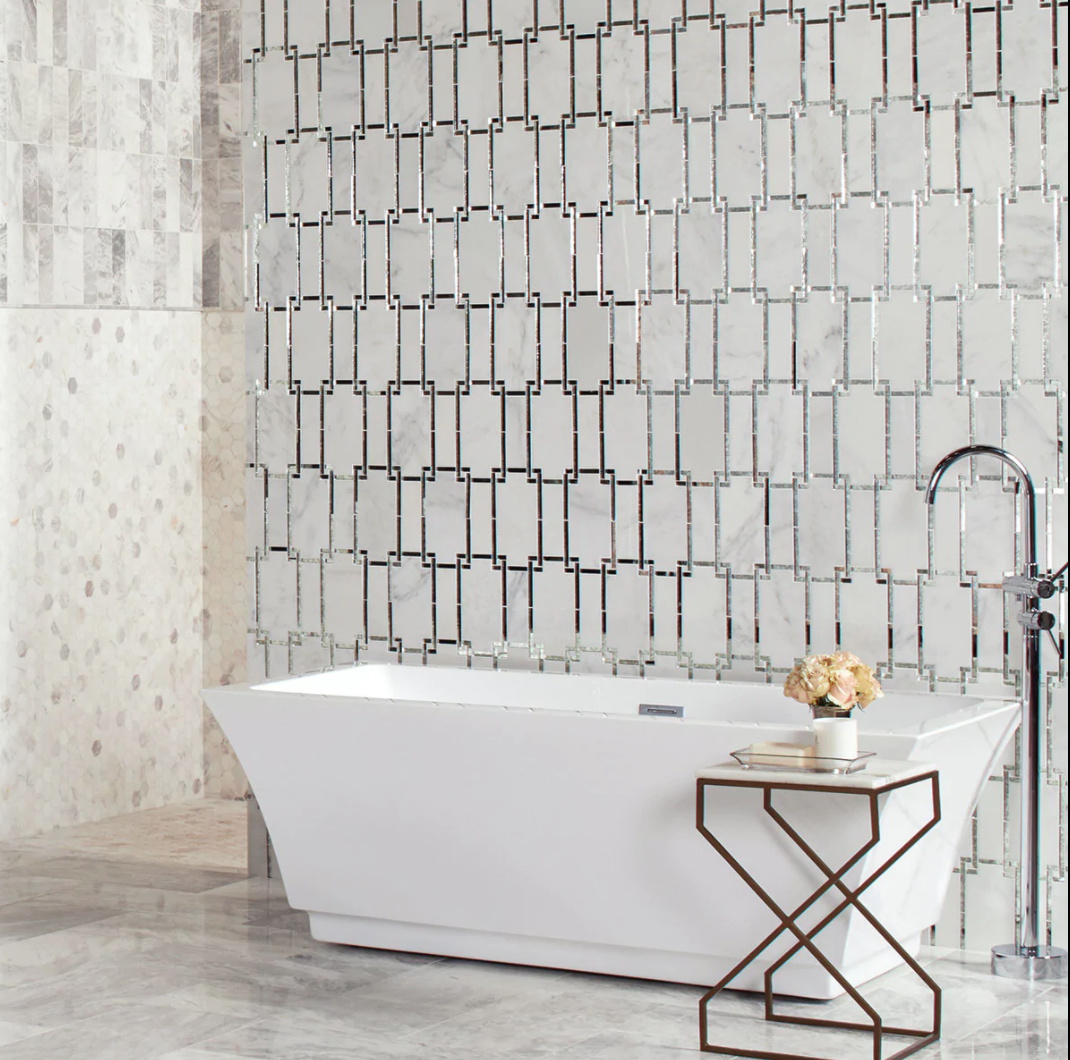 It was a splurge, but worth it. As we have budgeted for the bathroom, we tried to determine what were our "must haves" and what were some areas we could choose more budget friendly selections. This accent tile was a "must have".
In an effort to stick to the budget, we wanted to keep some of the current fixtures. For starters, I actually really like the current cabinetry! We definitely plan to keep the whole vanity and countertop, sinks, and mirrors. We plan to switch out hardware, faucets, and lighting (as well as backsplash). We had initially planned to leave the cabinets the wood stain to add balance with all the white and marble accents in the bathroom but lately I've been wondering if we should paint them white or a light gray or aqua. I will probably wait until the tile is in to make that choice since I do like the current look as well.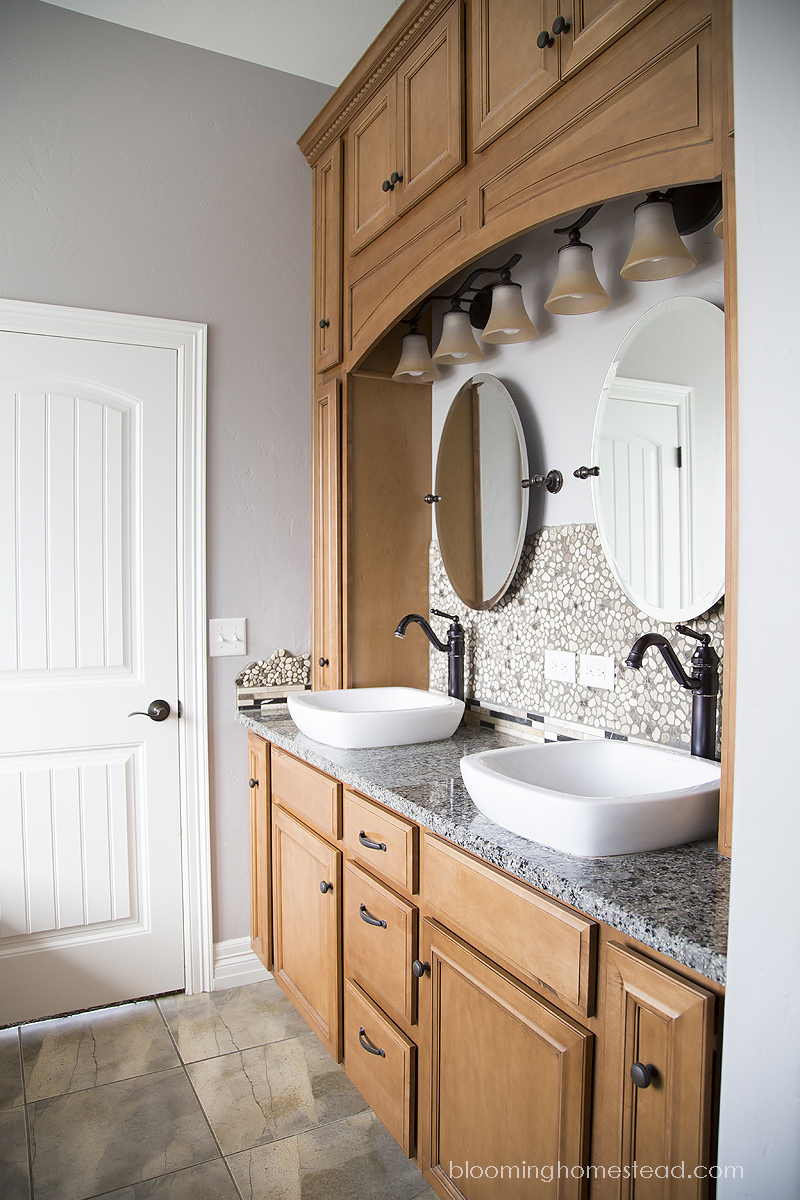 I am so excited to finally have this project started! Stay tuned for more updates on this fun master bathroom transformation! As a side note, we hired this job out as it as beyond our skills. I like to do some DIY, but I leave projects like this to the professionals. 🙂
Here are some of the sources I ordered for the new bathroom:
Backsplash/accent Mirrored tile
Floor & Wall Tile– Satin and polished
Tub faucet (similar)
Sink (similar)
Rug-(In grey)