Today I am sharing my newest addiction, seriously these Chocolate Chip Caramel Brownie Bars are so rich and delicious. This recipe just kind of happened by combining a few of my favorite recipes together and the result is nothing short of heaven. These are very rich so make sure to keep a cup of milk nearby. These will surely be a hit with whoever you share them with.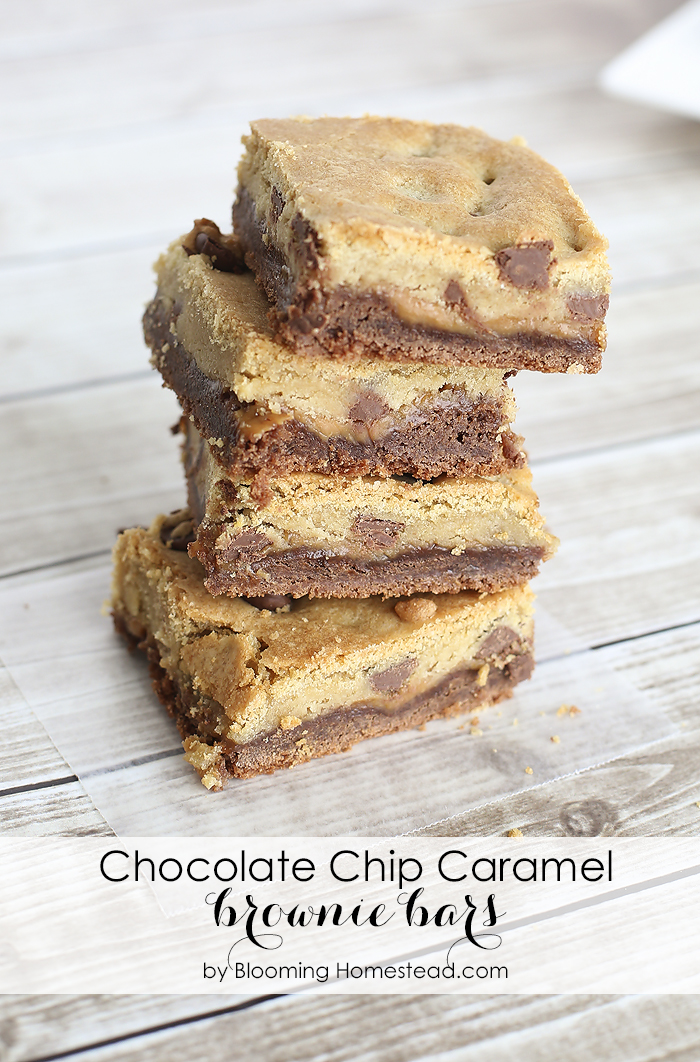 If you like things a little thinner, you can spread these out in a half sheet pan instead of the 9×13 pan, but we liked them a little thicker. These Chocolate Chip Caramel Brownie Bars are the families newest favorite treat and I have made them (too) many times in the past few months.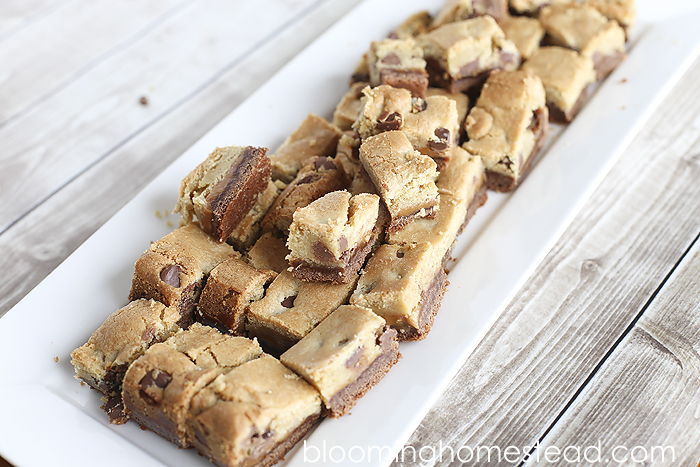 We can't decide if the brownie, cookie, or gooey caramel layer is the favorite part. Together it is the perfect marriage!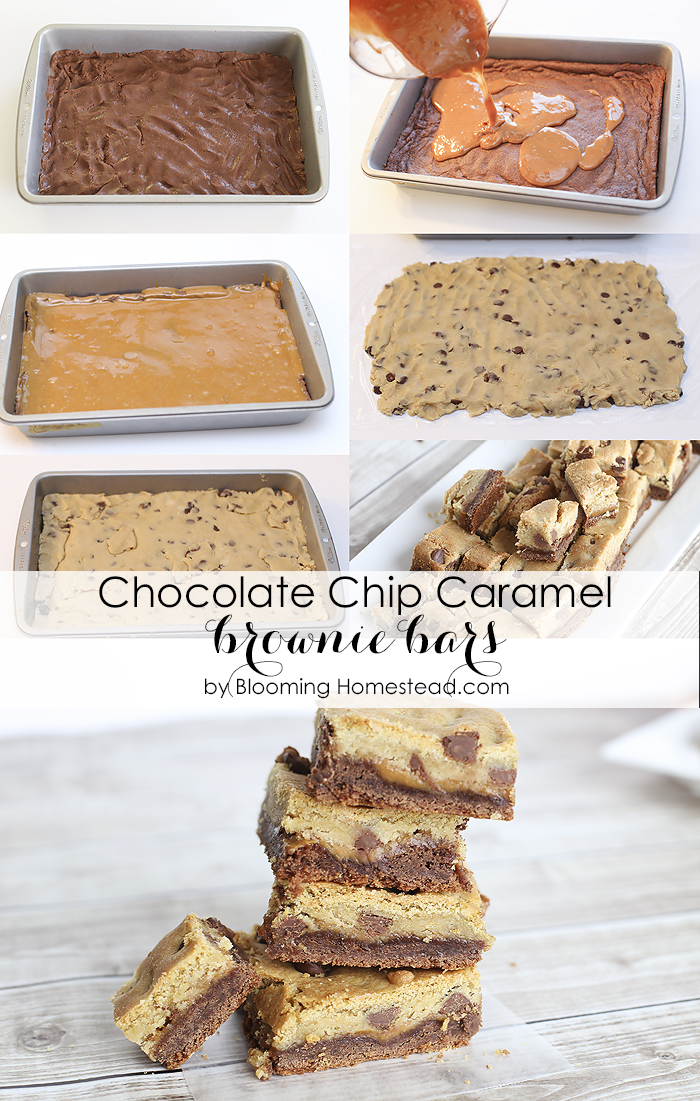 Enjoy these little bits of goodness!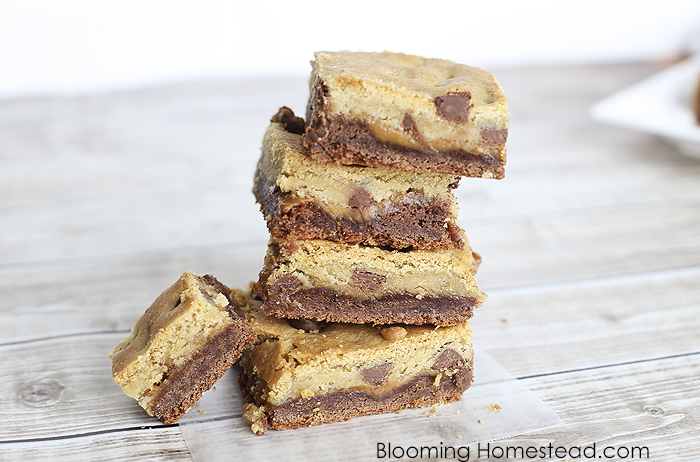 Chocolate Chip Caramel Brownie Bars
These delicious bars combine the best of cookies and brownies for a fabulous rich and fabulous treat!
Ingredients
1 box german chocolate cake mix
1/3 C. Evaporated Milk
¾ cup butter melted
2 tablespoons flour
3/4 butter, melted and cooled
1 cup brown sugar
1/2 cup granulated sugar
1 egg plus1 egg yolk
1 teaspoon vanilla
2 1/8 cups flour
1 teaspoon baking soda
1/2 teaspoon salt
1 cup chocolate chips
11 ounces caramel bits (or 11 ounces caramel, unwrapped)
3 tablespoons heavy cream
Instructions
Preheat oven to 350.
In a mixing bowl combine cake mix, ⅓ cup evaporated milk, 3/4 C. melted butter and 2 Tbls flour.
Press the mix into the 9x13 inch dish and bake for 6-10 minutes until bottom is cooked so no longer liquid.
In a microwave-safe bowl, combine the caramels and heavy cream, and microwave on high power at twenty second intervals, stirring with spatula in between, until melted and smooth. Pour over cooked brownie layer.
In a large mixing, combine 3/4 C. melted butter and sugars and mix until combined. Add egg and egg yolk and vanilla, and mix until combined. Add flour, baking soda, and salt, and mix until just combined. Gently add chocolate chips.
Add cookie dough on top of caramel. The easiest way to do this is to lay out plastic wrap in shape of pan. Spread cookie dough with hands on top of plastic wrap. Gently hold plastic wrap with cookie dough near pan and flip onto the top of brownie/caramel mix. Trim edges and fill as necessary.
Bake for another 12-17 minutes until cookie top is cooked through. Do not overbake. Let cool and flip out onto parchment paper to cut into squares. Enjoy!!
https://www.bloominghomestead.com/2015/04/chocolate-chip-caramel-brownie-bars.html
We have a family cookbook where we share our favorite family recipes, and I have been working to update mine with some new treasures we have discovered. My sister has a fabulous sweet pork recipe that she makes for us whenever our families get together. Another sister makes some killer peanut butter bars…I think I'll have to share that recipe here soon. They are soooo good! As my little boy is getting older, I think we need to start some cooking lessons using these fun family staple recipes. Do your kids cook?
Looking for more yummy treats?