Today we are excited to share our completed Primary Bathroom Makeover. If you remember where we started (this post) we have come a long way. Ultimately when we bought our house last year, the bathroom renovation was not high on the list. When we moved in and realized we couldn't take hot showers…it quickly got bumped up to project number 1!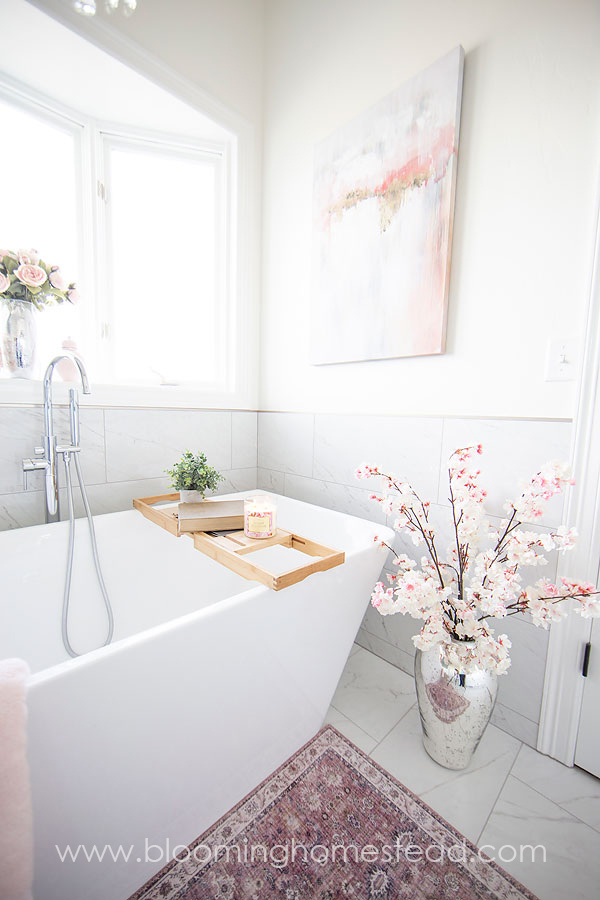 Our main goal with this renovation was to try and salvage what we could. Ultimately, we were able to keep the cabinets, countertop and sinks. We ended up removing part of a wall, moved can lights to add a chandelier, an all new tiled shower and new bathtub. Here's a few before photos:
Now the after!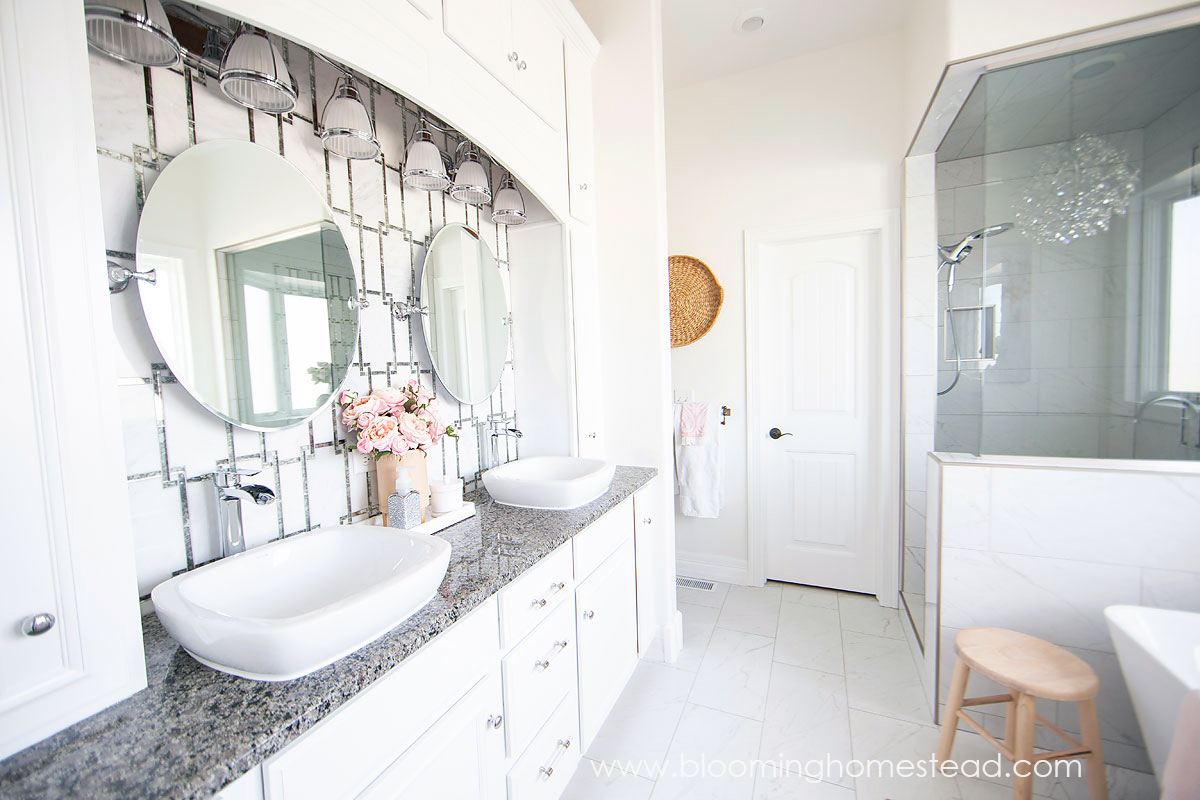 We don't have a linen closet or the space for one here and instead of taking away from the master bedroom closet, we decided to keep the side and upper cabinet storage. I would have loved to open it up but for functionality we decided to keep the layout (and the added storage)!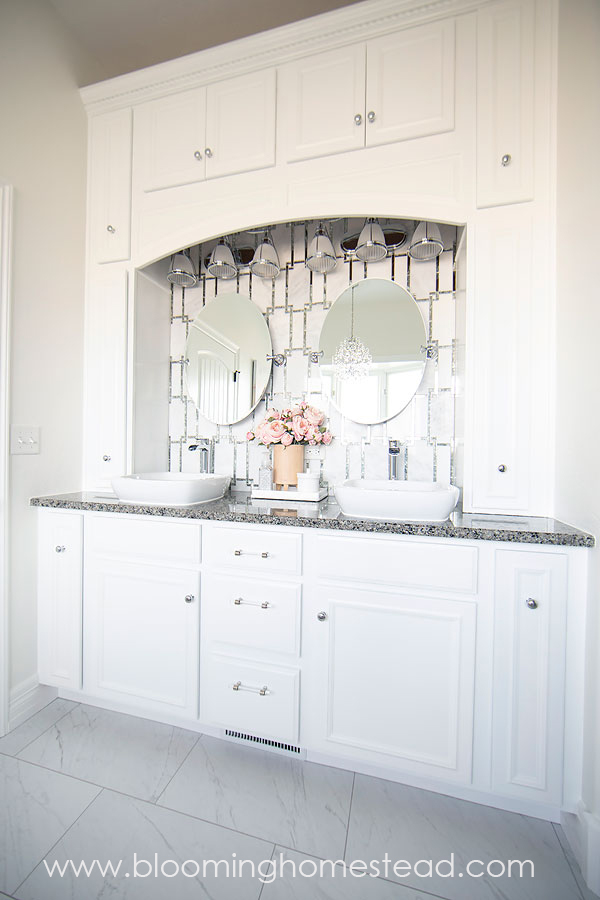 Taking out the half wall for the shower allowed the natural light to abound which was really important for me. No more showering in a cave! For more details of the process you can see our Part 1, and Part 2 bathroom makeover.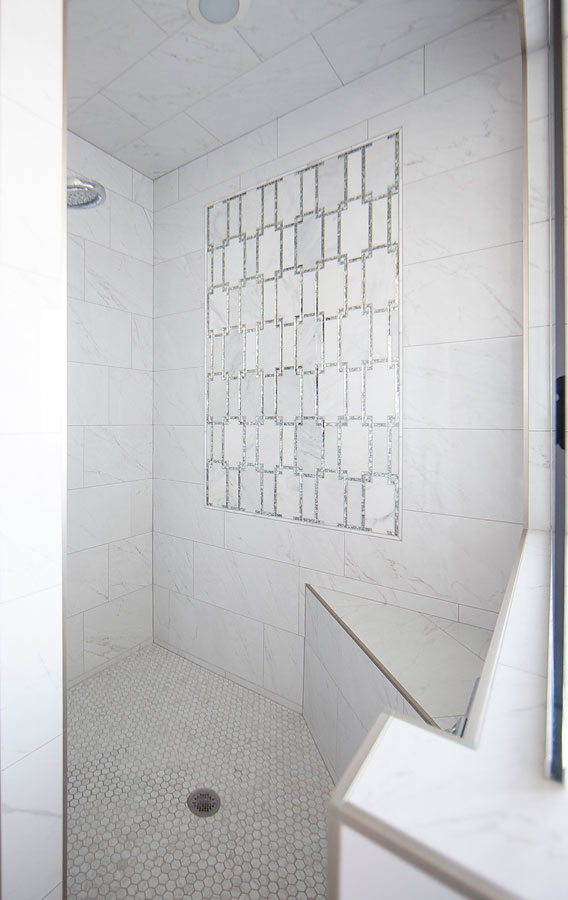 New large soaker tub was a must.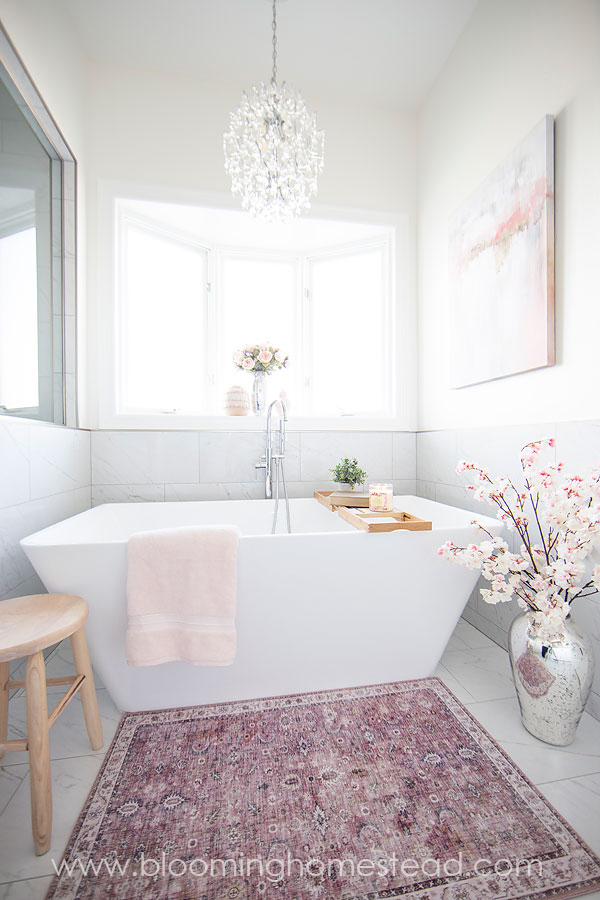 My goal for this bathroom was a timeless design with classic neutral elements. I had actually picked out some beautiful pattern tiles for the floor but was worried about longevity of design.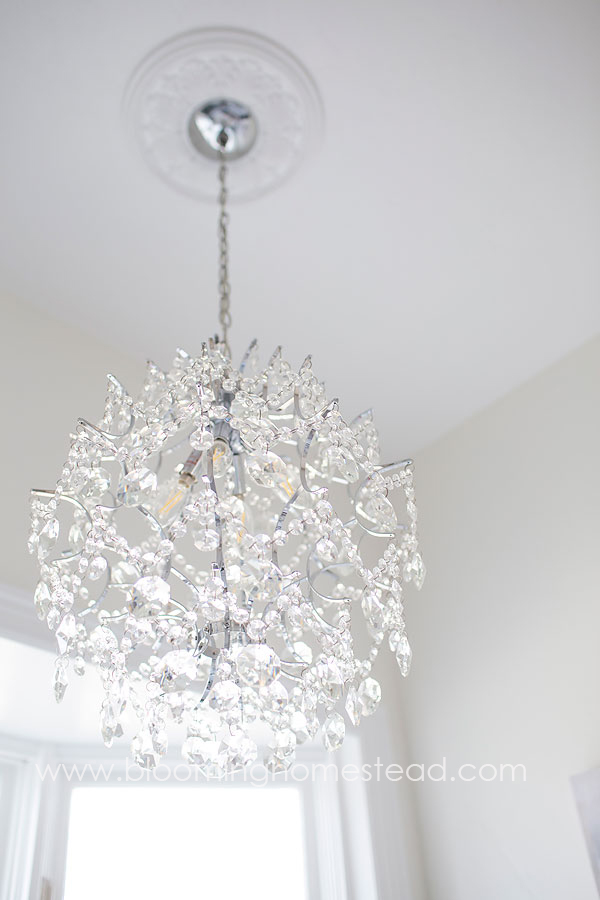 Frankly, I get sick of things pretty quick especially if its something bold. I've come to realize while my head can be turned by a pretty tile, my style is simplicity and neutrality.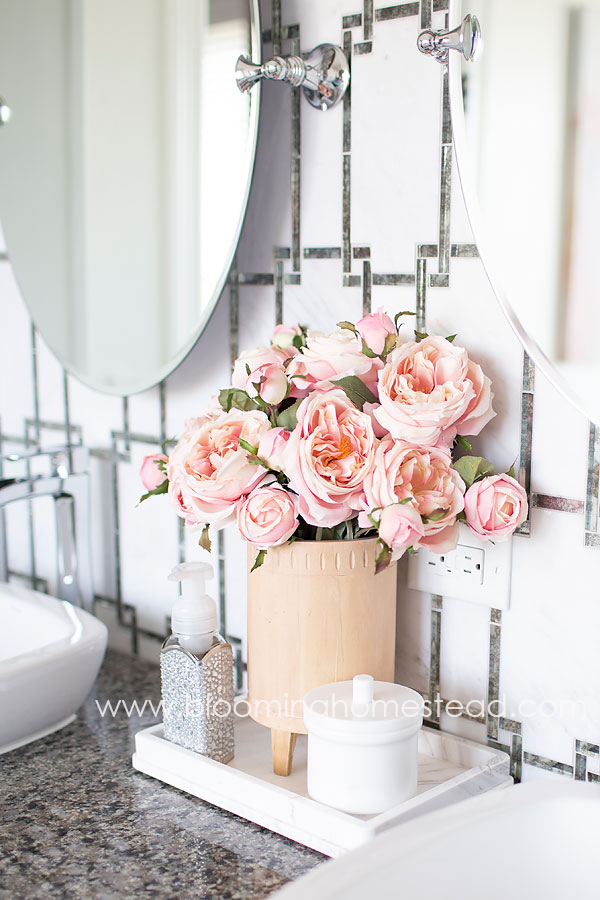 I didn't want to do anything over trendy or that would lock me into a certain style. A marble look never goes out of style and I can change the paint color or accents to add in "flair". That way when I am ready for a new look it is easy and affordable to change because my "base look" is classic and neutral.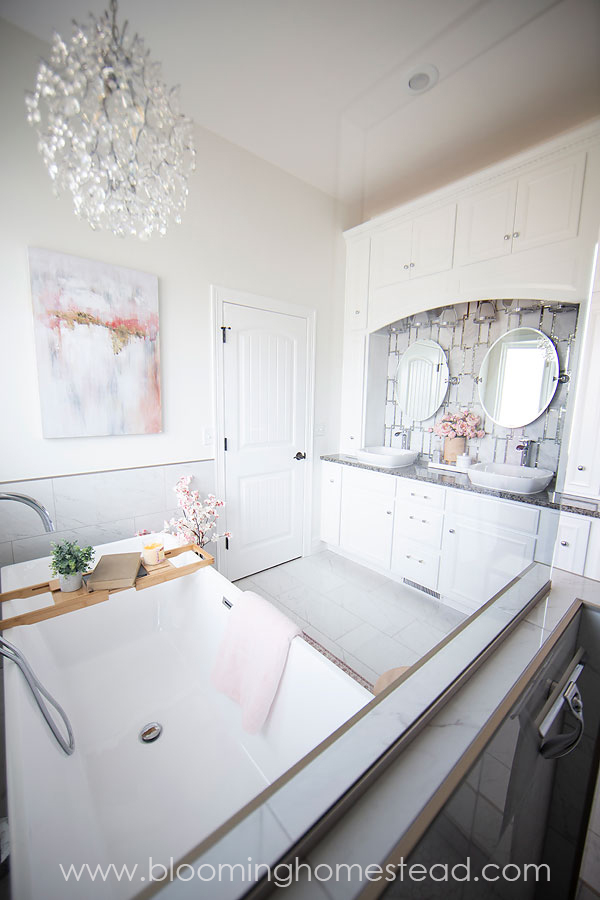 Now that the bathroom is completed and we've been using it for a few months, there are a couple things I may have changed but overall I still love how it turned out and the functionality is perfect for us.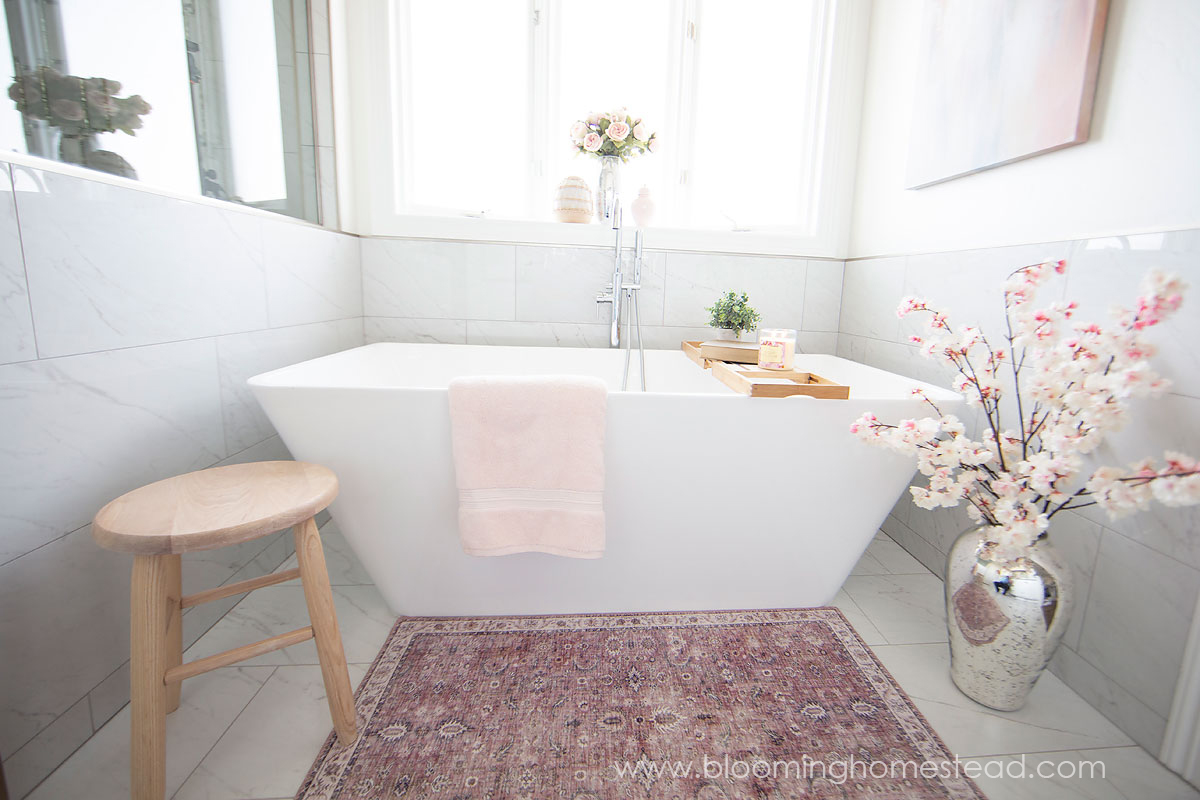 Paint colors:
Walls- SW Greek Villa
Trim- Behr Polar Bear
Cabinetry- BM Chantilly Lace
Florals- Hobby Lobby, Michaels, & Ballard Designs
Vases- Ballard Designs
Rug- Boutique Rugs
Wood stool- Wayfair
Tub Tray- Amazon
Ginger Jar- Lauren Haskell Designs
Marble Tray & Cup- Pottery Barn